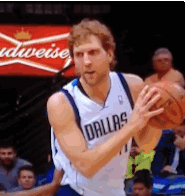 Dirk Revitalized

Very quietly, Dirk Nowitzki has returned to elite form over the past month.

Throughout his prime, Nowitzki was consistently a top-10 fantasy option and was very rarely available outside of the first round. But after a disappointing 2012-13 campaign, in which Nowitzki had his least productive season since his rookie year, many thought he was starting to hit the downside of his career.

Heading into his age-35 season, most outlooks weren't too rosy. Instead of bouncing back to his first-round form of years past, Nowitzki was projected to post similar numbers to his down 2012-13 campaign. While those numbers would still provide plenty of value, most owners had to live with the fact that the aging superstar would be more of a second- or third-round value moving forward.

Instead of continuing his decline, Nowitzki has bounced back to be a top-10 value this season. And he's been even better over the past month. In 13 contests since Nov. 20, Dirk has averaged 22.6 points, 6.0 rebounds, 3.3 assists, 1.2 treys, 1.1 blocks and 1.0 steals while hitting field goals (51.4 percent), three pointers (40.5 percent) and free throws (92.7 percent) at stellar clips. Regardless of format, Nowitzki's production would be elite.

Nowitzki's resurgence is reminiscent of Tim Duncan's 2012-13 campaign. After a couple of seasons holding third- or fourth-round value and apparently headed towards the twilight of his career, Duncan was able to revert back to a top-10 value during his age-36 campaign. In the cases of aging superstars like Duncan and Nowitzki, fantasy players often decide to avoid them as options altogether. After all, it's always better to be a year too early rather than a year too late when predicting the inevitable decline. But as Nowitzki has shown this year, as long as he's healthy, there's still plenty left in the tank. Now, those fantasy owners who decided to give the future Hall-of-Famer another chance are likely sitting near the top of the standings.

Barometer

Every week, we'll use this space to track players whose fantasy value is improving, declining, or uncertain. We're not particularly concerned with hot or cold streaks - all players toss up a 2-for-10 game every now and then - unless they are extreme or seem to indicate an underlying problem or injury. Instead, we'll be looking at changes in playing time, rotation role or performance.

Stock Up

Terrence Ross, G/F, TOR – Ross was one of the big winners from the fallout of the Rudy Gay trade. With Gay out of town, the 2012 eighth overall pick received a promotion to the Raptors' starting unit. The results have been mixed on a game-by-game basis since his promotion to the starting five, but Ross' averages of 13.0 points, 4.8 rebounds and 2.3 treys in 30 minutes per game over those four contests hold value in many formats. His main contribution will come from beyond the arc, but Ross has shown the capability of chipping in with rebounds and steals when handed extended run. With just 96 professional appearances under his belt, the second-year swingman will have his bouts with inconsistency, but he provides enough upside to take a flier on in many formats. The 22-year-old small forward is still widely available in ESPN and Yahoo! Sports leagues if you're looking for a three-point shooter with upside.

Xavier Henry, G/F, LAL – With Steve Nash (old manitis), Steve Blake (elbow), Jordan Farmar (hamstring) and Kobe Bryant (knee) all sidelined, the Lakers will hand over point guard duties to Henry. Normally deployed as a shooting guard or small forward, Henry may struggle with being the floor general, but the opportunity will be there for the former lottery pick to finally post numbers worthy of his draft pedigree. Owners who take a flier on Henry shouldn't expect big assist numbers -- he has averaged fewer than two dimes per game per-36 minutes played this season – but his overall production could be solid given his expanded role.

Giannis Antetokounmpo, G/F, MIL – The "Greek Freak" was discussed here last week, but a recent promotion to the Bucks' starting lineup has Antetokounmpo seeing another boost in his stock this week. The rookie swingman made his first start of the season Wednesday against the Knicks. He finished with 10 points, seven rebounds, two assist, two steals and a block in 42 minutes. Despite the return of O.J. Mayo (personal) for Friday's tilt against the Cavaliers, the Bucks will hand Antetokounmpo another start, and odds are the team will look to keep the rookie in the starting five long term. He's already flashing potential to be a young Nic Batum type player with a much higher ceiling in a few years. Keeper leagues should have been all over Antetokounmpo weeks ago, if not prior to the season, and it's also now time to consider him a legitimate option in all mid-sized redraft leagues.

Tobias Harris, F, ORL – After missing 21 of the first 22 games this season with a lingering ankle injury, Harris has finally worked his way back on to the court for the Magic. The talented 21-year-old was fairly quiet in his first three games back, but he started to flash his breakout potential in Wednesday's loss to the Jazz, finishing with 14 points and 10 rebounds in over 34 minutes. Wednesday also marked Harris' return to the Magic's starting lineup, as he filled in at small forward for an ill Arron Afflalo. While the Magic haven't made any concrete announcements on Harris sticking in the starting rotation once Afflalo returns to action, odds are the team will want to give their young forward significant run from here on out. Harris was great for the Magic after the All-Star break last season, averaging 17.3 points, 8.5 rebounds, 2.1 assists, 1.4 blocks and one trey in 27 games. With Victor Oladipo and Glen Davis, who was injured during Harris' breakout last year, now in the mix, there are more mouths to feed in Orlando this season, but Harris should still play a large enough role for the rebuilding Magic to post strong numbers.

Check Status

Danny Granger, F, IND – After missing all but five games of the 2012-13 season and the first 25 games this season, Granger is finally ready to return to action. The Pacers are expected to work Granger back into the rotation slowly, which means he could hover around the 20 mpg mark for a few weeks. Owners who have been stashing Granger should expect a lengthy adjustment period as he shakes off the rust and finds his place in the rotation. Paul George is undeniably the focal point of the Pacers now, and the team will also rely heavily on Roy Hibbert, David West and Lance Stephenson, so it remains to be seen how productive Granger will be in his new role. Color me skeptical.

Larry Sanders, C, MIL – One of the league's best shot blockers appears to be nearing a return to the hardwood. Sanders has been sidelined since early November after injuring his thumb in an altercation at a Milwaukee nightclub. He's been working out and was cleared for basketball activities last week, which should lead to a return to practice soon. While Sanders may not be able to provide the same kind of value he did during last season's breakout, his shot blocking remains an extremely valuable asset in most formats.

Ersan Ilyasova, F, MIL – The Bucks have decided to shut down Ilyasova for "at least the next few games" to help the Turkish forward recover from a lingering ankle injury. Described as a "shell of himself" by Bucks coach Larry Drew, the hope is Ilyasova will be able to return at full strength after receiving some extended rest. Given the impact a healthy Ilyasova can provide to s fantasy squad, he's worth stashing on the bench in all but the shallowest of formats for the time being.

Kendall Marshall, G, LAL – As previously mentioned, the Lakers' cupboard is bare at point guard. A rash of injuries to the Lakers backcourt led to the signing of Marshall this week. While Marshall wasn't able to catch on during his stops in Phoenix or Washington, he also wasn't given much of an opportunity to showcase his talents in game action. He's only a speculative option for deep leagues at this stage, but Marshall has the draft pedigree and was productive enough in the NBA Developmental League (19.7 points, 9.6 assists) to warrant at least a cursory glance to see how he fits in with the Lakers.

Jimmy Butler, G/F, CHI – Butler exited Wednesday's loss to the Thunder in the first quarter with an ankle injury. He was spotted on crutches after the game and diagnosed with an ankle sprain. The severity of the injury is still unclear, but don't be surprised if Butler has to sit out at least a couple games.

Stock Down

Kobe Bryant, G, LAL – Less than two weeks after returning from his Achilles injury, Bryant is back on the shelf. This time, he's expected to miss six weeks with a fracture of the lateral tibial plateau in his left knee. As we've seen with Bryant in the past, he recovers from injuries quicker than most, even when it's probably ill advised. It would be foolish to think Bryant would call it quits and sit out the rest of the year, but that's the direction Los Angeles should seriously consider given the team's outlook for this season. Owners should hold on to Bryant a bit longer to see if that's a direction the Lakers end up deciding to take things.

Harrison Barnes, F, GS – Barnes' value took a huge hit this week after Andre Iguodala returned from a hamstring injury. In the two contests since Iggy's return, Barnes has averaged just four points in 22 mpg. While owners should expect Barnes to be more productive than the past two games going forward, it's highly unlikely he'll be able to come close to the averages he posted (14.5 points, 4.8 rebounds, 1.5 steals, 1.0 treys in 39 mpg) during Iggy's absence.

Jason Smith, F/C, NOR – Smith is another player set to see a drop in value due to a teammate returning from injury. With Anthony Davis back from his broken hand, Smith won't be called on by the Pelicans to play much more than the 27 mpg he averaged prior to Davis hitting the shelf. But it should also be noted that much of that early-season run came with Ryan Anderson on the sidelines. Now that both Anderson and Davis are healthy, Smith could see an even bigger dip in run.

Enes Kanter, C, UTA – Kanter's talent and potential is legit, which is why he didn't get downgraded earlier this season, but it's officially time for owners to start worrying. Since moving back to a bench role last week, Kanter has averaged just 5.4 points, 3.2 rebounds and 0.8 blocks in 16 mpg. The Jazz have been playing surprisingly well over that five-game stretch with Derrick Favors, Marvin Williams, Gordon Hayward, Alec Burks and Trey Burke working as the team's best five-man unit. Deep leagues will want to hold on to Kanter a bit longer to see if he can right the ship, but shallower formats shouldn't be shy about replacing the young big man if there are productive replacements on the waiver wire.