This article is part of our DFS College Basketball series.
We've got a handful of games on today's early slate. The lone Big 12 matchup easily has the highest over/under number on the board, the perfect starting point for filling out your lineup.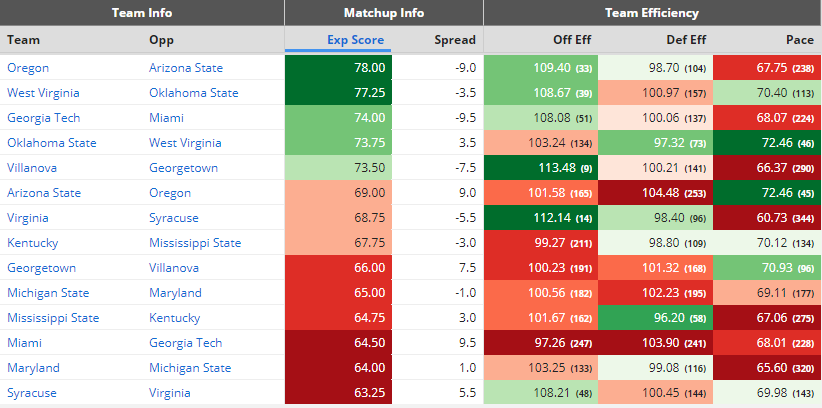 Targets
1. Cade Cunningham, G, Oklahoma State ($9,200 DK, $8,300 FD)

We might not get many more opportunities to take Cunningham, the projected No. 1 pick in the 2021 NBA Draft, so might as well make the most of it. Cunningham had missed the last game of the regular season, but the latest updates are saying he'll play in the Big 12 tournament. Oklahoma State has one of the highest point projections on the slate, making Cunningham a natural target in this situation. West Virginia has the fourth worst defensive efficiency in the Big 12, so Cunningham should once again put on a show.
2. Taz Sherman, G, West Virginia ($5,500 DK, $4,600 FD)

The Mountaineers are expected to score the most points of any team in the common pool of games, so any of their starters have a shot at a big payoff. If you're looking for a value play, Sherman offers nice potential considering he takes the most shots on the team when on the court. And it's not just volume. Sherman had the eleventh-highest offensive efficiency rating in the Big 12 during conference season. He also scored 20 points in both of the previous games against Oklahoma State this season.
3. Jermaine Samuels, F, Villanova ($6,400 DK, $6,300 FD)

Samuels is playing additional minutes since Collin Gillespie got injured, and we don't have any reason to believe that will change any time soon. Samuels has an outstanding all-around game. Samuels finished the conference season sporting the highest offensive efficiency rating in the Big East, and also finished top-20 in terms of both offensive and defensive rebounding rates. And if that's not enough, Samuels shot 45 percent from behind the arc against Big East opponents. Georgetown had the second-worst defense in the Big East during conference season, so Samuels shouldn't have too much trouble in this one.
DraftKings Exclusive
Eugene Omoruyi, F, Oregon ($7,700)

Oregon has the highest projected point total of any team in the early round, so you'll certainly want to grab a Duck or two if you're playing DK. Omoruyi easily has the highest usage rate on the team, giving him a solid floor. The other important note for this game is that Arizona State is awful at rebounding, arguably the worst in the conference and one of the worst in the country. Given this matchup advantage, LJ Figueroa and Eric Williams stand to benefit as they have the highest rebounding rates on the team, with Omoruyi right behind them.
Fades
1. Alan Griffin, F, Syracuse ($8,000 DK, $7,900 FD)

Virginia's defense might not be top-ranked in the country as in past seasons, but it's still no joke. During conference season, the Cavaliers had the second-best defense in the ACC, making them a tough team to fade. Between the projected tempo and defensive matchup, Syracuse is expected to potentially score the fewest points of any team on the slate. Griffin is certainly a skilled player, but I find his salary too high in this situation.
2. Aaron Henry, F, Michigan State ($8,300 DK, $8,100 FD)

Michigan State had the second-worst offense in the Big Ten during conference play, a tough sell for DFS purposes. Henry is a talented player but unfortunately hasn't gotten much help this season. Michigan State doesn't have many other great scoring options, so opponents typically key on Henry, limiting his impact. Maryland has a stout defense, so it seems Henry will once again have his hands full.
3. Chudier Bile, F, Georgetown ($7,500 DK, $5,300 FD)

Bile isn't a bad flier if you're on FD, but I can't imagine taking him with his DK salary. Bile had a couple of monster games within the past couple of weeks, explaining his DK salary, but otherwise he tends to be hit or miss. This is largely due to personal fouls, a significant issue in his game. This season he committed 5.4 fouls per 40 minutes, down from 6 fouls per 40 minutes a season ago. Bile might pay off if he stays on the court, but history has repeatedly shown there's a good chance that won't happen.
The author(s) of this article may play in daily fantasy contests including – but not limited to – games that they have provided recommendations or advice on in this article. In the course of playing in these games using their personal accounts, it's possible that they will use players in their lineups or other strategies that differ from the recommendations they have provided above. The recommendations in this article do not necessarily reflect the views of RotoWire. Steve Peralta plays in daily fantasy contests using the following accounts: FanDuel: Buddusky, DraftKings: Buddusky24.