This article is part of our FanDuel College Football series.
Week 2 brought us some near upsets (hello Michigan) and a big one in Cal over Utah, not to mention a surprise in the Maryland-Syracuse contest. We have a few conference games on the Week 3 slate, but the majority of contests remain of the non-conference variety and there are a number of big spreads still on tap. Leading the way for implied points is Oklahoma at 58.5, followed by the three biggest spreads on the docket with Clemson, Texas and Alabama. We will continue to roll with the 2018 S&P+ stats until the 2019 S&P+ stats are released in another week or two.
Week 2 Review
QB
Trevor Lawrence ($9,300): 18.6
Riley Neal ($6,900): 21.2
GPP Play: Dillon Gabriel ($6,300): 25.7
RB
Najee Harris ($9,600): 14.5
Mekhi Sargent ($9,900): 8.1
GPP Play: Abdul Adams ($5,300): 3.7
WR
Amad Anderson ($6,300): 6.4
Justyn Ross ($8,600): 18.9
Jerry Jeudy ($10,100): 32.3
GPP Play: Romeo Doubs ($7,100): 2.2
DFS Tools
Matchup Info (2018 Stats)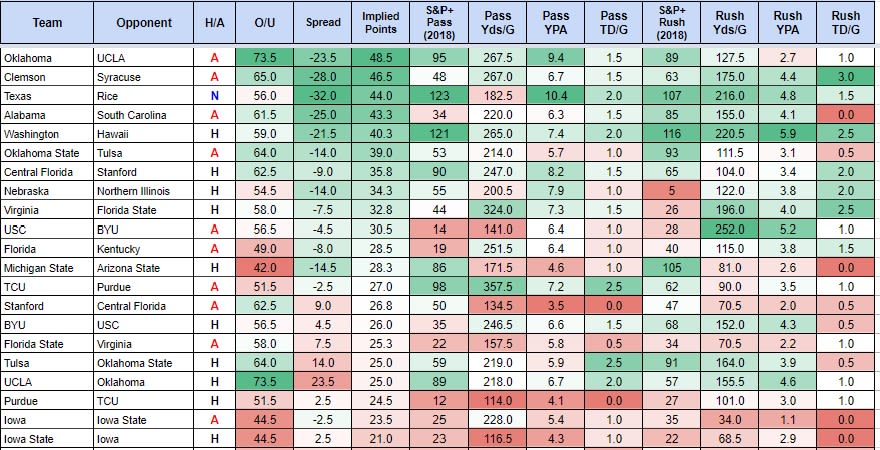 Week 3 Plays
Quarterback
Jalen Hurts, Alabama

($10,600) at UCLA
Hurts passed his first test at Oklahoma with flying colors, lighting up a Houston defense to the tune of six touchdowns, 332 passing yards and 176 rushing yards for a 58.88 point output. UCLA's defense hasn't faced a passing attack like Oklahoma's through two weeks, but the Bruins have still allowed 9.4 yards per pas attempt to the likes of Cincinnati and San Diego State. Pair that with a reasonably solid rush defense (2.7 yards per rush attempt), and Hurts has the matchup for a massive output in the late night portion of the slate.
Brian Lewerke, Michigan State

($8,200) vs. Arizona State
While the Sun Devils' 4.6 yards per pass attempt allowed this season may scare some away, the sample size comes against the likes of Kent State and Sacramento State. As far as quarterbacks go, Lewerke's $8,200 price tag runs relatively cheap for a signal-caller coming off of 25.86 points against Western Michigan last week. Lewerke typically provides more than one rushing yard as well, so there's some room for fantasy improvement in that department. Lewerke threw the ball 30 or more times on just four occasions last regular season due to a shoulder issue, but he's topped that total in each of the first two games this season, suggesting it's no longer plaguing him. The Spartans are surprisingly 14.5-point favorites over Arizona State with 28.3 implied points and the passing attack should be a big reason why.
Bonus GPP Play: Dillon Gabriel, UCF

($7,900) vs. Stanford
Dillon Gabriel's price has justifiably skyrocketed to $7,900 after he received the start last week, but that won't deter me from returning to the well for at least one more drink. The Cardinal defense has proven leaky in the first couple weeks of 2019. The first game of the year saw Stanford hold Northwestern to just 117 passing yards with two interceptions, but Kedon Slovis torched them for 377 yards and three passing touchdowns a week ago. UCF enters as nine-point favorites in what's expected to be one of the higher-scoring games on the slate. With K.J> Costello back at the helm for Stanford, expect more of a shootout in a game that should remain relatively close throughout, forcing the passing game into the equation.
Running Back
Travis Etienne, Clemson

($10,200) at Syracuse
Etienne still has a Heisman candidacy to run and he'll need to pick up the pace after a down week, by his standards, against Texas A&M last Saturday. The Syracuse defense should be happy to oblige, proving they can't handle the run by allowing 343 rushing yards and six touchdowns to Maryland a week ago. The Tigers also have a bone to pick with the Orange after losing to them two seasons ago at Syracuse and facing a tough challenge at home last year after Trevor Lawrence was knocked out of the game. The Orange don't look like the same team without Eric Dungey, so a healthy dose of the running game may be on the horizon for the 28-point favorites.
Salvon Ahmed, Washington

($9,000) vs. Hawaii
If there was ever a week to pay up at the running back position, this may be it. Hawaii has an offense that should be able to put up enough points to keep this game within shouting distance, but the Huskies need to make a statement after a stinker last week against Cal. As 21.5-point favorites, Washington may get out to a comfortable lead and look to take advantage of a Warriors defense that has surrendered a slate-high 5.9 rushing yards per attempt this season. Ahmed averaged 5.7 yards per carry last week on 21 attempts, and Jacob Eason's struggles in the contest could lead to more emphasis on the effective ground game. With both game script and matchup working in the favor of a talented back, the ninth-highest priced back on the slate may be too much of a value to pass up.
Bonus GPP Play: Daniel Young, Texas

($5,000) vs. Rice
Coach Tom Herman indicated Thursday that Young will play and that he expects to use him in Saturday's contest against Rice. As the heavies favorite on the slate, this contest has the makings of a blowout that could afford the backups plenty of time in the second half. Given Young's absence for the first two, the staff may look to get him involved and up to speed ahead of conference play, and Saturday should provide them the opportunity to do just that. Rice has coughed up 4.8 rushing yards per attempt and 216 per game this season, positioning Young to potentially provide some value if you're looking to save up.
Wide Receiver/Tight End
Gabriel Davis, UCF

($8,400) vs. Stanford
If looking to pair Gabriel with a wide receiver, Davis fits the bill as the primary targets on offense. His 30.9 percent target share ranks among the best in college football and there's a good chance he will be heavily targeted again Saturday. The Cardinal had no answer for the USC passing game last week and the Knights typically have a prolific passing attack to go along with an uptempo offense. Davis' price tag likely reflects the matchup, but the Vegas odds favor a UCF scoring barrage and I'm inclined to agree with that assessment.
Devin Duvernay, Texas

($9,700) vs. Rice
Rice's slate-worst 10.4 passing yards per attempt allowed is much more representative of what to expect from them than the 182.5 passing yards per game surrendered. The discrepancy lies with the team's Week 1 opponent, Army, who runs a triple-option offense that resulted in just eight total pass attempts in the opener. Wake Forest quarterback Jamie Newman threw for 312 yards and three scores last week, and Texas' offense is another step up from that. Duvernay owns 24 targets to his name through two contests and will presumably be the top target on offense again Saturday. He shouldn't need many looks to take advantage of the opposition Saturday in what should become a one-sided affair.
Austin Trammell, Rice

($6,800) vs. Texas (GPP Play)
Trammell and the Owls are massive underdogs against a Texas squad that will be out for blood after a close loss to LSU last week. That doesn't erase the fact that the Longhorns surrendered 471 passing yards to the Tigers, including 163 receiving yards to Justin Jefferson. Jefferson lined up inside most of the day and exploited holes in the middle of the field throughout the day. Going back another week, Louisiana Tech threw for 331 yards and two touchdowns despite notching just 14 points on the day. Again, slot receivers in Smoke Harris and Cee Jay Powell led the day with six catches apiece. Trammell moves around a lot but he often lines up in the slot. That should allow him to work the middle of the field against the Longhorns at a cheap price tag. The game script also works in favor of pass attempts galore Saturday, but the lowest expected point total on the slate likely keeps this a GPP play.
Bonus GPP Play: Lee Morris, Oklahoma

($6,500) at UCLA
Jalen Hurts has spread the ball around a lot in his first two games under center for the Sooners. Morris hasn't been the recipient of any passes during the first two contests, but he's coming off of an eight-touchdown campaign last season. The Bruins faced two run-heavy offenses in their first two contests, but that didn't stop them from letting up four grabs for 53 yards and a score to Josiah Deguara in the season opener versus Cincinnati. Morris has the red-zone capabilities to warrant looks again this season and Saturday could represent an opportunity to do just that.
The author(s) of this article may play in daily fantasy contests including – but not limited to – games that they have provided recommendations or advice on in this article. In the course of playing in these games using their personal accounts, it's possible that they will use players in their lineups or other strategies that differ from the recommendations they have provided above. The recommendations in this article do not necessarily reflect the views of RotoWire. Chris Benzine plays in daily fantasy contests using the following accounts: FanDuel: Crispy272001, DraftKings: Crispy27.