This article is part of our Senior Bowl Viewing Guide series.
Senior Bowl week is upon us, which means that draft season is officially in full swing. The Senior Bowl can be a mixed bag in terms of fantasy-relevant prospects, but we've got a good crop this year in that regard, especially at receiver. The running back group isn't as deep as in years past but it's got a handful of potential standouts, as you'll see below.
The quarterback group lost its big headliner when Heisman Trophy winner Joe Burrow opted to hold off on attending, but there are still a handful of potential starters in Mobile. Oregon's Justin Herbert has the highest draft stock of any quarterback in Mobile, projected to go somewhere in the mid-first round. He's a four-year starter with all the physical tools that NFL front offices want in a franchise quarterback. Utah State's Jordan Love and Washington State's Anthony Gordon both have interesting profiles, and competing in front of scouts in Mobile could go a long way towards improving their respective stocks.
This article will focus on the receivers and running backs that I'll be paying the closest attention to throughout the week, looking at the strengths and weaknesses of each player and analyzing what they can do at the Senior Bowl to improve their respective stocks.
Measurements: 6-foot-4, 220 pounds, 4.55* 40-yard dash
2019 Production (13 Games): 136 Targets / 101 Catches / 1,275 Yards / 11 Touchdowns / 9.4 YPT
Pittman's size is what stands out when you start studying him, but he's more than just a big receiver. He can make plays deep down the field, ranking eighth in the nation in receptions of 25-or more yards. Pittman attacks the ball in the air and makes hands catches, and his strong tracking skills help explain why he was such an effective deep receiver. As with any big receiver, there will be questions about his short-area quickness and his ability to create separation. Working against the top senior corners in front of scouts will give Pittman the opportunity to prove himself in those regards, and I'm betting that he'll answer the bell.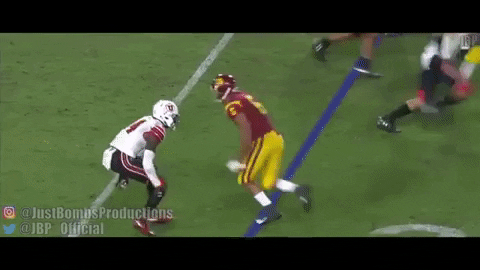 *40-time cited from The Athletic and is unofficial
Measurements: 6-foot, 193 pounds
2019 Production (13 Games): 170 Targets / 111 Catches / 1,225 Yards / 15 Touchdowns / 7.2 YPT
It's hard to argue with Proche's senior year production. He led all AAC receivers in touchdown receptions and receptions as the top wideout in an explosive SMU offense. The question is whether his production had more to do with his skill or with the system and team context.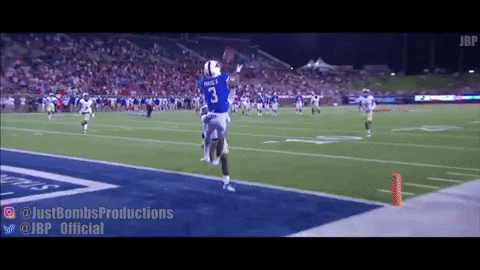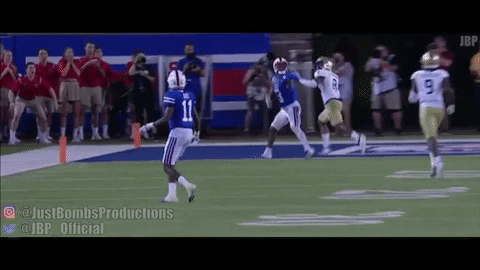 Proche's strengths come with his quickness and his knack for leveraging coverage or finding the soft spots in zones to get open. But as you can see above, Proche is capable of adjusting to the ball in the air and making contested catches, even though that won't be what NFL coaches rely on him for at the next level.
As a relatively undersized receiver who will likely have to move into the slot, Proche's hands and route-running will be under a microscope in Mobile.
Measurements: 6-foot, 194
2019 Production (14 Games): 76 Targets/ 57 Receptions / 636 Yards / 10 Touchdowns / 8.4 YPT
Hill is an older prospect, coming to Mobile having just finished up his redshirt senior season. He's 23 and will be 24 early in his rookie season, and while that doesn't really affect what he's bringing to the table in Mobile, it's part of his overall evaluation. Below is a table of receivers with comparable measurables in their rookie seasons dating back to 2000, sorted by receiving yards.
Not exactly a great list, and aside from Dede Westbrook and Gunner Olszewski, it's fair to say that none of these players went on to reach great heights. So the odds are stacked against Hill as it is.
As a player who was in the Ohio State football program for five years, we can expect Hill to perform extremely well in this setting. He's used to repping against the best corners in the country, so I don't foresee him struggling in 1-on-1s or team drills. I could see Hill leaving Mobile with some buzz, but I'll remain skeptical of him as a dynasty asset seeing as he's likely at or close to his developmental ceiling.
Measurements: 6-foot-3, 215 pounds
2019 Production: 113 Targets/ 71 Catches / 816 Yards / Six Touchdowns / 7.2 YPT
Edwards is a good bet to be drafted first among this group of receivers. He's a rangy receiver with four years of quality production to his credit who runs crisp routes and has excellent body control.
The production might not be eye-popping at first glance, especially from his senior season, but it requires a second look. South Carolina averaged 5.7 YPA as a team and completed 57.5 percent of its passes while Edwards posted 7.2 YPT and a 63 percent catch rate. If senior quarterback Jake Bentley doesn't get hurt in Week 1, we likely see Edwards generate far more buzz during the 2019 season. Having to make it work with a raw true freshman was not helpful to Edwards' bottom line.
And as you can see above, Edwards has better long speed than you might expect for a receiver his size. Adding that element to his already polished skill-set makes Edwards a highly intriguing prospect that has the tools to make waves in Mobile this week.
Measurements: 6-foot-3, 208 Pounds
2019 Production (13 Games): 92 Targets / 59 Receptions / 969 Yards / Eight Touchdowns
Jennings is a Bull in a China Shop at receiver. At 6-foot-3 and 208 pounds, he physically dominated SEC defensive backs for his entire career at Tennessee. According to Pro Football Focus, Jennings led all receivers in broken tackles this season with 30 on 59 receptions.
The production this past season is worth noting, too. Tennessee had a completion rate of 55.6 percent on 8.0 yards per attempt as a team in 2019. When Jennings was targeted, the YPA was 10.5 and the completion rate was 64.1 percent.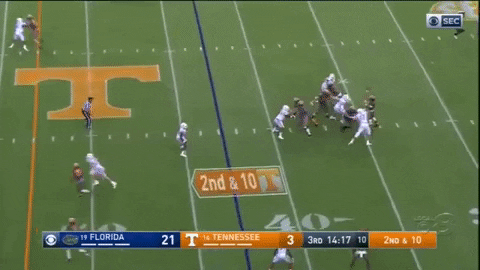 Physicality will be his calling card at the next level, but he'll need to prove that there's more to his game in terms of route-running and athleticism. He will be able to break tackles and win jump balls at the next level, though not at the rate he did so in college. So showing polish in those other areas while in Mobile will go a long way towards convincing scouts he can become a complete receiver in the NFL.
Measurements: 5-foot-11, 210 Pounds, 4.45* 40-Yard Dash
2019 Production (13 Games): 130 Targets/ 106 Receptions / Nine Touchdowns /10.7 YPT
Duvernay is on a short list of players with at least 100 catches on 140-or-fewer targets this season, joined only by LSU's Justin Jefferson and USC's Michael Pittman. That's pretty good company to keep. He's not the big outside receiver that those two are, but he's lethal in his role as a slot receiver who catches everything and he can pick up yardage after the catch.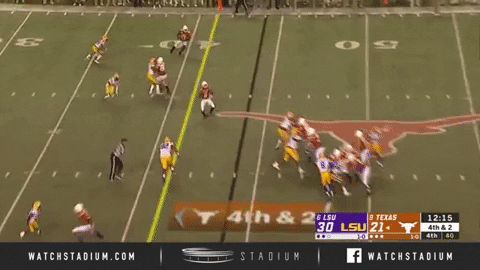 As you can see here, Duvernay does not shy away from contact and has an extra gear when he hits the open field. This is a Senior Bowl group that's heavy on outside receivers and somewhat light on slot receivers like Duvernay. It's easy to imagine Duvernay leaving Mobile with an elevated stock after a week of cooking defensive backs.
Full disclosure, I wouldn't have given Duvernay much of a second thought had Mario not listed him as his No.9 dynasty rookie in his most recent rankings. But now I can see why he caught Mario's eye, and I expect everyone else to catch on by the time the Senior Bowl wraps up.
Measurements: 5-foot-10, 218 pounds
2019 Production: 198 Carries / 1,028 Yards / 9 Rushing Touchdowns / 28 Catches / 270 Rec. Yards / 1 Touchdown / 38 Targets

I still believe in Vaughn despite his disappointing senior season at Vanderbilt. Had he entered the draft in 2019, Vaughn very well could have snuck into the Day 2 conversation. Now he'll have to crush the pre-draft process to re-enter that discussion.
Vaughn's calling card is his breakaway speed. He averaged the fifth-highest YPC mark in 2018 among rushers with at least 100 carries, checking in at 7.92 despite running against SEC defenses behind a leaky offensive line. No other Vanderbilt rusher with a significant workload averaged more than 4.55 YPC. Look at this run. Vaughn doesn't get much credit for his physicality but you couldn't tell that from this run. And look at the extra gear he finds when he hits the 35. The defense had no shot after that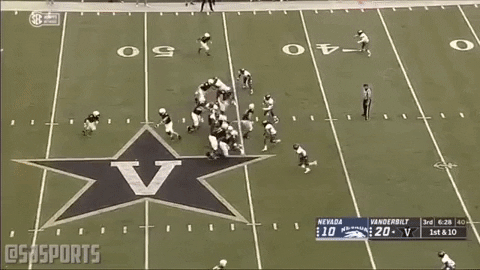 His 2019 wasn't as explosive but it was still strong as he churned out over 1,000 yards and over 5.0 YPC on an otherwise anemic offense. I view Vaughn as something of a post-hype guy with a pro-level build who has the jets to make an impact at the next level. Look for him to turn some heads in what is an otherwise so-so running back group in Mobile.
Measurements: 5-foot-10, 210 Pounds
2019 Production: 253 Carries / 1,083 Yards / 10 Touchdowns / 55 Targets / 42 Catches / 347 Yards / Two Touchdowns
Benjamin is an interesting case; he's young relative to his peers at this event, having played just three years at Arizona State and checking in at just 20 years old. So there's more projectable skills growth for him than really any other running back in this group. And that's good news, because Benjamin's rushing production isn't a great selling point.
A 4.9 YPC average over a 553-carry sample -- including a 4.3 YPC mark as a junior in 2019 -- is well below what some of the other top running back prospects have to offer. Of course, all production needs to be contextualized. Pro Football Focus had Arizona State's offensive line rated 89th in the nation, so it's not like he was getting clear running lanes with any consistency. It's not all the line's fault, though. Benjamin has a tendency to run straight into the teeth of the defense without letting the play and the running lanes develop that he'll need to shake in the NFL.
On the bright side, Benjamin is a physical runner who has burst rather than build-up speed. It's not often that he's hitting the line of scrimmage at anything less than full speed, and his ability to pick up yardage after contact is impressive.
He's also been among the post productive pass catchers among running backs the last two years, too, finishing in the Top 10 in receptions at the position each of those seasons. Looking at how well the tape matches the receiving production, it won't be surprising if Benjamin gets labeled as the best pass-catching back of this group in Mobile.
Measurements: 5-foot-11, 218
2019 Production (13 Games): 132 Carries / 676 Yards / Six Touchdowns / 55 Targets / 40 Receptions / 262 Yards / Five Touchdowns
Perine's tough to figure out. On one hand he's got great size to be a power back with an aptitude for catching the ball out of the backfield, too. He was also a four-year contributor at Florida, which is a positive mark on his resume. So then, why did Perine never truly break out? No one else in the backfield during that time frame was a standout, so it's not like Perine was stuck behind someone who forced the issue.
The pass-catching production is especially head-scratching. 40 catches on 55 targets is strong. Five receiving touchdowns tied for second in the nation behind only Alabama's Najee Harris. But Perine was far from explosive as a pass-catcher, and that raises some concern. No you can't expect running backs to average 15 yards per catch like a receiver, but a 6.6 mark is what you'd like to see on a per-target basis, not a per-catch basis like in Perine's case.
Perine's ability as a rusher flashes on tape at times, though. Below you'll see the vision to find the right lane and the anchor to make an effective cut at full speed and burst into the open field.
In all, Perine lacks standout traits but has the built and baseline athleticism to be a viable back at the next level if given the opportunity. A strong week in Mobile will up his chances of being drafted in the first four rounds and thus raise the likelihood of a coaching staff giving him a role early in his career.