ALBA at Zenit
Date: 2/20
Time: 6:00 pm CET
Game Preview
The final stretch of the regular season kicks off with a battle between two teams in need of positive momentum. Zenit, which boasts a 7-17 record thus far, will be led moving forward by a new coach, Xavi Pascual. Their opponent, ALBA Berlin, is just a tick better in the win-loss department at 8-16 overall but boasts one of the top offenses in the league, one that averaged 89.3 points over the last six Rounds.
Despite the German club's high-powered attack, ALBA suffers from a porous defense that has allowed opponents to score 89.3 points per game on the season – the most in the league. Rokas Giedraitis is the star of the show for Berlin, leading the team in both points and minutes per game. ALBA boasts a deep backcourt that includes Marcus Eriksson, Peyton Siva, and Martin Hermannsson, all of whom average at least 9.0 points per contest. Giedraitis is flanked in the frontcourt by Luke Sikma – who is banged up but one of the most versatile players in the league when healthy – and Landry Nnoko, who are both also scoring at least 9.0 ppg.
The Russian hosts, Zenit, give up fewer points but suffer from an entirely opposite issue. While they limit their rivals to 80.8 points per game, their lethargic offense has managed just 74.3 points per contest so far this year. Veterans Gustavo Ayon and Will Thomas are both averaging double figures, but only two other players on the roster – Mateusz Ponitka and Austin Hollins – are averaging more than 7.3 ppg.
Last time these teams met, in Round 1, ALBA's firepower got the best of Zenit and they notched an 85-65 victory. For things to go differently in Round 25, Zenit will need to put enough points on the board to keep pace with the run-and-gun ALBA offense.
Injuries
ALBA Berlin
Makai Mason - OUT - Undisclosed
2/20 3:16 AM IST - Mason (undisclosed) will not play Thursday against Zenit, according to BZ Berlin. Mason has not taken the court since being injured in a domestic league game earlier this month, and he will miss another game Thursday.
Stefan Peno - OUT - Knee
11/12 11:23 PM IST - Peno (knee) is on track to resume practicing in early 2020, according to rbb24.de. Peno has already missed nine months since dislocating his kneecap in February, and it's going to be at least several more before he is ready to return to action. If all goes well in the coming weeks, though, Peno should be able to make it back at some point during the second half of the EuroLeague season.
Tim Schneider - OUT - Back
1/27 10:32 PM IST - Schneider will be out indefinitely after undergoing surgery Tuesday to repair a herniated disc, according to ALBA's official Twitter account. It's already been an injury-plagued season for Schneider, and although it remains to be seen just how long he will be sidelined, it appears he is now facing his longest absence yet.
Luke Sikma - GTD - Undisclosed
2/20 3:14 AM IST - Sikma is questionable for Thursday's matchup with Zenit, according to BZ Berlin. It's not clear what is ailing Sikma, but his availability for Round 25 is uncertain. His status will be updated again when it is determined whether or not he will take the court.
Johannes Thiemann - GTD - Undisclosed
2/20 3:18 AM IST - Thiemann (undisclosed) is uncertain for Thursday's game against Zenit, according to BZ Berlin. It's not clear what is ailing Thiemann, who played 17 minutes in ALBA's last game Sunday, but it's apparently not a lock he takes the court in Round 25.
Zenit Saint Petersburg
Colton Iverson - GTD - Hand
2/1 10:44 PM IST - Iverson will miss the next two weeks due to a hand injury. Iverson apparently suffered a hand injury during Zenit's Round 22 loss to Barcelona. While details surrounding the issue remain limited, don't expect to see Iverson on the court until at least Round 25. In his place, Anton Pushkov and Sergei Balashov figure to see increased workloads.
Mateusz Ponitka - OUT - Ankle
1/27 10:01 PM IST - Ponitka will miss the next six weeks after suffering ligament damage to his ankle joint. Pontika will presumably undergo an operation to repair the lingering ankle issue that had caused him to miss Zenit's Round 21 matchup with Olympiacos. His extended absence will have significant effects on the team's rotation, with either Tim Abromaitis or Andrey Zubkov likely being called upon to slide into the starting five. Moreover, Will Thomas could be counted on to take on a larger role offensively. Barring a setback, Ponitka can be expected to return at some point during the middle of March.
Alex Renfroe - GTD - Knee
2/1 10:48 PM IST - Renfroe suffered a knee bruise and will be held out up to 20 days. Renfroe was forced to exit Zenit's Round 22 loss to Barcelona after just eight minutes upon suffering the knee bruise. The team expects him to miss up to 20 days, which effectively ruled him out until its Round 25 matchup against ALBA Berlin. Renfroe is playing 19 minutes per game this season, so his absence will give Zenit's other guards a chance to play more minutes in the two EuroLeague games the club will play next week.
ALBA Berlin Probable Starters
G - Peyton Siva
G - Marcus Eriksson
F - Rokas Giedraitis
F - Luke Sikma
C - Landry Nnoko
Zenit Saint Petersburg Probable Starters
G - Andrew Albicy
G - Austin Hollins
F - Tim Abromaitis
F - Will Thomas
C - Gustavo Ayon
Top Picks
Luke Sikma, BER - Sikma gets the job done in a lot of areas, and he is leading all EuroLeague forwards with 4.4 assists per contest. He has not done much scoring of late, averaging 7.5 points over the last four Rounds but he has made up for that by averaging 5.0 rebounds, 5.3 assists, and 1.5 steals per game over the same span. Those considering using him in Thursday's lineups will want to keep tabs on his status prior to tip-off.
Rokas Giedraitis, BER - Giedraitis sat out ALBA's Round 23 game due to the birth of his child, but he returned for their next game just two days later and scored 17 points – the most he has put up since the calendar flipped to 2020. He is leading the team win an average of 13.6 ppg and has scored regularly, reaching double figures in all but five of the 23 EuroLeague games he has appeared in this season. As long as his new baby hasn't deprived him of all sleep, he should be good for plenty of points in Round 25.
Gustavo Ayon, DYR - Ayon dealt with a number of injuries in January, but they did not prevent him from piling up statistics over the last few weeks. In fact, over his last four EuroLeague games dating back to Jan. 23, Ayon averaged 17.0 points, 4.8 rebounds, 2.3 assists despite playing just 17 minutes per game. He should be refreshed after a couple weeks off, which could allow him to spend more time on the court Thursday and beyond.
Will Thomas, DYR - Thomas scored in single digits twice over Zenit's last five games, but he has fared well since New Year's Day, contributing 11.8 points, 4.0 rebounds, 1.1 assists, and 1.1 steals over eight contests.
Captaincy Options
Dream 11 Team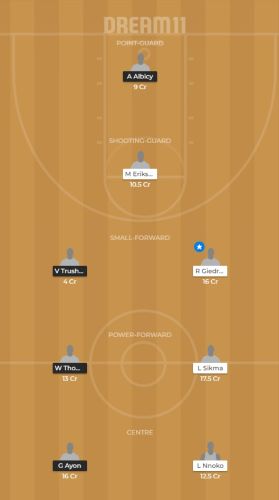 Grand League Combination
Giedraitis, Ayon, Sikma, Trushkin
Small League Combination
Giedraitis, Ayon, Thomas, Eriksson
The author(s) of this article may play in daily fantasy contests including – but not limited to – games that they have provided recommendations or advice on in this article. In the course of playing in these games using their personal accounts, it's possible that they will use players in their lineups or other strategies that differ from the recommendations they have provided above. The recommendations in this article do not necessarily reflect the views of RotoWire.