This article is part of our 2020 Training Camp Preview series.
Expanding upon our team preview collection from earlier this offseason, we're gearing up for an irregular August with a series of team-specific articles to get you up to speed for training camp. You can find the previous writeup on the Las Vegas Raiders here.
State of the Franchise
Finishing touches to the construction of Las Vegas' brand new Allegiant Stadium won't need to be rushed following the cancellation of all preseason games, and it's becoming increasingly likely that fans won't be able to enjoy the venue until at least 2021. In such a case, the Raiders defense could certainly benefit from the potential usage of artificial fan noise pumped into the building after ending their 2019 campaign as just one of three AFC units to give up over 400 points in 16 contests.
Nonetheless, a seven-win season felt acceptable given the makeup of their roster while first-rounder Josh Jacobs burst onto the scene despite playing most of the year with a rather tormenting shoulder injury. It's still tough being forced to witness your division counterpart hoist the Lombardi Trophy, but questionable quarterback situations in Denver and Los Angeles could allow for the Raiders to sneak into the No. 2 spot in terms of AFC West power rankings behind the reigning Super Bowl champion Chiefs.
Regardless of the opponent, Derek Carr now has enough healthy weapons at his disposal to legitimately put up or shut up before newcomer Marcus Mariota threatens for the gig.
Job Battle
Giving up over 4,000 yards through the air while tallying just nine total interceptions in 2019, the Raiders' secondary failures have worn on for what feels like an eternity. They've finished in the bottom half of the league in passing yards allowed for a whopping nine consecutive seasons, so as part of an attempt to avoid an entire decade-long disaster, the team added rookie cornerbacks Damon Arnette and Amik Robertson in Rounds 1 and 4 of the draft.
The latter is less likely to immediately challenge for a significant role with Lamarcus Joyner occupying the slot, unless the former Ram were to eventually be tasked with rotating back to his more natural position as a safety.
Alternatively, Arnette had a fairly clear path to starting duties when his name was surprisingly called at 19th overall, but the Raiders opted for additional competition by signing 31-year-old Prince Amukamara, who enters his 10th season in the league.
An especially difficult offseason for the development of rookies puts Arnette at an even bigger disadvantage in the upcoming battle for a starting spot across from Trayvon Mullen, while Amukamara's experience and NFL resume figure to give him the upper hand.
Medical Tent
WR Henry Ruggs
The No. 12 overall pick in the 2020 NFL Draft suffered a bizarre non-football related injury this offseason when his leg became trapped while assisting a friend move. The resulting gash in Ruggs' thigh required stitches and the use of crutches, though he avoided any significant damage as the severity of the issue remained relatively minor. Ruggs was not placed on a medical list ahead of camp, indicating he's made a full recovery as he hopes to make an immediate impact after leaving Alabama with the third-most touchdown receptions in school history despite just three seasons of action.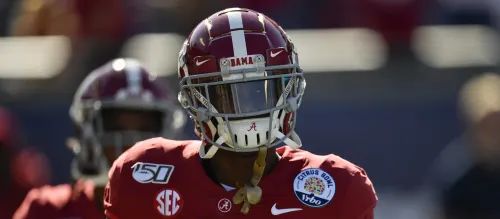 A broken fifth metatarsal of his foot sustained in February kept Edwards from participating in the 2020 NFL Scouting Combine after four years of solid production at the University of South Carolina. The injury allowed the Raiders to take advantage of the 6-3, 212-pound receiver's subsequent fall down draft boards, as Las Vegas scooped him near the middle of the third round at No. 81 overall. Much like Ruggs, Edwards' seemingly smooth and speedy recovery kept him off any medical lists as the pair of wideouts now enter their maiden training camp together at full strength.
Beginning training camp on the PUP list was a more realistic scenario for Moreau than the aforementioned crew of first-year pass catchers as a significant left knee injury ended his 2019 rookie campaign prematurely with three games remaining on the schedule. Surgery was required to repair his damaged ACL, but a rehab stint throughout the offseason at his alma mater of LSU has proven successful as Moreau too avoided the PUP list and should be at least close to 100 percent for the start of camp, barring any setbacks.