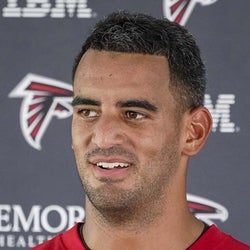 Rest-of-Season Projections
2023 Fantasy Outlook
After going two seasons without a start, Mariota spent most of last year as Atlanta's top quarterback. He started 13 games before being benched for rookie Desmond Ridder and finished the year on injured reserve due to a knee injury. His performance in those outings makes it easy to see why he'll be back in a reserve role this fall, backing up Jalen Hurts for the Eagles. Mariota's mobility makes him a good fit as Hurts' main reserve, as his 438 rushing yards in 2022 ranked sixth among all QBs, but he didn't do much with his arm. He ranked 30th in passing yards per game (170.7), clearing 200 yards just three times and topping out at 253. He added 15 touchdowns and nine picks.
Read Past Outlooks
RANKS
#

Overall
$Signed a one-year, $5 million contract with the Eagles in March of 2023.

ANALYSIS
Mariota is only expected to play one series before giving way to
Tanner McKee
, and eventually
Ian Book
. The Oregon product has struggled at times learning his new team's offense during training camp, but he's fully expected to remain the team's No. 2 option behind
Jalen Hurts
this season.
Read More News
NFL Stats
Fantasy/Red Zone Stats
See red zone opportunities inside the 20, 10 and 5-yard lines along with the percentage of time they converted the opportunity into a touchdown.
Loading Fantasy/Red Zone Stats...
Advanced NFL Stats
Loading Advanced NFL Stats...
2023
2022
2021
2020
2019
2018
2017
2016
2023 NFL Game Log

Calculate Stats Over Time
Just click on any two dates.
Scoring
Standard
PPR
Half PPR
FanDuel
DraftKings
Yahoo DFS
2022 NFL Game Log

Calculate Stats Over Time
Just click on any two dates.
Scoring
Standard
PPR
Half PPR
FanDuel
DraftKings
Yahoo DFS
2021 NFL Game Log

Calculate Stats Over Time
Just click on any two dates.
Scoring
Standard
PPR
Half PPR
FanDuel
DraftKings
Yahoo DFS
2020 NFL Game Log

Calculate Stats Over Time
Just click on any two dates.
Scoring
Standard
PPR
Half PPR
FanDuel
DraftKings
Yahoo DFS
2019 NFL Game Log

Calculate Stats Over Time
Just click on any two dates.
Scoring
Standard
PPR
Half PPR
FanDuel
DraftKings
Yahoo DFS
2018 NFL Game Log

Calculate Stats Over Time
Just click on any two dates.
Scoring
Standard
PPR
Half PPR
FanDuel
DraftKings
Yahoo DFS
2017 NFL Game Log

Calculate Stats Over Time
Just click on any two dates.
Scoring
Standard
PPR
Half PPR
FanDuel
DraftKings
Yahoo DFS
2016 NFL Game Log

Calculate Stats Over Time
Just click on any two dates.
Scoring
Standard
PPR
Half PPR
FanDuel
DraftKings
Yahoo DFS
Snap Distribution / Depth Chart
This Week's Opposing Pass Defense
How does the 49ers pass defense compare to other NFL teams this season?
The bars represents the team's percentile rank (based on QB Rating Against). The longer the bar, the better their pass defense is.
The team and position group ratings only include players that are currently on the roster and not on injured reserve. The list of players in the table only includes defenders with at least 3 attempts against them.

vs 49ers
Sunday, Dec 3rd at 4:25PM
Overall QB Rating Against
69.7
Loading Opponent Pass Defense Stats...
2023 Marcus Mariota Split Stats
Loading NFL Split Stats...
How do Marcus Mariota's measurables compare to other quarterbacks?
This section compares his draft workout metrics with players at the same position. The bar represents the player's percentile rank. For example, if the bar is halfway across, then the player falls into the 50th percentile for that metric and it would be considered average.
Recent RotoWire Articles Featuring Marcus Mariota
See More
Past Fantasy Outlooks
2022
2021
2020
2019
2018
2017
2016
2015
After two years as the backup in Las Vegas, Mariota reunites with coach Arthur Smith, his offensive coordinator in Tennessee in 2019. The 28-year-old is capable of managing games, but he's just keeping the seat warm until third-round pick Desmond Ridder is ready. The last time Mariota was the No. 1 QB (his last year in Tennessee), he lost the job by midseason. He has merely adequate arm strength, and his career on-target rate on attempts of 20-plus yards is 42.9 percent. (By comparison, that would have ranked 23rd last season, the same as noodle- armed Ben Roethlisberger.) Mariota is still plenty mobile, but he's also been beset with injuries throughout his career. This season, he has two veteran weapons in RB Cordarrelle Patterson and TE Kyle Pitts. The No. 1 WR is first-round pick Drake London, followed by third-year wideout Olamide Zaccheaus and his 54 career receptions. Mariota's speed gives him a hint of fantasy upside, but the Atlanta passing game won't be pretty.
The Raiders made Mariota one of the league's highest-paid backup quarterbacks ahead of the 2020 season, but he's since restructured his pact into a one-year deal worth $3.5 million for 2021 after appearing in just one contest last year. Mariota was unable to emerge victorious against the Chargers in Week 15 after starter Derek Carr went down with a groin injury in the first quarter, but the former exhibited versatility and competence, throwing for 226 yards on 17 of 28 passing to accompany nine carries for 88 yards and a touchdown. Originally subjected to trade rumors upon the turn of the calendar year, Mariota remains on track to back up Carr again this season, though much less chatter surrounding a potential QB competition exists this time around.
The second overall pick in the 2015 draft, Mariota was benched in the third quarter of Week 6 last year after passing for 63 yards and two interceptions. He lost his starting job for good the following week and took just five more snaps the rest of the season as Ryan Tannehill led the Titans to the AFC championship game. Mariota's Titans tenure ended in March when he signed a two-year $17.6 million deal with the Raiders that made him the highest-paid backup in the league. He enters the season as the No. 2 to Derek Carr, but that's a big contract to simply hold a clipboard and it wouldn't surprise if he pulled a Tannehill - the underachieving free-agent looking for a new start who pushes out the lackluster incumbent. But Carr won't be as easy to dislodge. He's a highly efficient QB - even if it's built on dink-and-dunking - who takes care of the ball (eight INTs on 513 attempts last year). Plus, he's under contract through 2022. If Mariota gets his chance, though, he'll have a better supporting cast than he's ever had. Tyrell Williams is healthy, Hunter Renfrow showed promise in his rookie year and TE Darren Waller had a breakout season. The team drafted speedster Henry Ruggs (4.27 40) 12th overall, and 1,150-yard rusher Josh Jacobs returns ready for more passing-down work. A quarterback with similar passing numbers to Carr with the rushing upside of Mariota would make for a decent fantasy asset.
After four seasons and 55 NFL starts by Mariota, the Titans still don't seem to have any clue if they've found their franchise quarterback. Injuries, poor coaching and a lack of receiving talent have all played a role in that equation, but it's also hard to shake the feeling that Mariota simply isn't anything special. He took a step back in 2017 after a promising 2016 campaign, and his massive growth in completion percentage last season (68.9 percent) was offset for practical purposes by career lows in yards per completion (11.1) and sack rate (11.3 percent, highest among qualified QBs). His average depth of target was a mere 7.6 yards, fifth lowest in the league. Tennessee took an aggressive approach to upgrading its offense this offseason, signing slot receiver Adam Humphries and guard Rodger Saffold before drafting wideout A.J. Brown at No. 52 overall. The team also prioritized the backup quarterback spot for the first time in years, trading for Ryan Tannehill after watching Mariota battle a laundry list of injuries in 2018. One might use the injuries to excuse his bad play, or alternatively to argue that he'll never manage to stay healthy. Either way, the calls for Tannehill will grow loud if Mariota doesn't make good use of his improved supporting cast early in the season.
After a promising second year, Mariota regressed heavily in his third season. He threw more interceptions than touchdowns, saw his YPA drop by half a yard and failed to top 250 yards passing 10 times in 15 games. His downfield passing reverted to the struggles he had as a rookie, arguably worse. He took fewer than three shots per game beyond 20 yards downfield, completing only 25.6 percent (27th) with a 42.4 passer rating, 32nd among the 34 quarterbacks with at least 20 attempts. Part of the problem was a heavy emphasis on the running game - the Titans ranked sixth in rushing percentage - at the expense of the passing game. That should be corrected this season with the arrival of offensive coordinator Matt LaFleur, the former Rams OC. A big part of LaFleur's offense is play-action, which should suit Mariota well after he led the league in passer rating (122.8) and yards per attempt (11.1) on play-action passes last season. Mariota intends to tweak his mechanics, too, as sloppy footwork led to passes sailing or dying, causing incompletions and interceptions. Health will go a long way. Mariota has not played a full season; last year a hamstring strain held him out Week 5 and limited his mobility the next few games. Delanie Walker, Rishard Matthews and Corey Davis provide upside for the passing game, and this offseason the Titans added pass-catching back Dion Lewis. It's time for Mariota to fulfill his potential.
Mariota's second season ended in Week 16 last year with a fractured right fibula. While he was not yet running full speed at May workouts, he is expected to be ready for training camp. His rookie season ended with a sprained MCL in his knee, and durability looks to be his only issue. After struggling on deep throws as a rookie, Mariota made a big jump in accuracy last year on attempts of more than 20 yards, taking his completion rate from 22.5 percent (33rd) as a rookie to 39.1 percent (15th). His QB rating soared from 50.6 (29th) to 117.4 (4th) on deep throws. Improved line play helped his sacks drop from 38 to 23 despite 66 more dropbacks. A vastly better running game and the addition of WR Rishard Matthews contributed to his growth. Those pieces, and standout TE Delanie Walker, are in place again, and the Titans added speedy 6-3 WR Corey Davis with the fifth overall pick, giving Mariota a playmaker on the outside. Davis could become Mariota's go-to in the red zone, where the QB has thrown 33 TDs without a pick. The 6-4 Mariota is an exceptional athlete with the speed and quickness to make plays with his legs (sixth in QB rushing yards last year), but the Titans could limit his running to avoid exposing him to hits. That's about the only drawback, though, as Mariota looks poised to jump into the top 10 of fantasy QBs.
The second overall pick in the 2015 draft, Mariota found himself under center in Week 1 and stole all the headlines by throwing four TDs before halftime, finishing his debut with a perfect passer rating while only playing three quarters in a rout. It was mostly downhill from there, though, as various injuries limited him to 12 games and unimpressive passing totals. An extremely gifted athlete, Mariota could become the league's most dangerous scrambler not named Cam Newton, and he also has a quick release and excellent footwork, albeit with merely adequate arm strength. That lack of elite arm strength, as well as a lack of elite receivers, led to Mariota posting a poor 58.3 QB rating on passes of 15-plus yards. The question now for 2016 is how much he'll be allowed to do under center. Sacked 38 times —a rate that would have tied Blake Bortles over 16 games as the league's most-sacked QB — Mariota should have better protection after the Titans drafted tackle Jack Conklin eighth overall. The team also traded for DeMarco Murray and drafted Derrick Henry in the second round, and while an improved rushing attack will take significant pressure off Mariota and perhaps keep him healthier, it also signals a shift in offensive philosophy that could limit his pass attempts and fantasy ceiling.
The only knock on Mariota coming out of college — and the biggest reason he was drafted second behind Jameis Winston — is he played in a spread attack at Oregon. Mariota was rarely asked to make multiple reads or throw into tight windows. How long it takes him to adjust to that aspect of quarterbacking is anyone's guess, but he is expected to start Week 1. Mariota is a rare athlete who posted elite marks in drill after drill at the Combine, including a 4.52 40. The 2014 Heisman Trophy winner is the ideal dual-threat QB: both quick and fast, strong-armed, throws well on the run, agile, accurate and intelligent. The Titans said they plan to tailor their offense to fit Mariota's skills. Tennessee's receivers are more steady than explosive, but second-round pick Dorial Green-Beckham has the potential to be a size/speed playmaker right away at 6-5, 237, with a 4.49 40. The 6-4 Justin Hunter provides another big target, and last year's leading receivers, Kendall Wright and Delanie Walker, are reliable, while newcomers Harry Douglas and Hakeem Nicks are savvy veterans who can help.
More Fantasy News