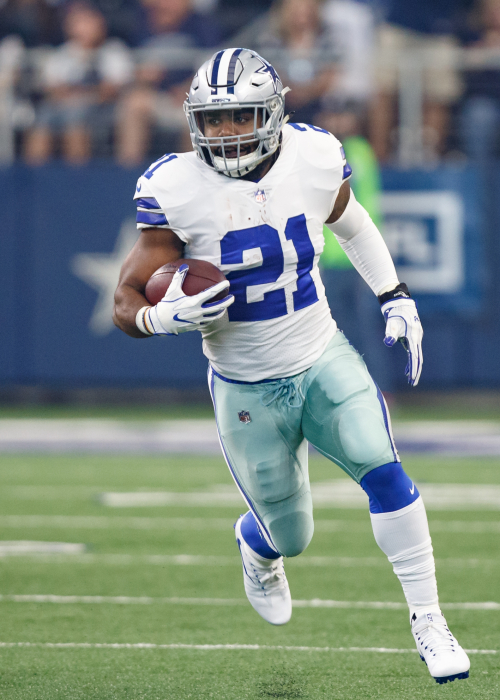 2018 Rush/Rec Projections
2018 Fantasy Outlook
While Elliott's six-game suspension cast a pall over not just his own season but the Cowboys' entire 2017 campaign, he managed to finish in the top 10 for carries, red-zone touches and TDs despite only playing 10 games. He lost a full yard off his rookie-year YPC and only managed seven runs of 15 yards or more, but his workload was unrivaled by anyone besides Le'Veon Bell, with Elliott taking 26.8 touches per game and rushing for 80 or more yards in all but one game. He's one of the few true bellcow backs in the modern NFL, coming off a season in which he was on the field for 85.5 percent of the Cowboys' offensive snaps in the games he played. While not a high-volume pass catcher along the lines of Bell or David Johnson, the third-year back has shown more than enough as a receiver and blocker to continue handling the majority of third downs. He runs with good power and doesn't lack for speed, but his biggest weapons are vision and patience, assets accentuated by the fearsome offensive line in front of him - a line that got reinforced in the draft with second-rounder Connor Williams. Assuming he doesn't run afoul of the commissioner's office again, Elliott heads into 2018 poised to challenge for another rushing title and seemingly a lock for double-digit TDs.
Read Past Outlooks
RANKS
#

Overall
Add To Watchlist
$Signed a four-year, $24.96 million contract with the Cowboys in May of 2016.

Elliott ran the ball 19 times for 151 yards and a touchdown in Sunday's 27-20 win over the Eagles. He added 36 yards and another score on six receptions.
ANALYSIS
Elliott tied his season high of 7.9 yards per carry, which is even more impressive considering he was bottled up for just four yards on his first three carries Sunday. The star back had been slumping to the tune of 94 total rushing yards over his last two games, so his fantasy owners certainly welcomed this offensive explosion. This was also the first multi-touchdown performance of the year for Elliott, a feat he accomplished three times by this point in 2017. While his production is down compared to previous dominant years, the 23-year-old remains a fantasy RB1 heading into Week 11's matchup with the Falcons.
Read More News
NFL Stats
Fantasy/Red Zone Stats
See red zone opportunities inside the 20, 10 and 5-yard lines along with the percentage of time they converted the opportunity into a touchdown.
Loading Fantasy/Red Zone Stats...
Advanced NFL Stats
How do Ezekiel Elliott's 2018 advanced stats compare to other running backs?
This section compares his advanced stats with players at the same position. The bar represents the player's percentile rank.
The longer the bar, the better it is for the player.
Broken Tackle %

The number of broken tackles divided by the number of times he touched the ball.

Positive Run %

The percentage of run plays where he was able to gain positive yardage.

% Yds After Contact

The percentage of his rushing yards that came after contact.

Avg Yds After Contact

The average rushing yards he gains after contact.

Rushing TD %

Rushing touchdowns divided by rushing attempts. In other words, how often is he scoring when running the ball.

Touches Per Game

The number of touches (rushing attempts + receptions) he is averaging per game

% Snaps w/Touch

The number of touches (rushing attempts + receptions) divided by offensive snaps played.

Air Yards Per Game

The number of air yards he is averaging per game. Air yards measure how far the ball was thrown downfield for both complete and incomplete passes. Air yards are recorded as a negative value when the pass is targeted behind the line of scrimmage. All air yards data is from Sports Info Solutions and does not include throwaways as targeted passes.

Air Yards Per Snap

The number of air yards he is averaging per offensive snap.

% Team Air Yards

The percentage of the team's total air yards he accounts for.

% Team Targets

The percentage of the team's total targets he accounts for.

Avg Depth of Target

Also known as aDOT, this stat measures the average distance down field he is being targeted at.

Catch Rate

The number of catches made divided by the number of times he was targeted by the quarterback.

Drop Rate

The number of passes he dropped divided by the number of times he was targeted by the quarterback.

Avg Yds After Catch

The number of yards he gains after the catch on his receptions.
Avg Depth of Target
0.2 Yds
Loading Advanced NFL Stats...
NFL Game Log

Calculate Stats Over Time
Just click on any two dates.
Scoring
Standard
PPR
Half PPR
FanDuel
DraftKings
Yahoo DFS
Snap Distribution / Depth Chart

Cowboys 2018 RB
Snap Distribution
See more data like this
Loading Weekly Snap Counts...
#1 RB

Cowboys
Receiving Alignment Breakdown
See where Ezekiel Elliott lined up on the field and how he performed at each spot.
Loading Alignment Breakdown...
Loading Alignment Breakdown...
Loading Alignment Breakdown...
Loading Team Alignment Breakdown...
This Week's Opposing Pass Defense
How does the Falcons pass defense compare to other NFL teams this season?
The bars represents the team's percentile rank (based on QB Rating Against). The longer the bar, the better their pass defense is.
The team and position group ratings only include players that are currently on the roster and not on injured reserve. The list of players in the table only includes defenders with at least 3 attempts against them.

@ Falcons
Sunday, Nov 18th at 1:00PM
Overall QB Rating Against
100.6
Loading Opponent Pass Defense Stats...
How do Ezekiel Elliott's measurables compare to other running backs?
This section compares his draft workout metrics with players at the same position. The bar represents the player's percentile rank. For example, if the bar is halfway across, then the player falls into the 50th percentile for that metric and it would be considered average.
Past Fantasy Outlooks
Elliott hit the jackpot in the 2016 draft, landing with a Cowboys squad that was perfectly set up for an every-down back to come in and put up huge numbers behind their dominant offensive line. The 6-0, 225-pound dynamo out of Ohio State more than held up his end of that bargain, teasing a run at Eric Dickerson's 1983 record for rushing yards by a rookie before eventually settling for his first of what could be many rushing crowns. Elliott combined elite vision and plus elusiveness with the burst to break into the second level and the speed to run away from defenders once he got there. Perhaps the most valuable weapon in his arsenal is his uncanny patience, as he demonstrated the ability to wait for plays to develop and his blocks to get set up before attacking the hole. Depressingly for opposition defenses, Elliott may just be scratching the surface of his potential. He wasn't as involved in the passing game as he could have been, something that should change as Dak Prescott develops right alongside him, as Elliott was charged with only one drop last year. The Dallas O-line may take a small step back this season after losing two starters in the offseason, but the real concern surfaced in mid-August when Elliott was handed a six-game suspension. He was granted an injunction and temporary restraining order that allow him to keep playing for the Cowboys while his lawsuit plays out in court, but there is a small chance he could miss time later in the season if the case is wraps up quicker than expected.
Elliott ran through, around and over collegiate defenses the last two years, collecting 41 touchdowns and 4,125 yards from scrimmage. As dominant as Elliott was in the Big 10, he was even better during three career Bowl games: 83 carries, 625 yards, 10 touchdowns, 7.5 a carry. Not too shabby for someone who finished eighth in the Heisman voting as a junior; maybe they should run that election after the season is over. He showed the ability to play on all downs and in all packages, making him an unusually polished running back entering his freshman season in the NFL The Pokes snagged him with the fourth overall pick in May. You can have a long discussion about who should go No. 2 in a rookies-only draft, but Elliott is going to be the obvious No. 1 dynasty league pick everywhere — mostly because of his talent, but it also speaks to an unexciting crop of rookies. With that in mind, the isolation of Elliott is only going to make him more expensive in most pools. Ah, but there's plenty to like. The Cowboys still have the consensus No. 1 offensive line (it graded first in both run and pass blocking last year, per Pro Football Focus), and Dallas has a paper-thin schedule.The window to win is narrow in Dallas, given the age of the key core — and with that, it's unlikely the Cowboys will make Elliott wait to prove much.
More Fantasy News