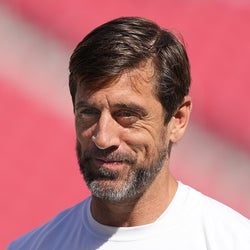 IR
Injury Achilles
Est. Return 2/12/2024
Rest-of-Season Projections
2023 Fantasy Outlook
The Rodgers era in Green Bay is over, but the QB is still wearing green. The Jets, who've searched for a Super Bowl-caliber QB since Joe Namath, traded a bevy of picks for the 39-year-old. The question is just how much Rodgers has left. Last year, he finished QB13 in fantasy, the first time in his career outside the top 10 in a full season. He posted a full-season career low in passing yards as his 6.8 YPA ranked 23rd. More alarming, his 12 interceptions were one shy of the total from his previous three seasons combined and the most he'd thrown since 13 as a first-year starter in 2008. Part of his problem was a lack of playmakers. Rodgers had the second-highest dropped pass percentage (7.4), and while his on-target percentage (51.3) on attempts of 20-plus yards ranked ninth, his completion percentage (33.8) ranked 22nd. It could be a problem again. In New York he has Garrett Wilson, who had 1,103 receiving yards as a rookie last year, and not much else. The No. 2 WR is his former Packers teammate Allen Lazard, whose efficiency slumped considerably with a big increase in volume last year. The speed demon is Mecole Hardman, who never broke out in four seasons with Patrick Mahomes before signing with the Jets this March. Rodgers doesn't do much with his feet at this point, and he won't rank among the league leaders in pass attempts unless the Jets' big-time investments in their defense and running game go horribly wrong. Stabilizing the Jets in real life won't necessarily mean a reprisal of the big numbers from his better Green Bay years.
Read Past Outlooks
RANKS
#

Overall
$Signed a three-year, $112.5 million restructured contract with the Jets in July of 2023.

Hopeful for postseason return
ANALYSIS
Achilles tears have historically been season-ending injuries, with Rams running back
Cam Akers
-- who needed just under five months to recover from surgery in 2021 -- having thus far staged the fastest-known recovery from the injury. Rodgers is hopeful to match or beat that five-month recovery timeline, which would fall just under a week before Super Bowl LVIII in Las Vegas. According to the report, Rodgers and the Jets are optimistic that he'll be in store for an accelerated rehab after his surgery included a procedure to place an internal bridge or "speed bridge" into the ruptured Achilles. The speed bridge is designed to better protect the repaired tendon and open the door for a return from surgery in as little as four months, though there are no guarantees, given that the procedure is a relatively novel one. In addition, Rodgers is expected to receive platelet-rich plasma injections to aid in accelerating the healing process. In a best-case scenario, Rodgers could be ready to play by mid-January, but that probably isn't an outcome the Jets are banking on, even if they claim a playoff spot.
Read More News
NFL Stats
Fantasy/Red Zone Stats
See red zone opportunities inside the 20, 10 and 5-yard lines along with the percentage of time they converted the opportunity into a touchdown.
Loading Fantasy/Red Zone Stats...
Advanced NFL Stats
How do Aaron Rodgers' 2023 advanced stats compare to other quarterbacks?
This section compares his advanced stats with players at the same position. The bar represents the player's percentile rank.
The longer the bar, the better it is for the player.
Bad Pass %

The percentage of passes that were considered to be poorly thrown.

Avg Target Depth

The average number of yards thrown per pass by the quarterback – including incomplete passes.

Sack Rate

The percentage of dropbacks where the quartback was sacked. The longer the bar below, the more often they are sacked relative to other QBs.

Avg Receiver YAC

The average number of yards after the catch that receivers gained on passes thrown by this quarterback.

Receiver Drop %

The percentage of passes dropped by receivers on passes thrown by this quarterback. The longer the bar, the more sure-handed his receivers have been.
Loading Advanced NFL Stats...
2023
2022
2021
2020
2019
2018
2017
2016
2023 NFL Game Log

Calculate Stats Over Time
Just click on any two dates.
Scoring
Standard
PPR
Half PPR
FanDuel
DraftKings
Yahoo DFS
2022 NFL Game Log

Calculate Stats Over Time
Just click on any two dates.
Scoring
Standard
PPR
Half PPR
FanDuel
DraftKings
Yahoo DFS
2021 NFL Game Log

Calculate Stats Over Time
Just click on any two dates.
Scoring
Standard
PPR
Half PPR
FanDuel
DraftKings
Yahoo DFS
2020 NFL Game Log

Calculate Stats Over Time
Just click on any two dates.
Scoring
Standard
PPR
Half PPR
FanDuel
DraftKings
Yahoo DFS
2019 NFL Game Log

Calculate Stats Over Time
Just click on any two dates.
Scoring
Standard
PPR
Half PPR
FanDuel
DraftKings
Yahoo DFS
2018 NFL Game Log

Calculate Stats Over Time
Just click on any two dates.
Scoring
Standard
PPR
Half PPR
FanDuel
DraftKings
Yahoo DFS
2017 NFL Game Log

Calculate Stats Over Time
Just click on any two dates.
Scoring
Standard
PPR
Half PPR
FanDuel
DraftKings
Yahoo DFS
2016 NFL Game Log

Calculate Stats Over Time
Just click on any two dates.
Scoring
Standard
PPR
Half PPR
FanDuel
DraftKings
Yahoo DFS
Snap Distribution / Depth Chart
This Week's Opposing Pass Defense
How does the Broncos pass defense compare to other NFL teams this season?
The bars represents the team's percentile rank (based on QB Rating Against). The longer the bar, the better their pass defense is.
The team and position group ratings only include players that are currently on the roster and not on injured reserve. The list of players in the table only includes defenders with at least 3 attempts against them.

@ Broncos
Sunday, Oct 8th at 4:25PM
Overall QB Rating Against
110.7
Loading Opponent Pass Defense Stats...
2023 Aaron Rodgers Split Stats
Loading NFL Split Stats...
How do Aaron Rodgers' measurables compare to other quarterbacks?
This section compares his draft workout metrics with players at the same position. The bar represents the player's percentile rank. For example, if the bar is halfway across, then the player falls into the 50th percentile for that metric and it would be considered average.
Recent RotoWire Articles Featuring Aaron Rodgers
See More
Past Fantasy Outlooks
2022
2021
2020
2019
2018
2017
2016
2015
2014
2013
2012
2011
2010
2009
2008
2007
2006
2005
Last season was filled with drama for Rodgers, but it ended the same way as the previous year — as NFL MVP. He lost 11 TD passes from the previous season in part because of predictable regression in red-zone scores, while his 68.9 completion percentage (3rd) and 7.7 YPA (6th) were only slightly off his 2020 pace. He also took his ability to protect the football to even greater heights. After throwing two interceptions in Week 1, he had just two more the rest of the season. Rodgers put to rest the question of where he'd play this year by signing a contract extension in March. But days later, he lost his best offensive weapon, wide receiver Davante Adams, and then field-stretcher Marquez Valdes-Scantling. If the quarterback makes the receiver, then Rodgers will be fine. But the WR room is devoid of high-end talent and the team waited until its third draft pick to add a wideout — Christian Watson, a 6-4 receiver with 4.36 speed. Otherwise, it's Allen Lazard, Sammy Watkins, Randall Cobb, Amari Rodgers and fourth-round pick Romeo Doubs at wide receiver, plus TEs Robert Tonyan and Josiah Deguara. Running backs Aaron Jones and AJ Dillon, who combined for 86 catches last season, look poised for a lot of work. Rodgers' TDs could dip again without his best goal-line target, and with no clear go-to WR — let alone the QB-WR mind meld Rodgers had with Adams — his 18th season could be bumpier than the last two years.
Rodgers was not only the runaway MVP last year, but he had one of the greatest passing seasons in NFL history. He was the third QB all-time to finish with both the most touchdowns in the league and the fewest interceptions (Johnny Unitas 1958, Tom Brady 2010). His career-high 48 TD passes on 526 attempts gave him a 9.1 TD percentage, third highest since the merger. With just five interceptions, his INT rate was 0.95 percent, making him the only QB in league history with a TD percentage higher than 9.0 and an INT percentage less than 1.0. The emergence of TE Robert Tonyan and a healthier Davante Adams, who sucked up a third of Rodgers' targets, gave Rodgers more to work with than he had most of 2019, and the Packers faced a string of bad defenses. Rodgers credited overhauled mechanics for lowering his bad-pass percentage to 14.3 (2nd), which, with fewer throwaways and dropped passes, led to a career-high and league-leading 70.7 completion percentage. But Rodgers was more a product of the red zone. He had only four more red-zone attempts in 2020 than the previous year but threw 19 more red-zone touchdowns. His red-zone TD pass percentage jumped to 42.7 percent, second highest in the league since 1991. That's bound to regress closer to the league-average 26.3 percent. With fewer TD passes this year (and little rushing), the 37-year-old Rodgers seems likelier to repeat his 2019 QB9 season than last year's QB2 season.
The Packers surprisingly went 13-3 last season and advanced to the NFC championship game. But for Rodgers, his first season under coach Matt LaFleur looked a lot like his final season under coach Mike McCarthy. Rodgers again was stymied by a wideout corps that had no playmakers beyond Davante Adams, who missed four games and still sucked up nearly 24 percent of the team's targets and nearly 25 percent of the receiving yards. Rodgers improved his bad-pass percentage to 19.3 (12th) but did not get much help from his receivers, who dropped 6.2 percent of his targets (5th most). For the second year in a row, Rodgers had to simply throw away too many passes because his teammates were not open; his 31 throwaways were second most in the league. That helped him lead the league in interception rate at 0.7 percent, but it also hurt his TD pass percentage, which at 4.6 was the lowest of his career save for 2018's 4.2 percent. Rodgers still goes downfield at a good clip - 15.1 percent of his passes went beyond 20 yards, third highest in the league - but his 29.1 completion percentage was a career low on downfield attempts. He finished the year QB9 in fantasy, but that seems like his ceiling unless his attempts spike to 600 (unlikely) or he gets additional playmakers before Week 1. The team surprisingly did not draft a wide receiver from a stacked rookie class, instead using its first-round pick on potential quarterback heir Jordan Love, followed by a second-round pick spent on running back AJ Dillon. Given the circumstances, it will be tough for Rodgers to return to the top 10 of fantasy quarterbacks.
Rodgers topped 4,000 passing yards for the seventh time in his career last season, but his 25 touchdown passes were the fewest he's throw in a full campaign, as injuries, a lack of weapons and uninspired playcalling helped hand the Packers back-to-back losing seasons for the first time since 1990-91. Rodgers played with an MCL sprain and tibial plateau fracture in his left leg all year and also suffered a concussion Week 17. The injuries no doubt had an impact, as did the lack of reliable receivers behind Davante Adams, who sucked up 27.5 percent of the team's targets, 30 percent of receiving yards and 52 percent of receiving TDs (despite missing Week 17). Green Bay's young wide receivers were inconsistent, while tight end Jimmy Graham was consistently ineffective. Too often, Rodgers was forced to simply throw the ball away, and while that helped him post an NFL-record 0.3 percent INT rate, it also led to a career-low 4.2 TD percentage and his second-lowest completion percentage (62.3). He ranked 17th in YPA (7.4) and 21st in completion percentage (32.5) on passes longer than 20 yards. It was enough to cost coach Mike McCarthy his job after 13 seasons in charge. In comes head coach Matt LaFleur and offensive coordinator Nathaniel Hackett to try to return the 35-year-old Rodgers to MVP form. The team didn't add new offensive pieces, so improvement will hinge on scheme, internal development and health. Expecting improvement in the first two is reasonable, but the latter might be the most important as injuries continue to pile up for Rodgers.
A broken collarbone in Week 6 last year ruined what started as a possible MVP season for Rodgers. In his first five games, he completed 66.7 percent of his passes and was on pace for more than 4,000 yards and 40 touchdowns. The Packers were 4-1 but went 3-8 the rest of the way with Brett Hundley taking over. Rodgers returned, at less than 100 percent health, for Week 15 with the Packers clinging to playoff hope, but he was shut down after the loss, a season wasted. Entering this season, Rodgers is without his favorite receiver, the aging Jordy Nelson, but he gained tight end Jimmy Graham, who is expected to be used more as a wideout like he was in New Orleans and gives Rodgers the best TE red-zone target he's had. Outside playmaker Davante Adams and possession slot receiver Randall Cobb return, but then it's a lot of unknowns, as the Packers hope a reliable target emerges from the next seven spots on the WR depth chart, including three rookies drafted in Rounds 4-6. Joe Philbin is back too as offensive coordinator, a position he helmed from 2007 to 2011 when Rodgers won his first MVP award. Rodgers is another year older - he says he wants to play until he's 40 - and durability is a bit of concern, though last year was the first time he missed games since his first broken collarbone in 2013.
The first half of last season looked like Rodgers had carried over his struggles from 2015 when he posted career lows for completion percentage and yards per attempt. Through the first nine games, Rodgers had a 63.1 percent completion rate (18th) and 6.53 YPA (26th), and while he had 22 touchdowns, he also had seven interceptions. Then in Week 11, vintage Rodgers emerged and for the next seven games he completed 69.7 percent of his passes (4th) with 8.37 YPA (4th) and, perhaps most impressive, 18 TDs and no picks. Opinions vary on cause and effect, but there's no denying Rodgers' accuracy on deep balls improved markedly. During his slide, he completed 20 percent (8 of 40) of passes of more than 20 yards for 6.7 YPA. During his rebound, he bumped those numbers to 42.8 percent (15 of 35) with 15.1 YPA. The addition of 6-6 TE Martellus Bennett gives Rodgers another weapon, creating mismatches up the seam and in the red zone. And another year removed from ACL surgery will only help Jordy Nelson, who leads perhaps the league's best receiving corps. Eddie Lacy left, but the Packers are deeper at running back, and it only helps Rodgers' case that the projected starter, Ty Montgomery, is a converted wide receiver who excels in the passing game.
Few players sabotaged as many fantasy seasons in 2015 as Rodgers. The first warning sign came in training camp when Jordy Nelson tore an ACL, but the expectation was Rodgers would carry on, not missing a beat. Instead, the offense slowly fell out of sync as the season progressed and the 32-year-old wound up with career lows in completion percentage and YPA. His three 300-yard games also represented a new low (he even managed four in his injury-shortened 2013), and he had none after Week 10. That puts second-year OC Edgar Bennett squarely on the hot seat, but it also raises questions about Rodgers this season. He still possesses every tool you want in a franchise QB, combining excellent mechanics and accuracy with great arm strength, athleticism and a knack for dissecting defenses, but too often last year he relied on bubble screens and short routes rather than stretching the field. Just 47 percent of his passing yards came through the air as opposed to after the catch, and he completed only 35 percent of passes 15-plus yards. Those issues could be fixed simply through Nelson's return, and young receivers like Ty Montgomery and Jeff Janis could also take a step forward. But arguably for the first time since his MVP in 2011 there are genuine questions about Rodgers' ability to produce at an elite level.
Rodgers claimed his second MVP award last season, cementing his status as the league's best quarterback. His five interceptions were the fewest in NFL history with a minimum of 500 attempts, and his 7.60 TD:INT ratio towered over the next closest quarterback (Tony Romo, 3.78). Rodgers might be the most efficient passer in NFL history, considering his 8.22 career YPA, third all-time, comes on more attempts than the first two quarterbacks combined. He's achieved elite levels of production every year since becoming Green Bay's starter, despite a modest 33.2 pass attempts per game (12th). Last year, he finished seventh in yards while ranking 14th in attempts, though playing with arguably the league's best receiver duo certainly helps. Jordy Nelson and Randall Cobb both topped 90 receptions and 1,200 yards last season, combining for 25 touchdowns, most of any WR tandem. With Nelson out for the season, second-year player Davante Adams will get into the mix big-time after showing promise as a rookie, and Eddie Lacy should again be a reliable target out of the backfield (10.2 YPC, 3rd among RB). Rodgers doesn't run as much as he used to, but he's still good for a couple rushing scores per season. The only hesitation with Rodgers is durability — after losing seven games in 2013 to a broken collarbone, he was hobbled down the stretch and into the playoffs last season by a calf injury. But that's quibbling.
With a little luck in the durability department, Rodgers should reestablish himself as one of the top fantasy quarterbacks in 2014. He threw for 84 combined touchdowns in 2011 and 2012 and was on pace for a similar touchdown rate last season before suffering a broken collarbone in Week 9. With an average of 8.4 yards per pass over the last five years, Rodgers is arguably the best downfield passer in the league, regularly ranking among the NFL's passing leaders despite never throwing more than 552 passes in a season. He has what might be the league's deepest group of receivers on his side, as the trio of Jordy Nelson, Randall Cobb and Jarrett Boykin returns, and they're joined by rookie second-round pick Davante Adams, who was one of the nation's best receivers at Fresno State. Adams should provide Rodgers with an upgrade in the red zone, in particular, as he caught 38 touchdowns in two collegiate seasons. Although Rodgers is a good bet to match or exceed the per-game production of almost any quarterback in the league, he probably has more health concerns than most of the other top-tier passers. Rodgers' game involves a lot of downfield passing and a fair amount of improvisation, which gives pass rushers time to close in, whereas players like Peyton Manning, Drew Brees, etc. tend to release the ball quickly.
Rodgers threw for an impressive 4,295 yards in 2012, but there's actually room for improvement as he recorded the lowest YPA (7.8) since he became a starter in 2008. The quarterback started the season with an average of only 251 yards and one passing touchdown per game over the Packers' first three contests. Don't expect that to happen again. Further, there's a good chance Rodgers' touchdown total will increase as well. He threw 39 touchdowns in 2012 but actually had fewer attempts inside the opponent's 10-yard line than the other top scorers – Drew Brees, Tom Brady, Peyton Manning, Cam Newton and Matt Ryan – and by a wide margin. Brees alone had nearly twice as many passes (55) as Rodgers (29) in that area. At worst, you can probably expect Rodgers' 7.1 percent touchdown rate – down from 9.0 percent in 2011 – to remain steady in 2013. And don't forget about what the Packers quarterback can give you on the ground. Rodgers has never failed to rush for 200 yards in a season, and he's averaged nearly four rushing touchdowns per year since he became a starter. Rodgers snuck into the end zone on the ground just twice last season, so there's yet another area where the superstar's stats could "regress" in a good way.
Rodgers was beyond brilliant in 2011, completing 68.3 percent of his passes while averaging 9.2 yards per attempt, resulting in 4,643 yards in just 15 games. What's even more impressive is that Rodgers threw 45 touchdowns on just 502 passes. That means nine percent of his passes – nearly one in 10 – went for a touchdown. He did all this while throwing just six interceptions. He added 257 yards and three touchdowns on the ground, too. With the exception of a puzzling loss to the Chiefs in Week 15, Rodgers was unstoppable perhaps to an extent that hasn't really been seen before – he scored at least two touchdowns in every game, three or more in 10 games, and for all but that one week against the Chiefs, defenses looked entirely helpless against him. Even in his one "bad" game he still scored 22 points in standard leagues. His top pass catchers from a year ago are all back, with wideouts Greg Jennings and Jordy Nelson headlining the list after combining for 24 touchdowns in 2011.
Coming off an impressive Super Bowl campaign, Rodgers is arguably the league's top quarterback for both fantasy and real-life purposes. He isn't granted as many pass attempts – his 475 in 15 games ranked 14th – as players like Drew Brees and Peyton Manning, but he closes that gap with efficiency (8.26 YPA, 2nd) and his ability to move the ball on the ground. Rodgers can be expected to hover around 300 yards and four touchdowns as a runner, while Brees and Manning aren't even guaranteed to post positive yardage in that regard. Rodgers might need to be a bit more cautious as a runner in 2011 after suffering two concussions last year, but that he's only missed one game in three years probably indicates last year's concussions were bad luck more than anything in Rodgers' control. Moreover, Rodgers has gotten better in each of the last two seasons, and he improved as last season progressed, totaling 1,911 yards, 16 touchdowns and two interceptions through the air while completing 71.4 percent of his passes and averaging 9.3 yards per pass attempt over the final seven games. While Rodgers had a deep wide receiver corps last season, he had to do without star tight end Jermichael Finley for most of the year. If Finley, who's expected back in time for training camp, can stay healthy, we might see Rodgers establish a new ceiling.
Rodgers is an incredible fantasy weapon boosted significantly by his consistent running – nine scores in two seasons and 316 rushing yards in 2009. We hate his sack number, 50 in 2009. But the rate improved steadily in the second half of the season, and the Packers improved their offensive line adding OT Bryan Bulaga in the first round of the draft. So the injury risk is less significant than it appeared to be last October. That's the only possible question mark anyone could have regarding Rodgers, who looks to be the perfect player. Rodgers is very consistent and also very explosive. His rushing ability coupled with his passing proclivity makes Rodgers the man most likely to carry your team from this position. Rodgers' receivers are also stronger than ever. The cold weather in Green Bay can be unfriendly to the pass, but Rodgers gets big scheduling breaks up until Week 15 and that alone is the reason he's not our No. 1 QB, though you can certainly make a case. Remember, you need to make the playoffs before you worry about playoff matchups, and getting Rodgers puts you in good stead for that.
He's going to be on a lot of championship rosters in 2009, should he slip past the fourth round. Most attractive are the 536 attempts. Although the Packers have sought to upgrade the defense, we're not too optimistic. Expect about 550 again in '09, as any gains on defense will probably be balanced by increased confidence from the coaching staff in Rodgers, now in his second full year as starter. His big-armed reputation isn't evidenced in our FAS throws (11-to-20 yards from scrimmage), just a 84.2 rating on 107 tosses and just 20 percent of his attempts (below league average). Of bigger concern for Rodgers rooters is the status of his O-Line. LT Chad Clifton allowed 7.5 sacks last year and is coming off knee surgery, and fellow tackle Mark Tauscher tore his ACL in December and might not be re-signed. OT/G T.J. Lang (Eastern Michigan) was a good middle-round value, but probably needs seasoning. The receivers are good enough, with Greg Jennings a borderline Pro Bowl-type and Donald Driver a declining but still solid chain-mover. No. 3 WR Jordy Nelson has reliable hands but no deep speed. But Rodgers had a 7.5 YPA as a first-year starter, and that's more likely to get better than worse. And 7.5-plus gets you 25-plus TD passes 80 percent of the time (assuming a healthy season). And if he progresses to 8.0, which is not crazy speculation at all given his place in the development curve, then you're talking 30-plus TD passes as chalk.
Brett Favre went out with a bang, putting up a season that defied all expectations in light of his recent trends. Rodgers looked so good in a very high-profile game in Dallas (when he replaced an injured Favre) that he's likely going to be overdrafted everywhere. Caution is the best approach here, as he's thown 59 passes in his career. General manager Ted Thompson said to read nothing into the selection of Brian Brohm in the second round. But you don't take QBs in the second round if you think they're just going to be backups. So clearly the team is not sold on Rodgers. Make sure you aren't either, no matter how he plays in those meaningless summer games. The Packers play calling tendencies are great for fantasy QBs, but that's likely to change now that their Hall of Fame quarterback has retired. The Packers have an exciting young runner in Ryan Grant and an interesting backup in former second-round pick Brandon Jackson. Their defense is also stout, and they play in a division where all of the teams likely will struggle to score. So they don't have to pass the ball often and probably won't.
Rodgers still has the No. 2 spot locked in, but with Brett Favre in the starting spot, Rodgers is not likely to see much time unless the Packers find themselves completely out of the division race. He's only thrown 31 passes in two NFL seasons so far, and it seemed like the Packers were willing to trade him earlier had the right offer come along.
Rodgers was the Packers' first round pick in 2005 and is their future at quarterback, assuming that Brett Favre retires at some point.
Rodgers, the Packers first round pick in 2005, will likely be listed as the second string QB this season, but it will probably be in name only. Don't expect him to see any extended game action for one or two years.
More Fantasy News