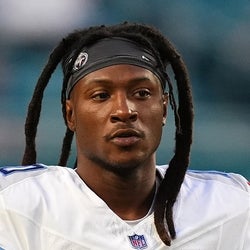 Reserve-Sus
Injury Suspension
Est. Return 10/20/2022
Rest-of-Season Projections
2022 Fantasy Outlook
Hopkins has been a regular on injury reports for years, and in 2021 it finally caught up with him. After playing at least 15 games in each of his first eight seasons, he played only 10 last year, also finishing with his lowest per-game averages for yardage (57.2) and targets (6.4) since he was a rookie in 2013. Hopkins scored eight touchdowns, two more than the year before despite having less than half the yardage (his first year in Arizona, 2020, was also his third in a row with 100-plus catches). He reportedly made a smooth recovery from MCL surgery this offseason, but the odds for a rebound year this season took a big hit with the announcement of a six-game suspension for violating the league's performance-enhancing substances policy. The Cardinals even traded for former Ravens wideout Marquise Brown shortly before the announcement, further lowering the odds for Hopkins to restore the huge target counts from his prime years. On the other hand, 30 isn't especially old for a wide receiver, and Hopkins could have more room to operate with the speedy Brown replacing Christian Kirk, who signed with the Jaguars this offseason, at his side. There is also hope for quarterback Kyler Murray and coach Kliff Kingsbury to take a step forward this season, though the downward trend throughout 2021 wasn't promising.
Read Past Outlooks
RANKS
#

Overall
$Signed a two-year, $54.5 million contract with the Cardinals in September of 2020.

Getting work in 10 personnel
ANALYSIS
Kyler Murray
and Brown both practiced Monday for the first time since the start of training camp, and it appears the offense was working on Air Raid concepts, perhaps with the regular season in mind. Hopkins himself won't be able to suit up until Week 7 (Thursday, Oct. 20 against the Saints) due to his six-game suspension for violating the NFL's policy on performance-enhancing substances, but he's at least been healthy in camp after an injury-plagued 2021. While his impact on the field won't be felt until late October, the three-time first team All-Pro could be a beneficiary of Kingsbury's game planning once he's available.
Read More News
NFL Stats
Fantasy/Red Zone Stats
See red zone opportunities inside the 20, 10 and 5-yard lines along with the percentage of time they converted the opportunity into a touchdown.
Loading Fantasy/Red Zone Stats...
Advanced NFL Stats
Loading Advanced NFL Stats...
2022
2021
2020
2019
2018
2017
2016
2022 NFL Game Log

Calculate Stats Over Time
Just click on any two dates.
Scoring
Standard
PPR
Half PPR
FanDuel
DraftKings
Yahoo DFS
2021 NFL Game Log

Calculate Stats Over Time
Just click on any two dates.
Scoring
Standard
PPR
Half PPR
FanDuel
DraftKings
Yahoo DFS
2020 NFL Game Log

Calculate Stats Over Time
Just click on any two dates.
Scoring
Standard
PPR
Half PPR
FanDuel
DraftKings
Yahoo DFS
2019 NFL Game Log

Calculate Stats Over Time
Just click on any two dates.
Scoring
Standard
PPR
Half PPR
FanDuel
DraftKings
Yahoo DFS
2018 NFL Game Log

Calculate Stats Over Time
Just click on any two dates.
Scoring
Standard
PPR
Half PPR
FanDuel
DraftKings
Yahoo DFS
2017 NFL Game Log

Calculate Stats Over Time
Just click on any two dates.
Scoring
Standard
PPR
Half PPR
FanDuel
DraftKings
Yahoo DFS
2016 NFL Game Log

Calculate Stats Over Time
Just click on any two dates.
Scoring
Standard
PPR
Half PPR
FanDuel
DraftKings
Yahoo DFS
Snap Distribution / Depth Chart
Receiving Alignment Breakdown
See where DeAndre Hopkins lined up on the field and how he performed at each spot.
Loading Alignment Breakdown...
Loading Alignment Breakdown...
Loading Alignment Breakdown...
Loading Team Alignment Breakdown...
This Week's Opposing Pass Defense
How does the Panthers pass defense compare to other NFL teams this season?
The bars represents the team's percentile rank (based on QB Rating Against). The longer the bar, the better their pass defense is.
The team and position group ratings only include players that are currently on the roster and not on injured reserve. The list of players in the table only includes defenders with at least 3 attempts against them.

@ Panthers
Sunday, Oct 2nd at 4:05PM
Overall QB Rating Against
63.4
Loading Opponent Pass Defense Stats...
2022 DeAndre Hopkins Split Stats
Loading NFL Split Stats...
How do DeAndre Hopkins' measurables compare to other wide receivers?
This section compares his draft workout metrics with players at the same position. The bar represents the player's percentile rank. For example, if the bar is halfway across, then the player falls into the 50th percentile for that metric and it would be considered average.
* The Cone Drill metric is from his Pro Day. All others are from the NFL Combine.
Recent RotoWire Articles Featuring DeAndre Hopkins
Past Fantasy Outlooks
2021
2020
2019
2018
2017
2016
2015
2014
2013
Changing teams in the midst of a pandemic where offseason activities were severely curtailed didn't seem to bother Hopkins much. With Kyler Murray under center instead of Deshaun Watson, Hopkins posted his third consecutive 100-catch season, finished second among wideouts in receiving yards and averaged 8.8 YPT, third highest of his career. At 6-1, 212, Hopkins has good size but only average speed. His lack of vertical explosiveness hasn't mattered much in Houston or Arizona, though, because he catches anything thrown remotely in his vicinity (only one drop in 160 targets), runs precise routes and is one of the greatest in NFL history at getting his feet down in bounds near the sideline. At 29, Hopkins is probably past his peak, but Hall of Fame level receivers usually produce into their 30s, and his setup in Arizona is nearly ideal in a pass-first offense with complementary pieces like Christian Kirk, an aging A.J. Green and 49th overall pick Rondale Moore, but no one to threaten his target-heavy role. It's hard to find a player with a higher floor than Hopkins.
Hopkins' 2019 season wasn't what you had hoped for in the middle of the first round, but it was a far cry from the disastrous campaigns of Le'Veon Bell or David Johnson. Hopkins played through a rib injury for a good chunk of the year and sat out the regular-season finale, but he still managed a 104-1,165-7 campaign in his age-27 season. The biggest difference between 2018 and 2019 was the efficiency - Hopkins dropped from 13.7 YPC and 9.6 YPT to 11.2 and 7.8, respectively. Maybe it was the injury, or maybe Hopkins is slowing down in his late prime, but he simply stopped making big plays - only one of his 150 targets went for 40-plus yards, and 16 went for 20 or more yards. At 6-1, 212, Hopkins has good size and vies with Michael Thomas for the best hands in the game. His body control and toe tapping on the sidelines are second to none. Hopkins has never been especially fast - 4.57 40 at the combine - but his superior route running and ball skills have more than made up for it. Surprisingly, Hopkins didn't see much red-zone work last year (13 targets, T-26th), which largely explains why he scored only seven times. (In 2018, he saw 25 red-zone looks and scored 11 TDs.) Hopkins isn't huge, but he has ideal red-zone skills, so expect some positive regression both in opportunity and output. Surprisingly, the Texans traded their star wideout to the Cardinals for the aforementioned Johnson in March, setting up Hopkins in what's likely to be one of the faster-paced and more prolific passing offenses in the league. With training camps possibly delayed, there's some risk in taking a receiver with a new city, team and quarterback, but Kyler Murray is a rising star, and Hopkins should be his top target ahead of holdovers Larry Fitzgerald and Christian Kirk.
Hopkins might not be the biggest or fastest receiver in the league, but he's one of the best. Coming off a volume-driven 2017, Hopkins took his efficiency to new heights last year with 194 more yards on 11 fewer targets. The result was a career high 9.6 YPT, good for sixth among the league's 28 100-target wideouts. At 6-1, 212, and with average speed (he ran a 4.57 at the combine but a 4.46 at his Pro Day), Hopkins excels with precise route running, unmatched body control, situational awareness and the best hands in the game (he caught 115 passes with only two drops last year). Hopkins can make the big play (four catches of 40-plus yards, T-11th), but his bread and butter is the intermediate route (23 catches of 20-plus, 4th, and with an average target depth of 11.5 yards, 7th). He also sees plenty of work in the red zone - his 25 targets inside the 20 ranked fourth, his 15 inside the 10 first, and his nine inside the five also first, i.e., his second straight season with double-digit TDs was no fluke. Hopkins returns as the team's unquestioned No. 1 receiver, with a quality quarterback in Deshaun Watson and perfect complementary targets in Will Fuller (to stretch the field) and Keke Coutee (to man the slot). Neither is a threat to Hopkins' overall volume or dominant red-zone role. Hopkins suffered a sprained AC joint in his shoulder during a playoff loss to the Colts, and while he seems to have made a full recovery during the offseason, an ankle injury sent him to the PUP list for the start of training camp.
As great as Antonio Brown's season was, Hopkins' was arguably more impressive, given the positively barbaric QB play he endured for more than half the year - eight games of Tom Savage and 73 attempts from T.J. Yates. Even so, Hopkins reeled in 13 touchdowns in 15 games on a league-leading 174 targets. His per-play averages - 7.9 YPT (15th among 100-target WR) and 14.4 YPC (10th) - were nothing special, but keep in mind he should have a healthy Deshaun Watson this year. During the six full games the duo suited up together, Hopkins posted a 38-551-6 stat line on 60 targets, which prorates to 101 catches on 160 targets for 1,469 yards and 16 TDs over 16 games. He also improved his per-target to 9.2 and his per-catch to 14.5 playing with Watson, though Hopkins' efficiency marks were at least decent no matter who was under center. At 6-1, 215, and with a 4.46 40 during his pro day, Hopkins has good size and the speed to get separation, but he's not a freak in the Julio Jones or Mike Evans mold. Instead, Hopkins excels by making the seemingly impossible catch even when he's well covered and getting his toes down in bounds when there's barely an inch of room on the sidelines. In short, his focus, concentration and ball skills allowed him to transcend some of the league's worst QB play, and in 2018 his situation should improve materially. The emergence of speedster Will Fuller could cut into some of Hopkins' downfield looks, but Fuller is the perfect complement - a small, modest-volume deep threat to occupy the defense but never threaten Hopkins' status as the team's undisputed No. 1. Hopkins missed Week 17 and the Pro Bowl with a calf injury, but he made a full recovery for offseason activities.
The Allen Robinson of the Texans, Hopkins was the other peak-age receiver to experience a surprising and precipitous drop from 2015. In Hopkins' case it's more comprehensible -- the switch to quarterback Brock Osweiler was a major headwind, and unlike Robinson, Hopkins' 2015 numbers were mostly volume (192 targets) rather than efficiency (7.9 YPT) driven. Still, the depths to which Hopkins sunk (6.3 YPT, 37th) were surprising. On 151 targets, he managed only 10 catches of 20-plus yards. The Texans rarely used Hopkins in the red zone last year (only 11 looks, down from 29 in 2015.) At 6-1, 215 and with a 4.46 40 at his pro day, Hopkins has good size and speed, but is hardly a physical freak in the mode of Julio Jones or even Robinson. Hopkins makes his living on route running, quickness, ball skills and reliable hands. As such, he doesn't seem the type to transcend terrible QB play. Anyone the Texans put under center this season would be an upgrade from Osweiler's abhorrent play (5.8 YPA, 16 INT), but it might not be a big one. At press time, coach Bill O'Brien named untested Tom Savage the starter, and while DeShaun Watson will likely overtake him at some point, it's unwise to expect even league-average play from Watson as a rookie. On the bright side, Hopkins is still a good bet to be among the league leaders in targets.
Finally decoupled from Andre Johnson's decomposing carcass last season, Hopkins quickly established himself as one of the NFL's superstar receivers. While Hopkins' efficiency (13.7 YPC, 7.9 YPT) was pedestrian, he handled 193 targets from Brian Hoyer, Ryan Mallett, T.J. Yates and Brandon Weeden. (The season before, with Ryan Fitzpatrick, Hopkins posted an elite 9.5 YPT and 15.9 YPC.) Nonetheless, massive volume toward a talent like Hopkins will pay the bills - he scored 11 times on a league-leading 29 red-zone targets, and he was third in yards and catches behind only Julio Jones and Antonio Brown. At 6-1, 207, Hopkins has decent size, and his sluggish 4.57 40 at the Combine isn't indicative of his game speed (he ran a 4.41 and 4.46 at his pro day.) Hopkins is also a strong route runner and has a 36-inch vertical leap, great ball skills, good quickness and sure hands. Hopkins is likely to shed a few targets to new arrivals, running back Lamar Miller and wide receiver Will Fuller, the 21st overall pick. But with Brock Osweiler replacing the substandard signal-callers with whom he had to work, expect Hopkins' efficiency to trend back toward 2014 levels. Fuller's ability to stretch the field should also help keep opposing safeties honest, pushing Hopkins' per-play output in a positive direction.
Year 2 is when receivers typically break out, and Hopkins did his part to reinforce that notion last season. Despite seeing 20 fewer targets than teammate Andre Johnson, Hopkins had 274 more yards and three more touchdowns than the likely Hall of Famer, thanks to robust 15.9 YPC (2nd) and 9.5 YPT (8th) averages. Johnson signed with the Colts this offseason, leaving Hopkins as the Texans' unquestioned No. 1 target. At 6-1, 207, Hopkins has decent size and makes up for a lack of elite speed (4.57 40) with route running, ball skills, quickness and athleticism. Of some concern is the unsettled quarterback situation — at press time it's a competition between Brian Hoyer and Ryan Mallett. But while Hoyer is a low-end option, Mallett is an unknown with possible upside, and in any event, Hopkins was paired with journeyman Ryan Fitzpatrick during last year's breakout. While Hopkins struck for more than his share of big plays last year — 20 catches of at least 20 yards (T-8th), six of 40-plus (T-4th) — he was rarely used in the red zone (only 13 targets, T-31st). Johnson, however, was tied for sixth in red-zone and inside-the-10 looks, and his departure should open scoring opportunities for Hopkins. The Texans did sign Cecil Shorts and Nate Washington and drafted 6-2, 217-pound Jaelen Strong in the third round to replace Johnson, but Shorts has struggled to stay healthy, Washington's a journeyman on the down side of his career and Strong is more likely to make only a modest impact as a rookie. Hopkins also underwent surgery on his right wrist in February, but should be healthy entering training camp.
Hopkins had an odd rookie year – he actually became less relevant as the season wore on. Usually, it's the other way around, especially for a first-round pick. His disappearance coincided with Case Keenum taking over the starting job from Matt Schaub as Keenum locked in on Andre Johnson almost exclusively for eight games. Fortunately for Hopkins, the Texans brought in veteran Ryan Fitzpatrick who at press time is the favorite to start as the Texans did not draft a quarterback until the end of the fourth round. At 6-1, 207 and with good ball skills, quickness and athleticism, Hopkins is a downfield weapon even though his timed speed (4.57 40) was on the slow side. Even with the quarterback disaster in Houston last year, he averaged 8.8 YPT and 15.4 YPC. Things are looking up for Hopkins in Year 2. Run-first head coach Gary Kubiak is gone, and former Patriots offensive coordinator Bill O'Brien takes his place. Johnson also skipped team OTA's and wondered aloud whether the Texans were the right fit for him. While it's likely Johnson reports before too long, were he to be traded, Hopkins' would see a big uptick in targets.
Of all the rookie receivers, it's possible Hopkins, the Texans' first-round pick, steps into the most ideal situation. For starters, he's got an excellent chance to start opposite Andre Johnson from Week 1, as there isn't anyone with a track record or pedigree with whom to compete. Second, he's working with Matt Schaub, an above-average veteran quarterback near the peak of his game. Third, Johnson has been injury prone the last several seasons, so Hopkins could see at least a few games as the team's top target. At 6-1, 200 and with excellent quickness, ball skills and eye-hand coordination, Hopkins is athletic and polished. He's not a pure burner, but he has the burst in short spaces to create separation and make plays down the field. The biggest negative is the Texans' strong run-first tendency near the goal line – even the great Andre Johnson has never had a season with double-digit scores.
More Fantasy News