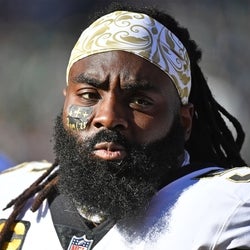 Rest-of-Season Projections
2023 Fantasy Outlook
Davis is coming off one of the most productive campaigns of his career in 2022, including a career-high 6.5 sacks over 17 games. The 34-year-old paced New Orleans with 100-plus tackles for the fifth season in a row last year, resulting in just his first career Pro Bowl selection. He's also missed just one regular-season game since joining the Saints in 2018. While the ascension of weakside linebacker Pete Werner could eat into Davis' production, he should be a lock for yet another 100-plus tackle campaign in 2023.
Read Past Outlooks
RANKS
#

IDP
$Signed a one-year restructured contract with the Saints in July of 2022.

Seven tackles, including sack
Davis recorded seven tackles (four solo), including a sack, in Monday's 20-17 win over the Panthers.
ANALYSIS
Davis was once again at the top of the Saints' defense in tackles while he was also able to snag his first sack of the 2023 campaign. The middle linebacker compiled a career-high 6.5 sacks in 2022 and he could be picking up where he left off.
Read More News
NFL Stats
2023
2022
2021
2020
2019
2018
2017
2016
2023 NFL Game Log

Calculate Stats Over Time
Just click on any two dates.
2022 NFL Game Log

Calculate Stats Over Time
Just click on any two dates.
2021 NFL Game Log

Calculate Stats Over Time
Just click on any two dates.
2020 NFL Game Log

Calculate Stats Over Time
Just click on any two dates.
2019 NFL Game Log

Calculate Stats Over Time
Just click on any two dates.
2018 NFL Game Log

Calculate Stats Over Time
Just click on any two dates.
2017 NFL Game Log

Calculate Stats Over Time
Just click on any two dates.
2016 NFL Game Log

Calculate Stats Over Time
Just click on any two dates.
Snap Distribution / Depth Chart
2023 Demario Davis Split Stats
Loading NFL Split Stats...
Measurables Review
How do Demario Davis' measurables compare to other linebackers?
This section compares his draft workout metrics with players at the same position. The bar represents the player's percentile rank. For example, if the bar is halfway across, then the player falls into the 50th percentile for that metric and it would be considered average.
Recent RotoWire Articles Featuring Demario Davis
See More
Past Fantasy Outlooks
2022
2020
2019
2018
2017
2016
2015
2014
2013
Davis' quality of play is high to the point that it sometimes undercuts his IDP utility – drives that would move the chains against lesser defenses instead end at Davis' hands – but that's offset somewhat by his year-to-year reliability. In his four seasons with the Saints he's hovered around the 110-tackle mark while supplementing his tackle production with standout numbers as a pass rusher — 16 sacks in four years.
Even with his increasing recognition, Davis might be the most underrated linebacker in the league. He's been a shutdown force both against the run and the pass, and he reliably gets to the quarterback when he's sent on a blitz. Davis' play is so good that it ultimately limits his tackle upside - passes his way often hit the ground, and drives have a way of ending sooner because of his presence - but he's still posted 221 tackles over his 1,883 snaps with the Saints. That projects to about 117 tackles per 1,000 snaps, which is generously complemented by nine sacks in the same sample (roughly five sacks per 1,000 snaps). The fact that Davis has just one interception but 16 passes defended in that sample implies the potential for an imminent interception spree, too. His relatively modest tackle production generally leaves him short of a top-12 projection at linebacker, but his sack and turnover upside could lead him to overachieve relative to that calculation.
Known for his standout athleticism and ability to switch between inside linebacker and edge rusher as a third-round pick in 2012, Davis has reached his full form in the last two years, emerging as a sideline-to-sideline pursuer capable of finding the quarterback often. Davis enjoyed a strong 2018 season, hitting 110 tackles and five sacks, but his production was even better with the Jets the year prior (135 tackles and five sacks). It might be too much to expect another five sacks in 2019, but there's room for tackle growth, particularly given his 2018 total of 877 snaps.
Davis has always been known as a versatile and highly athletic linebacker, yet he struggled to put it all together before his enormous 2017 season, when he bested the prior year's tackle total by 36 while posting a career-high five sacks. With an ability to switch between edge and off-ball defense, Davis should continue to see opportunities for tackles and sacks both. Expect tackle regression here – Davis' 1,118 snaps from last year is an improbably high total – but the sack production could be repeatable given how many leads the Saints are likely to play with.
Davis' first season with Cleveland did not disappoint, as the 28-year-old linebacker recorded 99 tackles, two sacks, two pass defensed and one forced fumble in 16 games (15 starts). The 28-year-old has recorded at least 90 tackles the past four seasons, a trend that will likely continue, especially considering the fact that Christian Kirksey will be moving to outside linebacker this season. All this considered, Davis could garner some IDP value in deeper leagues this year.
Davis is an athletic linebacker still looking to make his mark on the league, but in Cleveland he'll have a chance to take ownership of the inside linebacker position after playing in David Harris' shadow with the Jets. Davis' 90-tackle total from last year is disappointing, but a deflated snap count (851) likely is to blame, and his productivity his whole career was likely dragged down by his heavy special teams workload. Even while playing 291 special teams snaps between 2013 and 2014, he managed to post 222 tackles and 4.5 sacks. He should take a step forward in Cleveland.
In his third season last year, Davis finished with a career-high 116 tackles and 3.5 sacks, while he also recovered two fumbles. Those totals followed figures of 107 tackles and one sack in 2013, highlighting Davis' steady development into a high-quality linebacker. Heading into the upcoming campaign, Davis should continue to benefit from playing behind the Jets' disruptive defensive line, and the presence of new defensive-minded coach Todd Bowles is another reason to consider Davis' upside in fantasy leagues.
Considering the Jets allowed just 3.4 yards per carry last year, Davis' first year as a starter appears to have been quite a success. He finished with 106 tackles, one sack and one interception, and there's reason to believe he'll be even better in 2014. With a full year of experience on his side, Davis should be more able to capitalize on his rare athleticism. With 4.5 speed and excellent lower-body explosiveness, Davis has clear upside as a potential sack source on the inside of Rex Ryan's defense, especially with the best three-man defensive line in football occupying blockers.
Davis is expected to start at inside linebacker for the Jets in 2013.
More Fantasy News