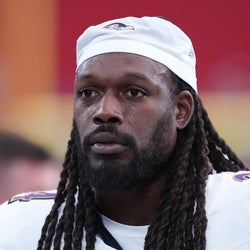 Rest-of-Season Projections
2023 Fantasy Outlook
There was no outlook written for Jadeveon Clowney in 2023. Check out the latest news below for more on his current fantasy value.
$Signed a one-year, $2.5 million contract with the Ravens in August of 2023.

ANALYSIS
Per
Ian Rapoport of NFL Network,
Clowney, who was released by the Browns this offseason, should complement
Odafe Oweh
and
David Ojabo
off the edge, while contributing to Baltimore's defense as a situational pass-rushing option. During the 2022 season, Clowney recorded 28 tackles and two sacks in 12 games with Cleveland.
Read More News
NFL Stats
2023
2022
2021
2020
2019
2018
2017
2016
2023 NFL Game Log

Calculate Stats Over Time
Just click on any two dates.
2022 NFL Game Log

Calculate Stats Over Time
Just click on any two dates.
2021 NFL Game Log

Calculate Stats Over Time
Just click on any two dates.
2020 NFL Game Log

Calculate Stats Over Time
Just click on any two dates.
2019 NFL Game Log

Calculate Stats Over Time
Just click on any two dates.
2018 NFL Game Log

Calculate Stats Over Time
Just click on any two dates.
2017 NFL Game Log

Calculate Stats Over Time
Just click on any two dates.
2016 NFL Game Log

Calculate Stats Over Time
Just click on any two dates.
Snap Distribution / Depth Chart
2023 Jadeveon Clowney Split Stats
Loading NFL Split Stats...
How do Jadeveon Clowney's measurables compare to other linebackers?
This section compares his draft workout metrics with players at the same position. The bar represents the player's percentile rank. For example, if the bar is halfway across, then the player falls into the 50th percentile for that metric and it would be considered average.
Recent RotoWire Articles Featuring Jadeveon Clowney
See More
Past Fantasy Outlooks
2021
2020
2019
2018
2017
2016
2015
2014
Clowney joined the Browns on a one-year deal after a year in Tennessee. Cleveland was also interested in him last season, but Clowney decided to pass. He ended up playing just eight games and missed the second half of the 2020 season after undergoing knee surgery. Though he didn't have a sack last year, Clowney logged 22 hurries over eight games, per Pro Football Focus. He was getting near quarterbacks, but not taking them down. That might change in 2021, as teams need to game plan for the team's other starting defensive end, Myles Garrett.
It took most of the offseason for Clowney to find a landing spot, but he finally chose to reunites with coach Mike Vrabel in Tennessee. Vrabel who was his position coach and defensive coordinator when the two were with the Texans. Though Clowney is coming off a 2019 campaign in which he toughed through injuries and was limited to three sacks, Clowney now slots into an ideal spot to put together a bounce-back campaign. The Titans' pass rush will run through the former No. 1 overall pick of the 2014 NFL Draft, who's proven to be a disruptive force off the edge in his career.
After a couple of injury-plagued seasons to begin his career, Clowney has become a disruptive force on the edge for the Texans. The durability issues that hounded him early have become less concerning as the 2014 first-round pick has played 45 of a possible 48 games the last three seasons. He has a modest 29 sacks over five seasons, but 18.5 of them have come in the last two years. Sacks, however, are just one component. Clowney gets additional pressure on quarterbacks (21 QB hits in 2018) and had three fumble recoveries last year. The one hitch entering training camp is his contract, with the pass rusher expected to hold out before he eventually signs his franchise tag. Clowney reportedly doesn't plan to miss regular-season games, but he'll at least be absent for a good portion of training camp, and he doesn't seem likely to stay in Houston beyond 2019.
Clowney is one of those guys who you might rank higher if you could get his health guaranteed. Last year was the first time he played 16 games, and he unsurprisingly came through with a strong showing. While he generally looks like a player who will be regarded as a disappointment relative to expectations, players as talented as Clowney rarely go their entire careers without at least a couple dominant seasons. This year looks as fine of a time as any, especially if Deshaun Watson makes opponents throw to catch up.
Durability might always be a bit of an issue for Clowney, but he seems to be hitting his stride after a promising 2016 season that earned him a Pro Bowl trip and second-team All-Pro honors. Still just 24, his prospect profile projects plenty more improvement if his health cooperates. Last year's production would project to about 67 tackles and eight sacks over 950 snaps, and there's a good chance he improves on his per-snap efficiency, too. That kind of production at age 23 for a 6-5, 270-pound end with 4.53 speed shows his significant upside.
After a washout rookie season in 2014, Clowney was healthier during his sophomore NFL season. He showed signs of coming on last year -- his two-sack game against the Patriots stands out -- but injuries were still a factor, including a foot injury that sidelined him for Houston's playoff game against Kansas City. He reports the foot is 100 percent, but being hale in May is a far cry from being a 16-game player. If he can stay on the field, Clowney may emerge as an impact player.
Clowney's coming off a disappointing rookie season that began with a knee injury and ended with a knee injury that required microfracture surgery. He began training camp on the Physically Unable to Perform list, but has a targeted return before the beginning of the regular season. It's unclear if he'll be ready to be a full-time starter, but that's the goal.
It's crucial that IDP drafters double-check the positional designation their league gives to Clowney, as he might be listed as an LB rather than a DL, but if he secures DL eligibility he'll be a borderline DL1 consideration. The Texans didn't pick Clowney first overall to bring him along slowly, so he'll start opposite Whitney Mercilus at 3-4 OLB, moving to DE in nickel formations. Clowney is like the Calvin Johnson of defensive end prospects, and he'll have the opportunity to post big numbers immediately with offenses primarily concerned with J.J. Watt. Clowney has 4.5 speed at 6-5, 266 pounds and should contend for a Pro Bowl spot immediately. Bone spurs in his right foot are the only real concern to his productivity.
More Fantasy News