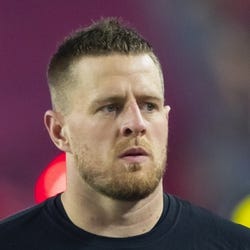 Rest-of-Season Projections
2023 Fantasy Outlook
There was no outlook written for J.J. Watt in 2023. Check out the latest news below for more on his current fantasy value.
$Signed a two-year, $31 million contract with the Cardinals in March of 2021.

Watt announced Tuesday in a post on his
personal Twitter account
that the Cardinals' 19-16 loss to the Buccaneers on Sunday marked his "last ever NFL home game."
ANALYSIS
While Watt hasn't explicitly said that he'll be retiring following the 2022 season, his Twitter post certainly indicated that's his plan. The defensive end's two-year, $28 million contract with Arizona is set to expire this spring, and with injuries having cost him extended time in recent years, the 33-year-old may be motivated to step away from the game coming off a relatively healthy season. Though the three-time NFL Defensive Player of the Year is no longer playing at an All-Pro level, Watt has been productive in 2022, accruing 33 tackles, 9.5 sacks, six pass breakups and one forced fumble through 14 appearances.
Read More News
NFL Stats
2022
2021
2020
2019
2018
2017
2016
2022 NFL Game Log

Calculate Stats Over Time
Just click on any two dates.
2021 NFL Game Log

Calculate Stats Over Time
Just click on any two dates.
2020 NFL Game Log

Calculate Stats Over Time
Just click on any two dates.
2019 NFL Game Log

Calculate Stats Over Time
Just click on any two dates.
2018 NFL Game Log

Calculate Stats Over Time
Just click on any two dates.
2017 NFL Game Log

Calculate Stats Over Time
Just click on any two dates.
2016 NFL Game Log

Calculate Stats Over Time
Just click on any two dates.
2023 J.J. Watt Split Stats
Loading NFL Split Stats...
Measurables Review
How do J.J. Watt's measurables compare to other defensive ends?
This section compares his draft workout metrics with players at the same position. The bar represents the player's percentile rank. For example, if the bar is halfway across, then the player falls into the 50th percentile for that metric and it would be considered average.
Recent RotoWire Articles Featuring J.J. Watt
See More
With Kyler Murray in recovery mode from last year's season-ending knee injury and a new coaching staff in town, the Cardinals are in the midst of a rebuild in a top-heavy NFC West.
Erik Siegrist analyzes the Monday night matchup as Lamar Jackson and the Ravens travel to New Orleans.
Juan Carlos Blanco surveys another robust injury landscape in Week 4 that sees several major Fantasy names with uncertain availability as of early Sunday morning.
Erik Siegrist analyzes the Monday night matchup as Matthew Stafford and the Rams travel to San Francisco in a key NFC West tilt.
Juan Blanco digs into the betting odds for Sunday's matchup between the Cardinals and Rams and gives his prediction and best bets for the NFC West showdown.
Past Fantasy Outlooks
2022
2021
2020
2019
2018
2017
2016
2015
2014
2013
2012
2011
Since earning three Defensive Player of the Year awards in his first five pro seasons, Watt has logged complete campaigns just twice in six chances since then. He again was injury-riddled last year - his first in Arizona - with a hamstring issue plaguing him in July and August before shoulder surgery limited him to one game after Week 7. It's probably a stretch to expect significant sack counts from Watt at age 33, as merely staying healthy appears to be the biggest hurdle at this stage of his career. Stil, Watt is just four years removed from recording 16 sacks in as many outings in 2018, meaning he could have one final swan song before he calls it quits.
It's unclear what sort of snap count the Cardinals have in mind for Watt, and it's not even perfectly clear where he'll line up in a Vance Joseph defense that rarely settles into a single form. Now 32, Watt still has something to offer, and the Cardinals defense projects to pile up sacks either way. If Watt is along for that ride, then his production concerns should work themselves out despite the lack of specifics. Unlike his time in Houston, offensive lines can't single out Watt in Arizona while defenders like Chandler Jones and Isaiah Simmons are on the prowl.
He's not done yet, but it's still difficult to pinpoint fair expectations for Watt in his age-31 season. It's easy to dream on his 61-tackle, 16-sack season from 2018, but Watt's 2019 numbers hinted at regression even before he suffered a torn pectoral muscle. For the 482 snaps he played, Watt's 24 tackles and four sacks were well below his historical production standards. Still, the last time anyone counted out Watt, he made the resurgence to the previously mentioned 2018 output. Until Watt says he's done, it's simply not easy to argue against someone selecting him as their DL1 in IDP leagues. As much as very few linemen can match Watt's theoretical ceiling, however, there are definitely a handful of options who offer a higher floor at least.
Two injury-plagued seasons preceded last year's return to form for Watt, and at age 30 it's difficult to completely shut out the durability fears. But he can anchor an IDP rotation when healthy, and last year's 61-tackle, 16-sack showing is probably Watt's baseline per-snap production. If he plays another 960 snaps in 2019, or the 1,000-plus snaps he used to, it's plausible Watt's box score would look more like the 80-tackle, 20-sack seasons he showed at his peak. He brings risk, but if the price is appropriate then the upside is compelling.
If Watt is the same player he was before and stays perfectly healthy, the ceiling is an 80-tackle, 20-sack season. Reliable sack and tackle data only go back so far, but it appears no other lineman has been capable of such heights. Unfortunately, injuries proved Watt mortal over the last two years, with a back injury ruining 2016 before a tibial fracture doomed his 2017. Even before the leg broke, Watt failed to post in a sack in five games last year, raising fair concern over whether he was ever fully recovered from the prior back injury. Watt just turned 29 in March, so a bounce back is totally plausible, but he suddenly has a lot to prove.
We've known for a long time that injury was the only thing that could stop Watt, but prior to last year it was reasonable to wonder if even injury couldn't stop him. After all, he played through the 2012 season with a dislocated elbow and played through back injuries and a broken hand in 2015. Unfortunately, that same back injury required surgery from which Watt never fully recovered in time for last season, and he needed another, season-ending back surgery after just three games. With almost a year to recover this time around, Watt should be back to normal. If he is, he's likely the best.
No one needs Watt's IDP appeal explained to them at this point, as he's been the top IDP regardless of position going on the fifth year straight now. You'd have to go back to 2011 to find the last time he fell short of 76 tackles in a season, and he hit the 17.5-sack mark in three of the last four years, tallying 10.5 in the one "down" year. He's likely locked into the Hall of Fame and he just turned 27 years old. He's the first IDP off the board in any conceivable IDP format.
Watt has easily been the league's best defensive lineman the last three years, averaging 80 tackles while totaling 51.5 sacks, including his second 20.5-sack season last year. Watt took his IDP value to even greater heights last season by catching three touchdown passes as a goal-line tight end to go with his two defensive scores. At 6-5, 289, Watt is unstoppable even with double- and triple-teams as he totaled 60 quarterback knockdowns last year, 30.5 more than the second-ranked D-Lineman. He has not missed a game in his four seasons and still dominates when playing injured. Still just 26, Watt is the favorite for an unprecedented third NFL Defensive Player of the Year award in four years.
Watt is likely the top IDP at any position. It's difficult to recall the last time a defender was as uniquely dominant as Watt, a 6-5, 289-pound beast that looks like a defensive tackle but moves like a player 50 pounds lighter. Only 25 years old, Watt accumulated 161 tackles and 31 sacks over the last two years. He might be the best pass-rushing threat in the league, yet he provides linebacker-like tackle totals at the same time. He's yet to miss a game in his three-year career, showing good durability, as well as the ability to produce at a high level even when hurt, like when he played through a dislocated elbow in his 20.5-sack 2012 season. Although he'll likely always be the target of double- and triple-teams, Watt could improve on his 2013 sack total of 10.5 this year thanks to the arrival of Jadeveon Clowney, who the Texans drafted No. 1 overall this year. Clowney should be a menace on the opposite side of Watt, leaving quarterbacks with fewer escape routes once Watt closes in for the sack. Even if he suffers a down-year, Watt's floor seems to be in the 75-tackle, 10-sack range, which would still probably make him the top IDP among defensive linemen.
Watt was nothing less than incredible in 2012, finishing with 20.5 sacks and a linebacker-like 81 tackles despite playing in a 3-4 alignment. Both figures are unprecedented. It's only reasonable to expect some regression, though, because the 2012 season could easily turn out to be Watt's career year. Plus, Watt's outrageous 2012 season sent the rest of the AFC South into a panic, resulting in the Jaguars (second overall pick Luke Joeckel), Titans (free agent Andy Levitre, 10th overall pick Chance Warmack) and Colts (free agent Gosder Cherilus, third-round pick Hugh Thornton) making huge investments in their offensive lines. Between the inherent probability of a regression to the mean, increased attention in game plans and the increased talent of his opponents, it would be best to expect something like 70 tackles and 15 sacks rather than another 80-tackle, 20-sack bonanza.
Watt did more than well enough during the regular season of his rookie year, serving as one of the top contributors in one of the league's best defenses while totaling 56 tackles (48 solo) and 5.5 sacks as a 16-game starter. He really came alive in the playoffs, though, posting 14 tackles (11 solo) and 3.5 sacks while returning an interception for a touchdown in two games. That sort of outburst indicates Watt might have the potential to be the exceedingly rare 3-4 end who can push for double-digit sacks.
Taken with the 11th overall pick in April's NFL Draft, Watt likely will start from Day 1 for Houston this season. He had 20.5 tackles for loss last year for Wisconsin and ranked third on the team in tackles with 61 in 13 games. Watt also has ridiculous jumping ability for a player his size, so expect him to knock down passes in the NFL after batting down seven last year.
More Fantasy News