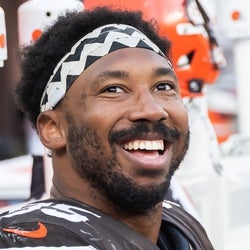 Questionable
Injury Toe
Est. Return 6/15/2023
2022 Fantasy Outlook
Garrett is reliably elite, and any fluctuation in production year to year is almost entirely the product of playing time. New QB Deshaun Watson should help his stats — a quick-scoring Browns offense would force opponents to throw more, giving Garrett a higher percentage of pass-rush reps in his snap count. He's not a lock to be DL1 in IDP leagues, but he won't hurt you if you take him first among defensive linemen.
Read Past Outlooks
RANKS
#

IDP
$Signed a five-year, $125 million contract with the Browns in July of 2020.

Should make quick recovery
ANALYSIS
Garrett should have a quick recovery time and be able to participate in the team's offseason program, as his toe was easily put back into place. The star pass rusher tied a career-best 16 sacks during his 2022 campaign along with a career-high 60 tackles (37 solo) and four passes defended.
Read More News
NFL Stats
2022
2021
2020
2019
2018
2017
2022 NFL Game Log

Calculate Stats Over Time
Just click on any two dates.
2021 NFL Game Log

Calculate Stats Over Time
Just click on any two dates.
2020 NFL Game Log

Calculate Stats Over Time
Just click on any two dates.
2019 NFL Game Log

Calculate Stats Over Time
Just click on any two dates.
2018 NFL Game Log

Calculate Stats Over Time
Just click on any two dates.
2017 NFL Game Log

Calculate Stats Over Time
Just click on any two dates.
Snap Distribution / Depth Chart
2022 Myles Garrett Split Stats
Loading NFL Split Stats...
Measurables Review
How do Myles Garrett's measurables compare to other defensive ends?
This section compares his draft workout metrics with players at the same position. The bar represents the player's percentile rank. For example, if the bar is halfway across, then the player falls into the 50th percentile for that metric and it would be considered average.
Recent RotoWire Articles Featuring Myles Garrett
See More
Past Fantasy Outlooks
Already in his fifth season, Garrett has been a mainstay among the league's top defenders since entering the league but still hasn't reached his ceiling. The last two years he totaled 22 sacks on 1,313 snaps over his age-23/24 seasons. Missed time in both seasons made his numbers look more modest, though. That sack rate applied to the 1,013 snaps he played in his second year projects to 17 sacks. An outcome like that is probably in the cards for Garrett, and his age-25 season is as good a time as ever, especially if the Browns gain leads that force opponents to throw.
Assuming he keeps his anger in check, Garrett will likely break out to an All-Pro season in 2020. As much as his judgment might be questionable, his talent and productivity are beyond any question. With plus conditioning and the ability to play upwards of 1,000 snaps, Garrett's top-shelf per-snap production leaves open the possibility of a memorable IDP season. Even if he makes no improvement on his per-snap numbers, Garrett's career production to this point would project to roughly 47 tackles and 14 sacks on 950 snaps. On the other hand, considering he'll be only 25 shortly after Christmas, we probably should project some improvement in Garrett's per-snap production.
Garrett's breakout as an elite defensive end is a matter of when and not if, and it'd make plenty of sense if that occurred in his third NFL season. Garrett has 20 sacks on 1,532 career snaps, and he just turned 23 around the new year. As much as Garrett might be the primary concern of offensive lines, a loaded Cleveland front seven will give him plenty of help, and a presumably strong Cleveland offense should force opponents to throw often and open themselves that much more to the threat posed by Garrett.
While he's not as established as other veteran defensive lineman IDPs, Garrett is a consensus candidate to reach the top tier at some point. That point may be now. He was the first overall pick for a reason, and that he posted seven sacks on 520 snaps at 21 years old means he should compete for All-Pro distinction in 2018. Garrett was arguably a better prospect than even Bosa was, and he's a confirmed elite athlete at 6-4, 272. There's zero reason for caution here.
Garrett might be a 21-year-old rookie, but he's good enough to prove an immediate standout. At 6-4, 272, he boasts defensive back-like athleticism with a 4.64 40, 41-inch vertical and 128-inch broad jump. He has a massive wingspan with 35 and 1/4-inch arms, too. The Browns might not have enough leads for Garrett to go nuts as a pass rusher, but he should provide a solid tackle total even if he doesn't get to double-digit sacks. It's easy to make the case that Garrett is an even better prospect than 2014 first overall pick Jadeveon Clowney was.
More Fantasy News