I recently participated in a draft for a 10-team league in which I (shockingly, and for the first time in about 50 straight drafts) drew the first overall selection. The league is a thin one - we start two running backs, two receivers and a flex. Arian Foster was the obvious choice to begin the draft, but as players came off of the board with the subsequent 18 selections, I began to re-think my draft strategy.

Once I was on the clock with the No. 20 and No. 21 overall picks, I was left with an interesting dilemma; choose another running back and a stud wide receiver, such as A.J. Green, or bypass a receiver altogether and draft three straight running backs to begin the draft.

Up until that night, I hadn't drafted three running backs to start a draft since I took Shaun Alexander, Willis McGahee and Rudi Johnson quite a few years ago. But the lack of depth in this particular league - I hadn't participated in a 10-teamer in a handful of years, much less one that requires only two starting receivers - got me thinking whether it was prudent to load up on backs early. That's exactly the strategy I employed, adding Jamaal Charles and Ryan Mathews to form perhaps the top RB-RB-Flex combination of my career.

After the draft, I decided to run some numbers to see if I made the right move. Although my draft was shallow, I wanted to know if, with the dearth of top-tier talent at the running back position, securing three of the top 15 or so players at the position is a smart move. In my particular league, I knew that 1) Ryan Mathews will eventually be my every-week flex, and 2) the depth at wide receiver would allow me to obtain quality starters in the fourth and fifth rounds (I landed Dez Bryant and Dwayne Bowe).

To answer my question, I decided to calculate the projected points you could be expected to obtain from both positions - running back and wide receiver - based on your draft slot. For example, using ADP, I determined that drafting three straight running backs and then two receivers in the first five rounds from the No. 1 draft slot would provide you with, on average, this combination of players: RB1-RB12-RB13-WR18-WR19. I repeated that process for three draft combinations and two more draft slots (No. 6 and No. 12).

When calculating total projected points, I simply used my own projections for the 2012 season. While my projections undoubtedly differ from your projections or anyone else's, the range and deviation of projected points is likely very similar for all of us. I have my No. 18 overall wide receiver projected to score 226 points in a PPR format, for example. Chances are your No. 18 receiver is around that number as well, even if we aren't talking about the same guy.
Without further ado, here are the results: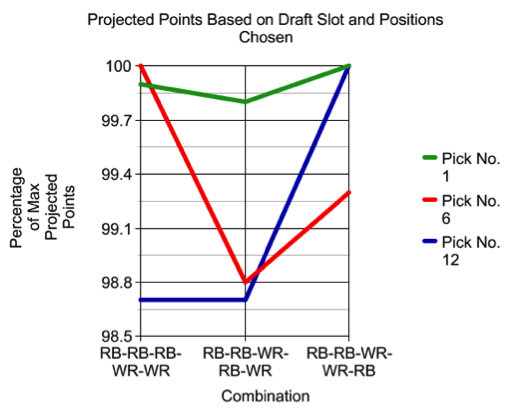 I was surprised to learn that, for the No. 1 overall draft slot, the combination of picks doesn't really matter. Drafting RB-RB-WR-RB-WR led to just three fewer projected points than RB-RB-WR-WR-RB. Part of the reasoning for that, I think, is that when choosing at the end of a draft, you get two straight selections. Thus, placing a running back in the fourth spot or fifth spot doesn't matter - it's still the same player.

The effect is a bit more pronounced for the No. 6 and No. 12 overall selections. The worst possible lineup of the bunch is RB-RB-RB-WR-WR from the last draft slot, which I have projected to score 98.7 percent as many points as RB-RB-WR-WR-RB.

Interestingly, the No. 6 overall pick is the only spot at which drafting three straight running backs leads to peak projected points. I would have thought the No. 1 slot would have also had peak production from a RB-RB-RB combination, though I do have RB-RB-RB from that slot projected to score 23 more points than RB-RB-RB from the No. 6 slot.

Ultimately, what I think is most amazing about this little study is the incredible accuracy of the market (ADP). You'd think there might be a few weaknesses among the masses that a shrewd owner could exploit, but I don't think that's the case. At least in regard to running backs and wide receivers in the first five rounds, the incredible similarity of each draft combination suggests the general public has developed a rather accurate depiction of reality.

Jonathan Bales is the author of Fantasy Football for Smart People: How to Dominate Your Draft. He also runs the "Running the Numbers" blog at DallasCowboys.com and writes for the New York Times.