Projecting Second-Year Tight Ends

The 2012 NFL Draft was only the second time since 1999 that no tight end was selected in the first round. Stanford's Coby Fleener was the first player at the position to come off the board in the beginning of the second round, and his current teammate on the Colts - Clemson's Dwayne Allen - was the next tight end to get drafted all the way in the third round.

The weak rookie tight end class hasn't done much of anything in 2012, but that's not surprising. A few weeks ago, I published an article showing why you should avoid rookie tight ends in fantasy drafts. Other than an outlier or two, tight ends simply haven't produced in their rookie seasons.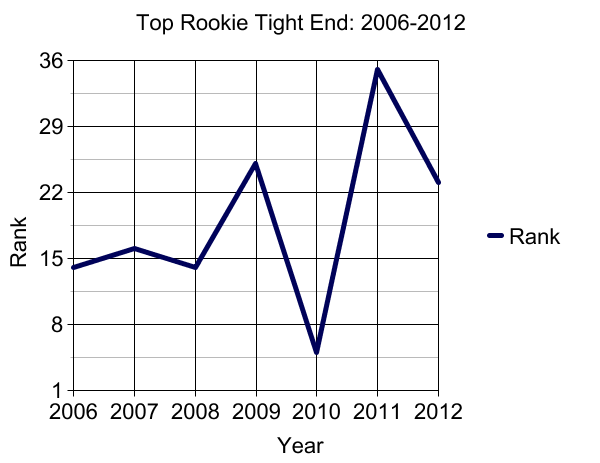 Of course, that can be a good thing for fantasy owners, too. Since tight ends take time to develop, grabbing them prior to their second seasons can offer value. As I've done with quarterbacks, running backs and wide receivers, I've broken down the stats of rookie tight ends since 2000 to see which are most predictive of future NFL success. As usual, I've rated the players based on their career approximate value - a solid indicator of fantasy football value.

If you recall, different stats are important when projecting players at various positions. Efficiency is key for running backs, for example; yards-per-carry is a far better indicator of future NFL success even than yards or carries for rookie runners. On the other hand, efficiency for wide receivers (as measured by yards-per-reception) is almost meaningless.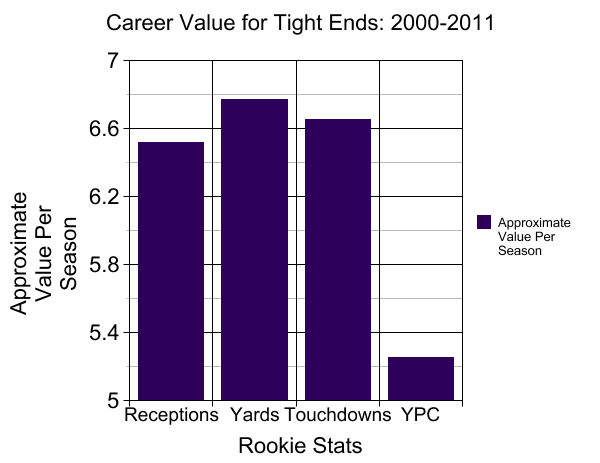 As you can see, rookie tight ends are much like wide receivers; yards-per-catch is a rather poor predictor of future value. It's the bulk stats - catches, yards and touchdowns - that matter for tight ends. Interestingly, all three stats count about the same for tight ends.

In my article on rookie quarterbacks, I mentioned that draft spot plays a large role in projecting second-year signal-callers. Whereas mid and even late-round wide receivers and running backs, especially, often thrive in the NFL, the majority of elite quarterbacks were selected in the first round. There are the JaMarcus Russell first-round busts and the Tom Brady late-round hits, but those are exceptions to the rule.

The same is true for tight ends; you might strike gold on an Antonio Gates from time to time, but betting on tight ends who were drafted early is generally a winning proposition. Of the top 20 tight ends in approximate value since 2000, half of them were drafted in the first round. That's pretty remarkable when you consider that only 16 tight ends have even been drafted in the first round since 2000. That's a 62.5 percent chance of finding an elite or near-elite player simply by using the NFL Draft as a guide.

2013 Tight Ends

To project the second-year tight ends in 2013, let's take a look at the stats of some of the top rookies from this season. . .

• Coby Fleener: Pick #34, 26 receptions for 281 yards, 2 TD
• Dwayne Allen: Pick #64, 45 receptions for 521 yards, 3 TD
• Ladarius Green: Pick #110, 4 receptions for 56 yards, 0 TD
• Orson Charles: Pick #116, 8 receptions for 101 yards, 0 TD
• James Hanna: Pick #186, 8 receptions for 86 yards, 0 TD

You can see there simply won't be many second-year tight end options for owners in 2013. The top two picks from 2012 - Fleener and Allen - led the class by a wide margin, and they both play on the same team.

I mentioned there have been only two seasons since 1999 in which a tight end wasn't drafted in the first round. Well, the other season was just last year, meaning we haven't had a first-round tight end since Jermaine Gresham in 2010. Of course, Fleener was drafted just after the first round, and it isn't like a player selected after the initial 32 picks is magically going to perform worse because he dropped two spots.

The question for fantasy owners who want to gamble on a second-year tight end in 2013 will really be "Fleener or Allen?" Fleener was the higher draft choice, but Allen obviously posted superior fantasy numbers. For my money, I'd take a flier on both players.

For Allen, it's certainly a concern that the top tight end from the 2012 draft class is on his team, but Fleener's presence isn't really much different from having a highly-drafted wide receiver on the team. Don't disregard Allen's 45 receptions; they're the seventh-most for any rookie tight end since 1990. And for all practical purposes, you can consider Fleener a first-round selection. That 62.5 percent hit rate looks awfully enticing.

And oh yeah, there's also that Andrew Luck guy in town.

Jonathan Bales is the author of Fantasy Football for Smart People: How to Dominate Your Draft. He also runs the "Running the Numbers" blog at DallasCowboys.com and writes for the New York Times.