Potential Breakout Players for 2013

One of the reasons I suggest fantasy owners create their own projections and rankings is I believe the process to be more beneficial than the end result.
Even if two owners have the exact same set of rankings, the one who formulated the projections and rankings himself will be better off.

One of the components inherent to "the process" is understanding predictors of success. It might be useful to recognize that a player is in a contract year, for example, but what if contract-year players didn't actually perform better than those who just received a new contract? They don't, by the way, but the point is that your progression as a fantasy owner is characterized by uncovering information on your own, ultimately making subjective decisions based on an objective framework.

For the last few months, I've been running the numbers in an attempt to discover the best predictors of success at each position. Does height matter for quarterbacks? Is size or speed more important for wide receivers? Should we emphasize bulk stats or efficiency when ranking second-year running backs? We can become better fantasy owners by identifying these sorts of physical and statistical indicators of future production.

Using some of my recent research, I'll identify three potential breakout players at each position in 2013. You don't have to agree with each selection, but read my justification so you can decide on your own whether or not you concur with my conclusion. Even if you don't think the players are worthy of your consideration, the process of critiquing my predictions alone should aid you creating in your own 2013 rankings.

Click on the headers below to see which traits I believe make up the "prototypical" players at each position.

Quarterback

• Colin Kaepernick, 49ers
Although he'll be entering his first full year as a starting quarterback, Kaepernick will be 25 when the season begins - right around the age when quarterback play starts to peak. The mobile passer, who threw for two touchdowns or ran for 50 yards in seven of his 10 starts last year, can score big-time fantasy points even if he doesn't light up defenses with his arm. He's a safer week-to-week option than most believe.

• Sam Bradford, Rams
Bradford doesn't have mobility on his side, but he does have a bunch of new weapons on the outside - including Tavon Austin and Jared Cook. Bradford's YPA has increased all three years he's been in the league, and there's a good chance that he'll throw the ball 600 times in 2013.

• E.J. Manuel, Bills
Manuel can't be counted on for points right out of the gate, but assuming he wins the starting job in Buffalo, keep an eye out for him in the late rounds. Manuel figures to run more in the NFL than he did at Florida State, and each of his rushing attempts should equate to about two passes. If he throws 500 passes as a rookie, Manuel's workload could be one of the heavier ones in the league. Plus, the cost of obtaining him will be minimal.

Running Back

• Ben Tate, Texans
There's absolutely no substitute for opportunities when it comes to running backs. Since the deviation in running backs' YPC is so low, the best way to generate fantasy points at the position is through bulk attempts. Tate doesn't have that, but his lack of opportunity is factored into his ADP. You can grab the running back in the late rounds or off of the waiver wire, and he'll automatically become a RB1 if Arian Foster goes down. And at 220 pounds with 4.43 speed, Tate is one of the league's most underrated players.

• Bryce Brown, Eagles
Chip Kelly is going to have multiple backs on the field quite a bit, so I actually think Brown - a player very similar to Tate - could live up to his draft position even if LeSean McCoy doesn't get injured. We saw what Brown can do for you last year when he filled in for McCoy, and he's the perfect high-upside late-round pick.

• David Wilson, Giants
Notice a trend here with running backs? Speed, speed and speed.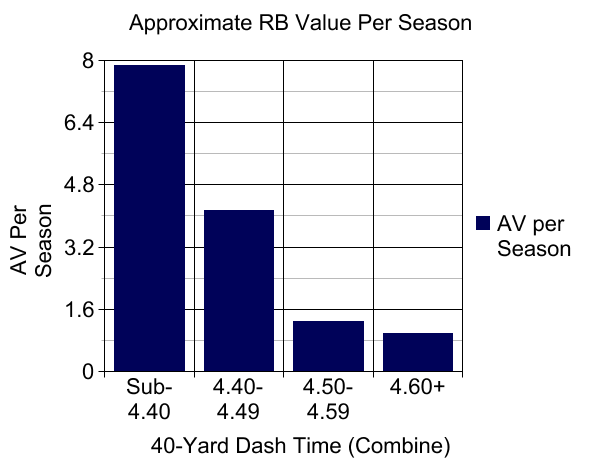 Wilson is a speedy back coming off of a relatively quiet rookie year with outstanding efficiency. Even as he's rising up boards, Wilson is still an undervalued commodity.

Wide Receiver

• Darrius Heyward-Bey, Colts
Heyward-Bey is considered a bust because of his high draft slot, but he's gotten better each year he's been in the league. On a per-target basis, DHB has also shown great improvement in his fantasy numbers. He has some competition in Indianapolis, but he also has a quarterback who can propel him to WR2 status.

• Justin Blackmon, Jaguars
Blackmon's suspension should be viewed as a blessing in disguise for fantasy owners. Instead of docking Blackmon four games worth of points when creating his projection, you should subtract four games of points and then add the points you'll receive from a replacement receiver. Since his ADP has already dropped four rounds since getting suspended, that makes Blackmon perhaps the best value in the entire draft at this point. And the receiver's 64/865/5 line from 2012 is actually really good for a rookie.

• Josh Gordon, Browns
Wide receivers who stand 6-3, 225 pounds and possess sub-4.5 speed aren't easy to find. Gordon showed flashes in his rookie year with numbers comparable to Blackmon's - 50 receptions, 805 yards and five scores. Most important, the big-play threat just turned 22, meaning there's a ton of room for development.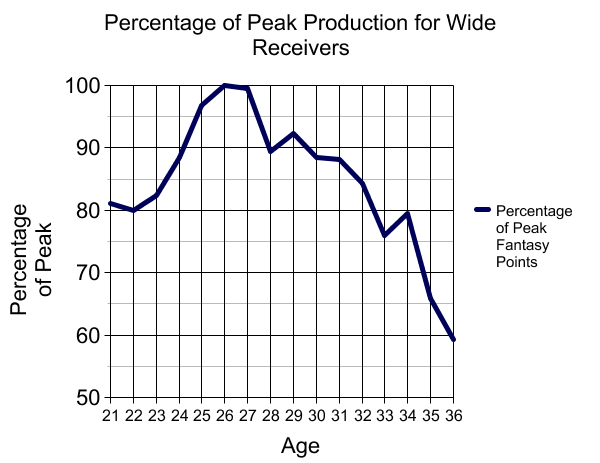 Gordon may or may not break out this year, but there's little doubt that he's a volcano waiting to erupt. The fact that he looked so polished at such a young age suggests 2013 could be the season, and I can't think of a wide receiver who offers better value in dynasty leagues.

Tight End

• Kyle Rudolph, Vikings
Rudolph's 6-6, 259 frame is a big positive for the tight end who more than doubled his receptions from 2011 to 2012. With Percy Harvin gone, the Vikings are going to rely heavily on Rudolph over the middle of the field. His 15.2 percent career touchdown rate is an added bonus.

• Jordan Cameron, Browns
Cameron is a deep sleeper who probably isn't worth a selection in re-draft leagues, but he's someone to monitor heading into the season. The tight end has a frame very comparable to that of Rudolph, making him a threat to score in the red zone. If Jason Campbell ends up taking over in Cleveland, it could actually be a positive for Cameron since the veteran quarterback will check down more than Brandon Weeden.

• Jared Cook, Rams
Cook hasn't ranked higher than 19th in targets among tight ends since coming into the league, but that should change in St. Louis. Only three tight ends produced more fantasy points per snap than Cook in 2012, so he could surprise some people this year if he gets more opportunities to make plays.

Jonathan Bales is the author of Fantasy Football for Smart People: How to Dominate Your Draft. He also runs the "Running the Numbers" blog at DallasCowboys.com and writes for the New York Times.