The Best and Worst Running Back Values in the First Round

There are different theories on how you should approach early-round draft picks in fantasy football. One is that you should seek scarcity - what you know you can't get later - which has led to the early runs on running backs this year. Another is that you should prioritize consistency; with the cost of early picks being so much, why not take Aaron Rodgers and know what you're going to get? Others draft their first few players at positions they think they can't exploit later. If I have a handful of mid-round receivers ranked well ahead of their ADP, I might as well wait on receivers early and target positions that don't present an arbitrage situation in the middle rounds, right?

Regardless of your strategy, you're always seeking value - players whose projected output exceeds the expectation that's priced into their ADP. I'm in the midst of a slow dynasty draft right now, and I drew the first overall selection. I was pretty ecstatic to grab Doug Martin in this PPR league, until the other owners went receiver-heavy, and Trent Richardson dropped to No. 7 overall. I have Martin ranked ahead of Richardson in both re-draft and dynasty, but I'd prefer Richardson with the seventh selection - and the mid-second round pick that comes with it - over Martin at the top of the draft. Richardson's value relative to that draft spot exceeds Martin's at No. 1 overall.
With that said, let's take a look at some of the best and worst first-round running back values in 2013.

Best

• RB C.J. Spiller, Bills: ADP 1.08

Currently getting selected eighth overall in PPR leagues, Spiller represents sensational value for fantasy owners this year. In terms of his average projected points, Spiller may or may not be in the right spot. But you have to consider Spiller's upside here. He's not an abnormally risky selection, yet he has No. 1 overall potential. This is a guy who has averaged 5.2 YPC over the course of his three-year career, totaling more than 1,700 yards last year despite touching the ball only 250 times. If the Bills ride Spiller like they're insisting they will, he should be a top-five player. If they don't, you're still basically getting what you're paying for.

And don't forget running backs with Spiller's speed produce at six times the rate as those who run 4.50 or worse.

• RB Trent Richardson, Browns: ADP 1.09

Richardson's current ADP is at No. 9 overall, but that could drop to the back of the first round with recent news he'll be out into August. That's a concern, but it's worth the gamble. The Browns aren't suddenly going to make Montario Hardesty a major part of their offensive attack, so Richardson is a sure bet for 300 touches again, if healthy.

Right now, Richardson is getting drafted as if he'll repeat his rookie efficiency. He averaged only 3.6 YPC in 2012, however, so that won't happen. Even at the league average of around 4.25 YPC, Richardson would rush for 1,135 yards if he sees as many carries as he did last year. And with new coach Rob Chudzinksi's up-tempo attack, Richardson could actually see an even heavier workload. The Browns will pass often in 2013, but that benefits Richardson in PPR leagues. It also means they're going to run more plays overall than they did last year. With increased efficiency, Richardson has elite potential.

Worst

• RB Marshawn Lynch, Seahawks: ADP 1.06

Lynch is 27 years old. While we've been conditioned to believe that most backs can maintain the same level of play until age 30, the truth is many are at near peak efficiency from the moment they enter the NFL, and it's a slow decline from there.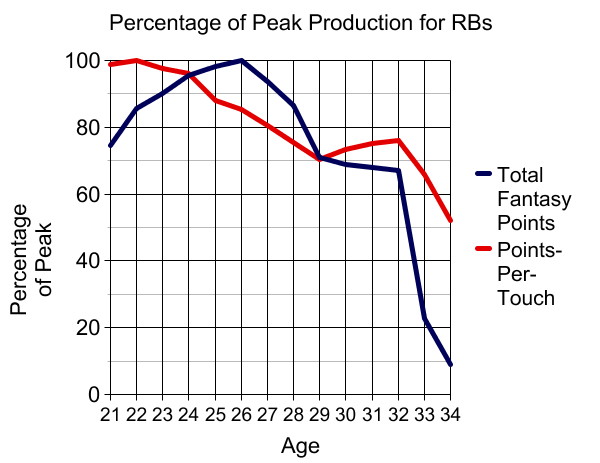 Lynch is on the way down, yet he's being drafted as if he'll repeat his 2012 numbers. With nearly 400 rushing yards more than he ever recorded in any prior season, however, that won't happen. Lynch also won't see near 315 carries again this year. The Seahawks will give Russell Wilson a lot more freedom, including in many short-yardage situations to find newly-acquired Percy Harvin.

Plus, Lynch is a career 4.2 YPC player coming off of a season in which he ran for 5.0 YPC. Wilson's rushing ability helped him, but Lynch has still rushed for just 4.4 YPC during his three years in Seattle. And if that weren't enough, the Seahawks drafted a more talented running back in the second round in Christine Michael. Lynch's contract situation gets dicey after this season, so there's a good chance Michael will team up with Robert Turbin to lead Seattle's rushing attack in 2014. If true, it could mean the Seahawks will try to get those guys some reps this season, cutting into Lynch's workload.

• RB Alfred Morris, Redskins: ADP 1.11

What's more likely: Morris is a highly-talented sixth-round running back who every team missed on, or he's an average player who overachieved due to the Redskins' offensive system and the presence of Robert Griffin III? Morris has good size, but with 4.67 speed, it's not like he's an elite player.
That doesn't necessarily matter if Morris can overachieve again this season, but there's good reason to believe he won't. First, it's pretty difficult to trust Mike Shanahan when it comes to running backs. We know one will be fantasy-relevant, but are we certain Morris will remain the guy all season?

Second, even if Morris receives the workload that's currently priced into his ADP, it's risky to jump on a guy whose play is so dependent on his offensive system. If RGIII gets injured or doesn't have the ability to effectively run the read-option, Morris's value will plummet.

Jonathan Bales is the author of the Fantasy Football for Smart People series. He also runs the "Running the Numbers" blog at DallasCowboys.com and writes for the New York Times.