From: scott pianowski
Date: Wed, Nov 20, 2013 at 2:10 PM
Subject: business time breakfast
To: Mark Stopa

I'm glad the Panthers and Patriots lived up to expectations Monday night because Broncos-Chiefs was a notable letdown. Andy Reid is a terrific coach for six days a week, but game theory is not his thing. He coached that entire game like he was sitting on a lead and the better team. The Broncos say thank you.

There are some interesting "taking care of business" games on the Week 12 slate. If the Panthers are legit, they should march into Miami and take care of business, right? Same story with Chicago at St. Louis and San Francisco (unlucky last week) at Washington. But you know how the NFL works; home dogs are dangerous. Who's getting upset?

And then you have the Patriots as a home dog against Denver, the yearly Manning-Brady throwdown. Did the Broncos even have to launder Manning's jersey last week? Where did the KC pass rush go? (I know, holding is just about legal in the NFL these days. It is what it is.) Where would you set the Denver-NE number?

Are the Giants really back in the NFC East race? Why are the Cowboys consistently the worst return for a buck in the NFL? Is Gary Kubiak trying to get fired? Are the zig-zag Jets going to bother Baltimore? Week 12 Breakfast is served.

From: Mark Stopa
Date: Wed, Nov 20, 2013 at 7:12 PM
Subject: Re: business time breakfast
To: Scott Pianowski

You're a little late setting up the Table this week, amigo. Were you replaying the Monday night finish over a bottle of whiskey, or shopping online for a new Cam Newton jersey? (Some argue adults shouldn't wear jerseys, but I say that's hogwash. I sport my Thurman Thomas and Jim Kelly jerseys every so often, usually on the rare occasions when I delude myself into thinking my Bills are relevant.) Anyway, did Cam's Monday night performance move the needle in your eyes? Are you buying Newton stock? Is Carolina a legit Super Bowl contender?

Even as Peyton and Brady grow old, their matchup never does. Which quarterback has had the better career? Sure, Peyton has more records and Brady more titles, but that's splitting the baby. Who's had the better career? Which would you take to win one game, right now? I like Peyton this week because 2-53 on the Broncos are better than 2-53 on the Pats, particularly on defense. I don't put an upset past New England, though, as Gronk can have one of those 9-140-3 types of games, and Belichick will succeed on the in-game calls where Andy Reid failed. But Broncos 34-27.

It's hard to say the Niners were "unlucky" when the Saints had an unforced fumble for a touchback as they running in on a pick-six. Anyway, what's wrong with Colin Kaepernick? After Week 1, Kaepernick was arguably the most valuable asset in the entire NFL. Now most would put him behind Wilson, Luck and probably others. Will Colin turn this around? I'm taking the Redskins with the points this week, and I don't even like Washington (15 rushing TDs allowed, QB rating approaching 100 - one of the five defenses I'm exploiting in fantasy whenever possible, along with Falcons, Vikings, Jaguars and Bears).

The Chiefs have 36 sacks, but just 15 on the road, and 12 of those came against Blaine Gabbert and Michael Vick (not exactly known for pocket awareness, those two). Let's see if KC's edge rushers get to Philip Rivers a little faster with the Arrowhead crowd noise. If so, maybe they have a chance in two weeks with the Peyton rematch.

Have you checked out the "race" for the 6th seed in the AFC? Nine teams have 4 or 5 wins and all nine are vying for one playoff spot - basically everyone in the AFC except the Jags and Texans. Who's going to take it? Should we care? Is it good or bad that teams like the Jets (-85 point differential), Steelers (no wins in September) and Bills (4-7 but Atl, TB, Jax and Miami after the bye) are still alive?

From: scott pianowski
Date: Thu, Nov 21, 2013 at 3:22 PM
Subject: Re: business time breakfast
To: Mark Stopa

Okay, Cam Newton to start. He was brilliant Monday, no two ways about it. And while pocket passing will always drive a quarterback's value, there's something breathtaking about a QB who can move and make improvisational plays. Think of Steve Young at his best, or Ben Roethlisberger or Russell Wilson.

Marty Schottenheimer had a terrific quote about how he'd pick Joe Montana to win one game for him, but if he had just one play, he'd take John Elway. I love that quote; I want to take it home, put it in an afghan, make it soup.

It bothers me to see Newton getting some MVP traction, though. Much like Jamaal Charles last week, I never want to see an offensive MVP candidate emerge from a team that's driven by defense (more so in the KC example). And look at where Newton is on the QB stat page: just ninth in rating, buried in YPA. Let's take this one step at a time (and let's remember the Panthers won at San Francisco despite Newton, not because of him).

I'm picking the Patriots over the Broncos for a few reasons. Home field matters (even if it just means you get the benefit of the doubt on a call here and there). Belichick over Del Rio, sure. And while the Patriots are finally getting healthy with their skill players, Denver has injuries to contend with (Julius Thomas, Wes Welker, even Manning). I'd like New England more if the Panthers loss hadn't been on Monday, and I'm not picking the Pats with any great level of confidence (I know, Throwing Darts, people), but they get the check mark.

There's no right answer on the Manning/Brady debate. Manning has better regular season numbers, Brady has five Super Bowl trips (and three titles) compared to Manning's 2/1. The Colts did a better job stocking the fridge for Manning, all those first-round picks spent on skill guys. Brady had to MacGuyver his way through things. I hate the Peter King wishy-washy tie, but in this case, I want to play that card

Did you get a second watch of Pittsburgh-Detroit? How did the Steelers go from sieve of the world to locking down Megatron for the second half? The rain helped, I guess. And that Jim Schwartz, surely too smart for his own good. I still don't want to bury the Browns for some reason, but it would be nice if they still had Bobby Rainey. Heck, just play your current backups over Willis McGahee, I'll be happy.

I used to have Mike Tomlin on the "burning building" list, but my trust is waning.

The weapons have to be part of the problem with Kaepernick - Vernon Davis has missed a lot of time and obviously no Michael Crabtree. I'm a Boldin fan, but he's just a support guy at this point in time. Matt Ryan fell apart without weapons, too (and while Matt Ryan has never been in Tier 1, he's pretty darn good). I didn't jump overboard on Kaepernick in Week 1, but I'm not bailing now, either.

Quick picks, we can discuss in comments (if needed). Saints crush Falcons (okay, that didn't happen). Shrek Jets upset Ravens (and Ray Rice once again goes nowhere). Keenum throws 3-4 touchdown passes against Jacksonville. Cardinals trim Indy. Giants frustrate Dallas. Niners get off the skids.

From: Mark Stopa
Date: Thu, Nov 21, 2013 at 10:05 PM
Subject: Re: business time breakfast
To: Scott Pianowski

As good Peyton has been, it's strange how his only title came against Rex Grossman. Eli has two rings. So does Ben. Heck, Flacco has one. Why hasn't Peyton done more? He's always struck me as a bit too much like Karl Malone - regular season monster, but always something missing at playoff time (9-11 career record). It's nearly as odd how Brady's only titles came on defense-oriented teams, but I'm more inclined to call that bad luck, particularly the two Giants Super Bowls. So I'll take Brady's career, and even though I'm picking Peyton this week, I'll be looking for ways to fade him in January.

Cam Newton deserves the pub for his improvisational plays, but how about Case Keenum? That touchdown to Garrett Graham, where Keenum rolled right, evaded the rush, stopped, planted, and threw deep for the score was special.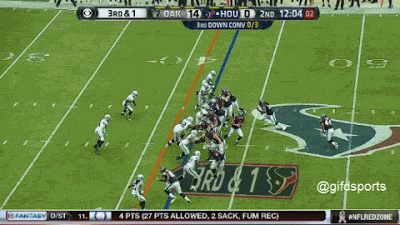 How many QBs can make that play right now? 10? Five? Russell Wilson, Cam, maybe a few others, but not many. It's crazy Keenum went undrafted less than a year ago (while highly-touted Geno Smith looks like he doesn't even belong in the league) and crazier still Gary Kubiak benched him. If it's possible for an NFL coach to jump the shark, that was the moment for Kubiak.

The bloom on Mike Tomlin's rose fades more and more the further the Steelers get from the Bill Cowher era.

The Giants are confounding. Eli and has been awful (how can a two-time Super Bowl MVP look this bad?), Nicks has been worse, and while we think of the Giants as having a good pass rush, they're last in the NFL in sacks. Yet somehow their defense has good stats - 6.5 YPA and 79.2 QB rating are both top 10. The four wins, though, are against Josh Freeman, Matt Barkley, Terrelle Pryor and Scott Tolzien - that makes even the Chiefs jealous. I see the script for the Eagles - Foles could be Kurt Warner circa 1999 - but not the Giants. Coming off their bye, Dallas finally figures out how to get Dez Bryant the ball against double teams and the Cowboys roll, 31-17.

Quick-hitters: Ravens over Jets, Torrey Smith scores from deep against Cromartie, Geno to the bench. Panthers take care of Dolphins, so the AFC's current sixth seed is under .500. Carson Palmer throws away a winnable game, Colts 24-16.