How Does the Temperature Affect Passing Stats?

Here's a chart on the effect temperature (at kickoff) has on passing production.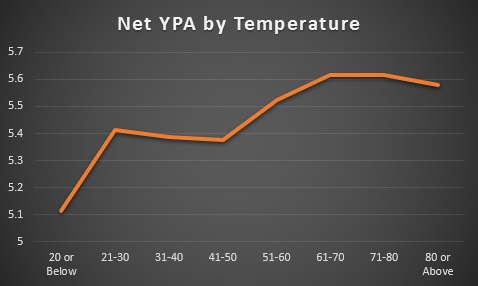 There's a pretty linear relationship here, with a very obvious drop when the temperature dips to around 20 degrees or below. That doesn't mean a quarterback is fine if it's 21 degrees and doomed at 20 degrees, obviously - there's more of a range of efficiency - but the point is very cold temperatures can have a significant effect on passing totals.

Although this effect might seem inconsequential, I think it can and should influence your lineup decisions. The drop in severely cold weather is nearly 10 percent from normal conditions, so that could easily tip the scales when you have a close lineup decision between two quarterbacks or receivers. By no means do I think you should select players based solely on the weather, but in the case of comparable value, the temperature could be a tiebreaker.

With that said, there aren't too many potentially cold weather games in Week 15. Let's take a look.

Potentially Cold-Weather Games in Week 15

Seattle at New York Giants
I live in New York City, and it's freezing. What does that have to do with Week 15 in your fantasy football leagues? Nothing at all, but I just wanted a forum to complain.

The players who could be affected in this game include Russell Wilson, Doug Baldwin and Victor Cruz. If you're starting Eli Manning in the playoffs or even in daily fantasy, you've probably already lost.

Chicago at Cleveland Browns
One reason I think the weather has a greater impact in daily fantasy than season-long is you can play anyone in the former game, so you'll always have a number of players with comparable values. Whereas you absolutely must start Josh Gordon in season-long, for example, that's not the case in daily fantasy since you also need to consider his salary. Because of that, it's easier to fade quarterbacks and wide receivers playing in cold weather when playing daily fantasy because there are so many other options.

Cincinnati at Pittsburgh
I really like the Dalton/Green connection this week, but monitor the weather. The temperature could very well be a factor, which might get you off of Dalton or Ben Roethlisberger.

Another factor to consider is the wind speed. I'm really not sure how much of a correlation there is between cold temperatures and wind speed - I'd imagine there's something there, which could actually influence the data - but I do know that heavy winds have a substantial effect on passing stats.

So when you see very cold weather and 20-plus m.p.h. winds, get the hell away.

Jonathan Bales is the author of the Fantasy Football for Smart People book series. His newest book is Fantasy Football (and Baseball) for Smart People: How to Turn Your Hobby into a Fortune. He also runs the "Running the Numbers" blog at DallasCowboys.com and writes for the New York Times.