Rules for Drafting Rookies

Even though the majority of NFL organizations seem to make draft picks using a combination of a Ouija board and, even worse, the opinions of scouts, the top draft picks still turn into the best pros. That's probably mainly a self-fulfilling prophecy because the highest picks get the most playing time and more opportunities to succeed.

It doesn't really matter why the highest draft choices record the best fantasy numbers; for our purposes, we just want to know how much better a first-rounder is than, say, a third-round pick, and how we can use that data to predict rookie stats at each position.

Here's how rookies in each draft round have been able to contribute since 2000: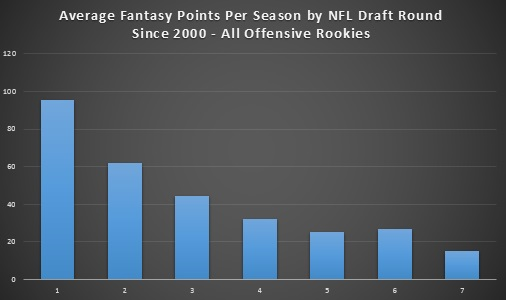 Third-round picks have provided around half as much bulk production as first-rounders. Interestingly, the difference between a fourth and sixth-rounder hasn't been all that much. Once you get into the back half of the draft, the difference in the quality of prospects is minimal.

As we'd expect, there are obvious differences in production for different positions. Take a look at quarterbacks.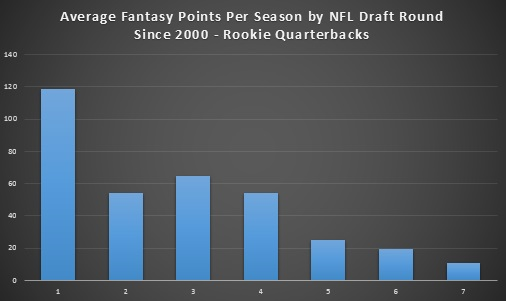 Whereas the typical second-round offensive rookie has produced around two-thirds as many fantasy points as the typical first-rounder, the average second-round quarterback checks in at well below half of the number of points from a first-round quarterback. Second-rounders have actually been worse than both third and fourth-round quarterbacks, so once you get out of the first round (and really, the top half of the first round), the chances for rookie fantasy production at the quarterback position are slim.

The running back position has a flatter distribution: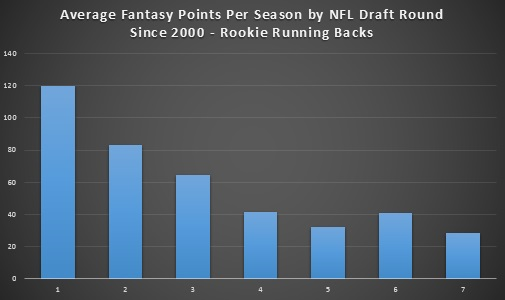 Both second and third-round running backs have produced well over half of the production of first-rounders. Late-round running backs have lagged behind, but there have still been plenty of usable rookies at the position who were drafted late (think Alfred Morris and Zac Stacy).

The running back graph actually shows just how much usage affects production. If you recall from some of my other work, I've found that mid and late-round running backs have actually been more efficient on a per-carry basis than first and second-rounders.

But since teams give their early picks more playing time, first and second rounders score way more fantasy points. Running backs are so dependent on a heavy workload for production that the graph appears to show that first-round running backs are much better players than mid- and late-rounders when, in reality, they're just given more touches.

If you're choosing between rookie runners who are comparable in every way except their draft slot, you're better off going with the one drafted higher - not because he's better, but because his team thinks he's better. That changes if you have good evidence that a mid or late-rounder will receive a hefty workload, however. If you know a talented fifth-round rookie is going to be his team's starter, you can let fellow owners jump all over the higher-drafted rookies so you can pick up comparable fantasy production at a cheaper price.

The wide receiver position has had almost a completely linear fantasy distribution based on draft round.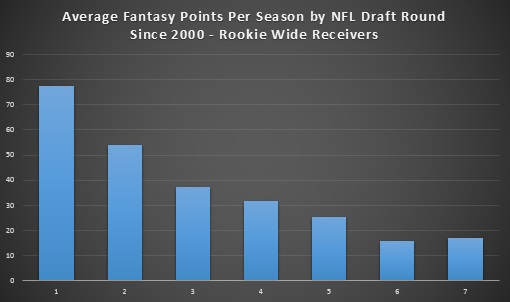 Although rookie wide receivers are poor values without elite upside as a whole, that changes if you implement stricter requirements as to which players you'll select - namely, big receivers who dominated in college and get selected in the top six or so picks.

And finally, let's take a look at the tight ends: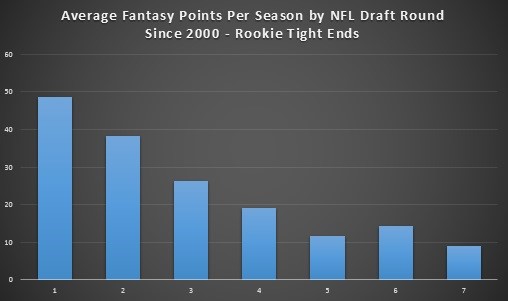 The biggest difference between the tight ends and other positions is there's not too big of a drop from the first round to the second. That makes sense, because the majority of first-round tight ends have been selected in the bottom half of the round. There are very few Vernon Davis-esque tight ends out there, so you're more likely to see second-round tight ends resemble first-rounders than you are at any other position.

Comparing Positions

The rates of decline by draft round are important in understanding how different types of rookies at different positions can help you. But certain positions of course translate better from college to the NFL, allowing for useful fantasy contributions right out of the gate.

Using the data from the positional graphs, I charted the average fantasy points for first and second-rounders at all positions. In normal re-draft leagues, it's these players you will normally target. You might also consider mid and late-round rookie running backs in particular situations, but the majority of the top fantasy producers even at the running back position will be those drafted early.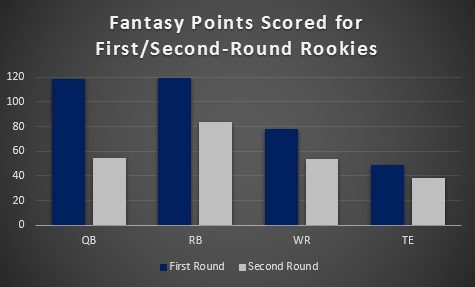 It's really telling that rookie running backs have out-produced quarterbacks, even though quarterbacks as a whole normally score more fantasy points than running backs. When you view production in this manner, you can also see how much more valuable rookie running backs are than both wide receivers and tight ends. Historically, second-round running backs have tallied more points than first-round wide receivers.

These numbers support the notion that rookie runners are undervalued, while rookie pass-catchers usually get over-drafted.

In conclusion, here are a few rules for drafting rookies: 1) draft only first-round quarterbacks who are mobile; 2) load up on rookie running backs who can catch passes, especially late in your fantasy drafts; 3) avoid rookie receivers, except the truly elite options; and 4) if you draft a rookie tight end, fade the first-rounder, who will be more expensive, in favor of a second-rounder who probably has the same level of talent.

Jonathan Bales is the author of the Fantasy Football for Smart People book series. He also runs the "Running the Numbers" blog at DallasCowboys.com and writes for the New York Times.