This article is part of our DraftKings Fantasy Soccer series.
MATCHES (EST)
For detailed stats and odds, check out the
FORWARDS
Raphinha, LEE v. BHA ($7,600): Raphinha takes a majority of set pieces for the favored team in the game with the highest implied goal total, which should make him popular in cash games and GPPs. There are a number of viable forwards for cash games, but Raphinha's floor from shots, shots on goal, chances created and crosses definitely makes him a viable option, and we'll know if he's starting before the slate locks. For those looking at a more upside play, teammate Patrick Bamford ($7,800) has the second-highest anytime goal scorer odds on the slate, and he actually has a bit of a floor thanks to his shots, taking at least three in 14 of 17 starts this season, including at least one shot on goal in 16 of 17. In fact, no player in the Premier League has taken more shots or put more shots on goal than Bamford.
Leandro Trossard, BHA at LEE ($6,400): Whoever takes set pieces on the other side of Raphinha's match also figures to be popular, whether it's Trossard or Pascal Gross ($7,000), depending on who starts. We benefit from this match being one of the two early ones, but both players are fairly cheap given their roles, especially since Leeds matches tend to have plenty of action. You actually get some decent salary savings with Neal Maupay ($5,700) if you're just looking for goals, especially since he has the fifth-highest anytime goal scorer odds among expected starters. Maupay, who is usually on penalties, shouldn't be a cash-game consideration, but as a forward in the game with the highest implied total, he's certainly an option for tournaments.
Ashley Barnes, BUR at WHU ($4,900): There aren't great cheaper options for cash games, but Barnes theoretically could be included in the conversation because he's shown a decent floor recently from shots and fouls drawn, racking up nine and 16 in the past four games, respectively. Of course, he also committed 15 fouls in the past three games, but a floor around seven fantasy points is pretty good at his price. Burnley are decent underdogs, but the West Ham defense isn't something we need to be significantly worried about.
MIDFIELDERS
James Maddison, LEI v. SOU ($9,100): Maddison is likely to be the most popular player in cash games despite being the most expensive player on the slate. A dominant role on set pieces for a favored side, Maddison also comes in averaging the most fantasy points, as well as the most floor points, per 90 minutes among all players on the slate. Here's a quick screenshot from our cheat sheet to emphasize the point: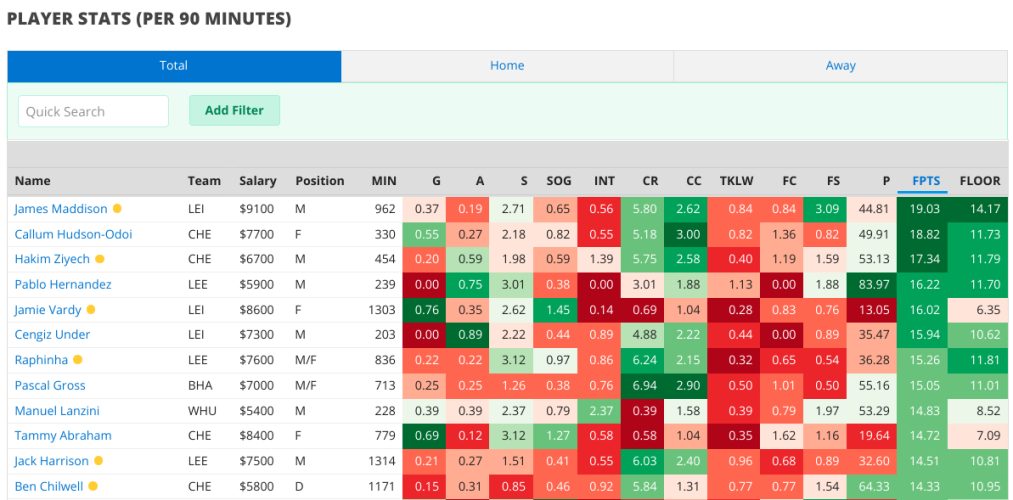 Maddison is questionable to play because of a knee injury, but he trained fully at the end of the week and should be able to start. If Maddison has some kind of setback and can't start, Youri Tielemans ($6,200) would likely take over on set pieces and be very popular, though you run the risk of leaving a lot of salary on the table if you don't have another player from the game to upgrade since Leicester play in the last match of the slate. Specifically getting a cheaper midfielder just for the flexibility seems unnecessary given the confidence that Maddison will start, but a combination of Tielemans and James Ward-Prowse ($7,100) would be a popular combination if we knew Maddison wasn't going to play.
Mason Mount, CHE at FUL ($7,900): The reason Ward-Prowse isn't likely to be overly popular is because of Mount, who takes a majority of set pieces for Chelsea, the biggest favorite on the slate with the highest implied goal total. Mount definitely doesn't have a monopoly, recently losing some opportunities to Hakim Ziyech ($6,700) and Ben Chilwell ($5,800, defender), but he still does a lot in open play to justify his price, especially given his opponent, even if Fulham are playing better recently. Solomon March ($7,200) is also a possibility in this price range, but he makes much more sense if Trossard and Gross don't start and he seems headed for a set-piece monopoly.
Declan Rice, WHU v. BUR ($3,800): Rice has gotten involved in the attack a bit more recently, sending in seven crosses and creating three chances in the last three games, which is a nice addition to the defensive stats he usually puts up, which included seven tackles won and six interceptions in his last three. There's not much to get excited about with Rice, but there is definitely a viable lineup build that includes paying down significantly at one spot, with Rice probably the most expensive you can go. If that's the route you take, it may be worth punting all the way down, even for a defender like Craig Dawson ($2,700), just to get the maximum salary relief.
DEFENDERS
Aaron Cresswell, WHU v. BUR ($6,700): Cresswell is the most expensive defender on the slate, but as a set-piece taker for a favorite, he's probably still going to be popular. He shares those dead-ball opportunities with Jarrod Bowen ($8,200 midfielder/forward), who he has outscored recently enough that he is the more worthwhile target. He doesn't have the upside of Bowen since he doesn't shoot as much, but he does have clean sheet equity that Bowen doesn't. It also helps that Burnley have allowed the fourth-most corners in the Premier League this season, including the most among teams on the slate, and they also lead the slate's teams in crosses and chances created allowed.
Reece James, CHE at FUL ($5,200): James leads all players on the slate in crosses per 90 minutes (minimum 200 minutes played), which is pretty impressive for a player who has a minimal role on corners (he does get a few free-kick crosses every now and then). Chilwell is also an option because of his dead-ball responsibilities, but James has consistently shown that he's a better overall fantasy scorer, making him the more viable option given the reduced price. There are actually a lot of viable defenders on the slate, including whoever starts out wide for Leeds and Leicester City.
Ryan Bertrand, SOU at LEI ($3,700): Bertrand hasn't been nearly as good this season as last, at least from a DraftKings perspective, as he's missing out on almost all set pieces because of Ward-Prowse. However, he can provide some flexibility in the last game in the event that Maddison is unable to start, as the $12,800 combined price of the two is high enough that if you need to pivot to Tielemans and James Justin ($5,700) you can do that because they only cost $11,900 in total. Or, you can go to the other side and get Ward-Prowse and Justin at a total of $12,800. The downside (if Maddison starts) is that you're using a defender you probably wouldn't roster if we knew all the starters at the same time, but it's the safest move from a flexibility standpoint.
GOALKEEPER
Alphonse Areola, FUL v. CHE ($3,900): Areola is the cheapest goalkeeper on the slate because he plays for the biggest underdog, but with few people likely loading up on Chelsea attackers, at least in cash games, he makes for a viable play, especially because of the salary flexibility he provides. Playing him with Mount and/or James/Chilwell/Ziyech is fine because you're playing them for their floors, and he's been very solid recently, allowing three goals and making 20 saves in his last five starts.
The author(s) of this article may play in daily fantasy contests including – but not limited to – games that they have provided recommendations or advice on in this article. In the course of playing in these games using their personal accounts, it's possible that they will use players in their lineups or other strategies that differ from the recommendations they have provided above. The recommendations in this article do not necessarily reflect the views of RotoWire. Andrew M. Laird plays in daily fantasy contests using the following accounts: FanDuel: kingmorland, DraftKings: andrewmlaird, Yahoo: Lairdinho.