This article is part of our Rounding Third series.
Once again, here's my tour of the eight Sunday FAAB leagues that I play in. I'm labeling this week as "Week 4" to stay in line with other references on the site and elsewhere - though I viewed that first round of FAAB before the season as "Week 0." So we move from Week 2 to Week 4 this week.
AL Tout Wars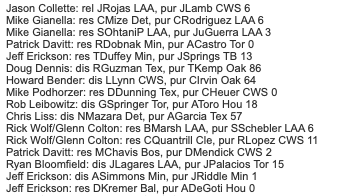 It was a bad week to have slim pickings, but here we are nonetheless. I lost Andrelton Simmons and Anthony Rendon to the IL, plus have basically had a zero active at OF, so I'm scrambling to find options to replace them. In retrospect, I probably should have bid aggressively on Adolis Garcia on the Rangers, which Liss ended up doing. Meanwhile, Springs got the save on Sunday when the Rays decided to have Diego Castillo pitch in a high-leverage situation in the eighth inning. He was acquired from the Red Sox after they designated him for assignment, so while this could just be a mirage, the fact is that Kevin Cash likes to use Castillo as he did Sunday, and Springs fits the profile of the "misfit toy" that turns out better as a Ray. So let's take a cheap flier in case he does work out, particularly with so many of their other relievers out.
NFBC Main I
Once again, in two parts: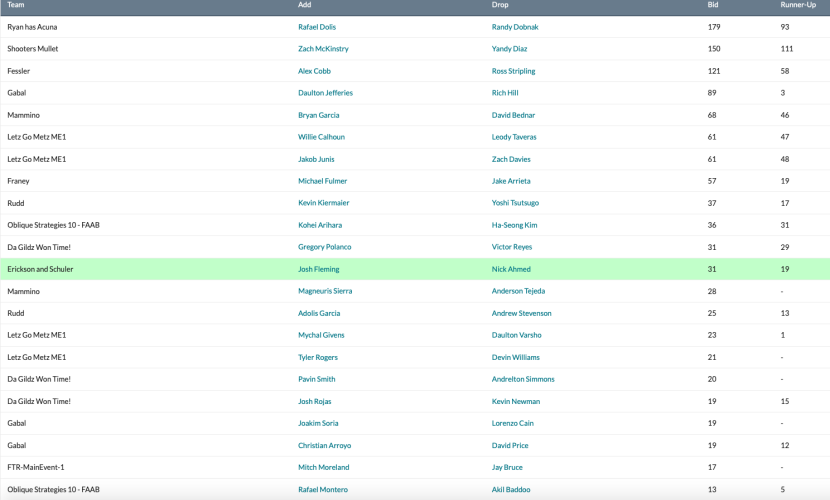 and
I re-added Fleming in a lot of places yesterday, after initially drafting and dropping him. He has two starts this week, one good at KC, one potentially risky at home against the Blue Jays, depending on who is healthy for them. And as I tweeted, I'm hanging out at the Recency Bias Bar with Guillermo Heredia, who had a monster night on Sunday. The thing is, I was already bidding on him, but raised my bid. Starting outfielders are hard to find, and he's going to play a lot in the next two weeks, with Cristian Pache and Ender Inciarte already on the IL, plus Ronald Acuna also got hurt on Sunday night. We're still awaiting whether Acuña needs to go on the IL.
NFBC Main II
Also in two parts: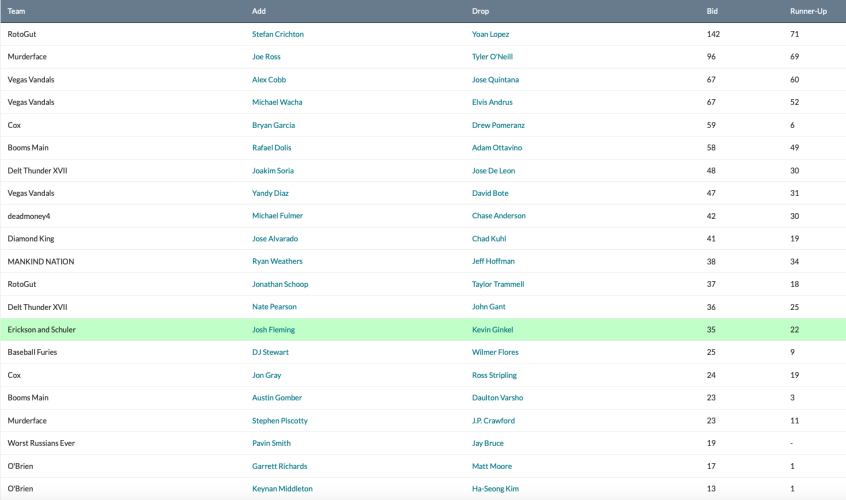 and

I hate seeing Vlad Sedler pouncing on one of our previous drops in Stefan Crichton. We were in on picking him back up, but knew that we would unlikely get him at that price. Crichton did pick up a few saves last season, so it's possible that Sunday is a harbinger of him regaining the job. That said, I'm not convinced he's all that good (Crichton, not Vlad - Vlad shreds), Joakim Soria could be coming back soon, and newly recalled J.B. Bukauskas could also be part of the picture. Moreover, manager Torey Luvollo said in spring training that he was inspired Kevin Cash's management of the bullpen in the playoffs, which frightens me off a little.
Beat Jeff Erickson I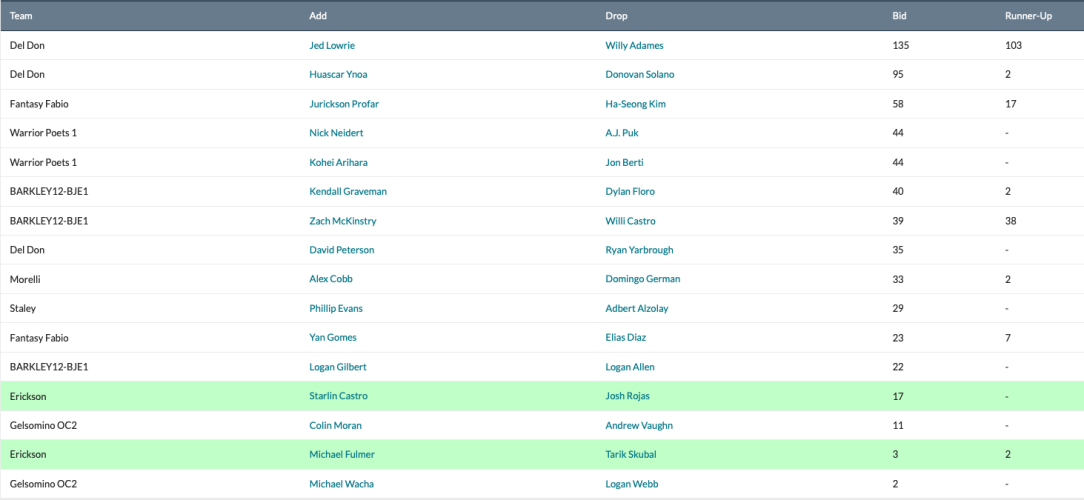 I appreciate Josh Rojas for having his best game on the way out the door, but he's not playing enough to stay rostered in a 12-team league. Is Michael Fulmer a trap this week? Maybe! But I'll find out for a low price at least in case he does stink.
Beat Jeff Erickson II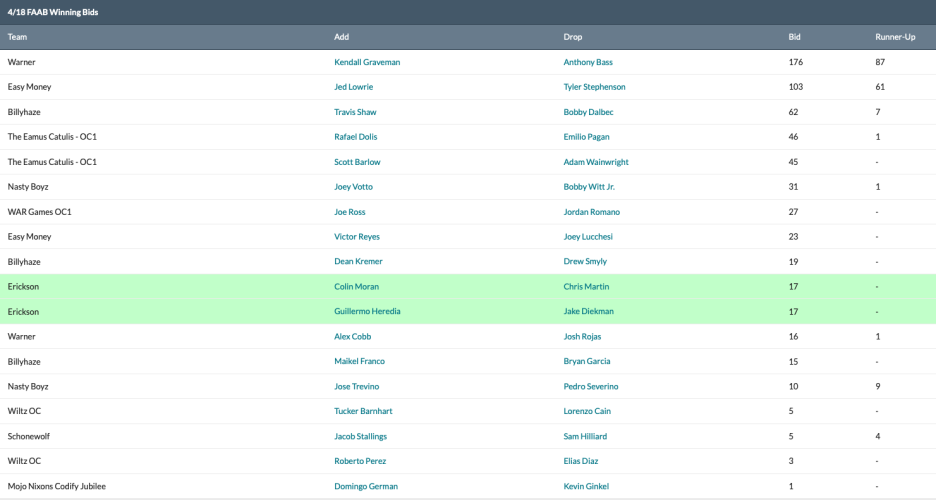 Did you know that Colin Moran already has eight homers? I know that the Pirates stink, but he needs to be rostered everywhere.
TGFBI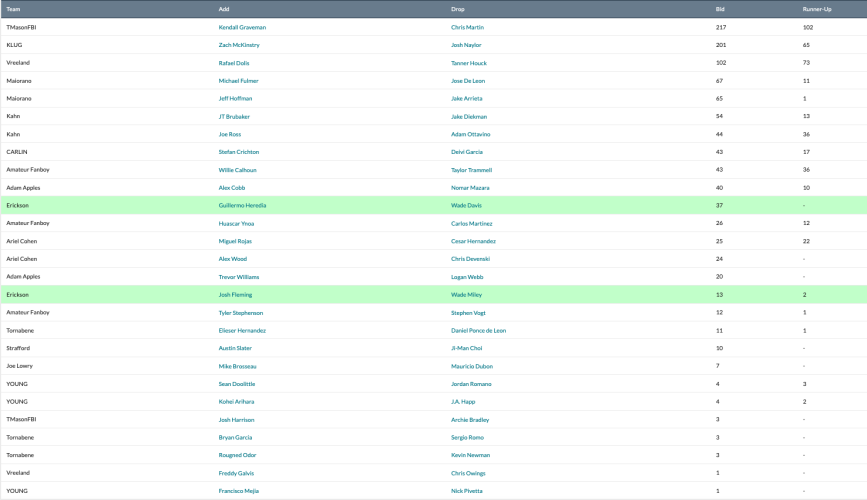 I'm doing ok in saves in this league, and in fact already have too many relievers on my bench that I didn't want to cut, so I kept my bids on Kendall Graveman and Rafael Dolis pretty modest. So of course I overbid on my two regular additions of the week again, Heredia and Fleming.
LABR Mixed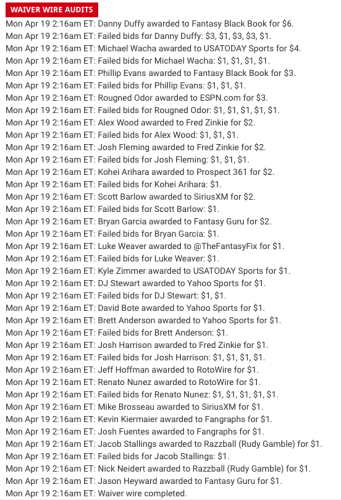 This was a good week to hang out in the $1 bid zone - while there are some valuable guys, I don't think the difference between the top guys and the guys I got was too great. And I'm necessarily going to cheap after going big for Emmanuel Clase last week.
RotoWire Staff Keeper League
This time in three parts!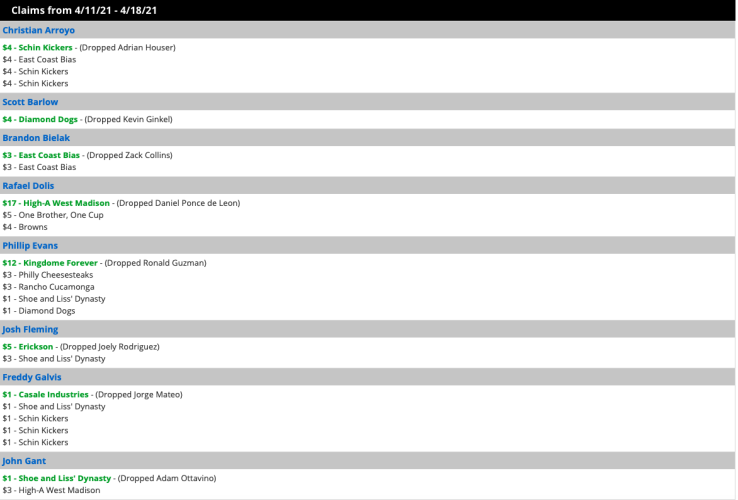 and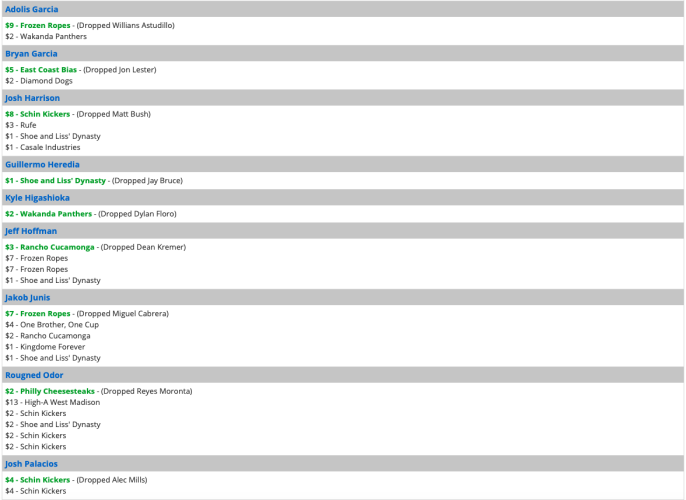 and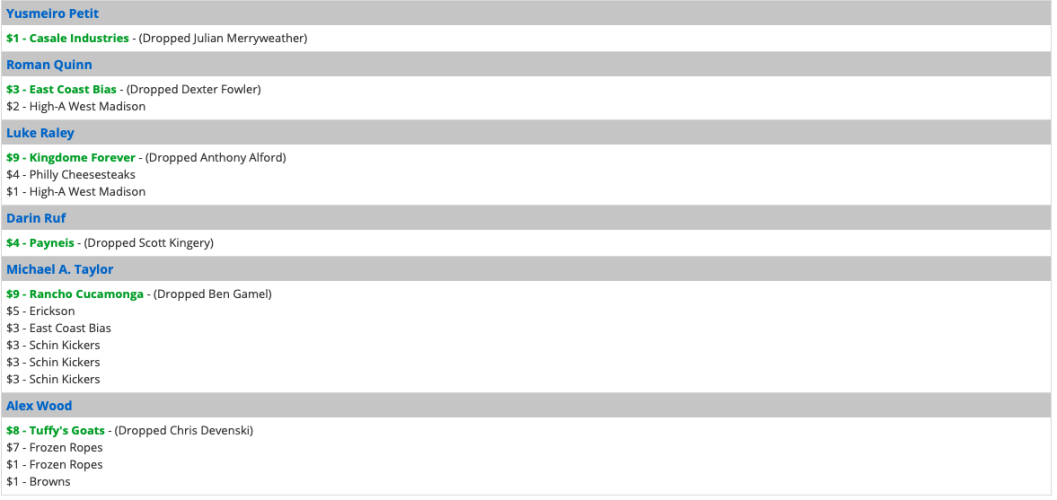 It's a little bit of a different layout here, as the RotoWire commish page breaks it down either by player picked up alphabetically, or by listing the bids by team. I chose the "by player" format. This is an 18-team keeper league, so the pool of available free agents is far different than my other leagues. Yet, I still ended up with Josh Fleming again. As Tony Soprano said in the last season of The Sopranos, "... yes, life is a gift. But does it always have to be socks?"