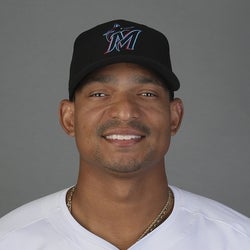 Rest-of-Season Projections
2023 Fantasy Outlook
Bethancourt played in the majors last season for the first time since 2017, and he put together a solid campaign between Oakland and Tampa Bay with a 101 wRC+ (.252/.283/.409 slash line). He was also a strong defender behind the plate, putting him in position to potentially start for the Rays in 2023. A 3.6 percent walk rate leaves much to be desired, but his average and slugging should be replicable with a .255 xBA and .449 xSLG that indicates he deserved some better results. Bethancourt is unlikely to work as an everyday catcher but should at least split time with Francisco Mejia, who so far has failed to live up to his prospect hype.
Read Past Outlooks
$Signed a one-year, $1.35 million contract with the Rays in January of 2023. Waived by the Rays in November of 2023. Claimed off waivers by the Guardians in November of 2023.

Catches on with Cleveland
ANALYSIS
Bethancourt spent a large portion of the 2023 season as the Rays' No. 1 catcher and put up decent counting statistics over his 332 plate appearances (11 home runs, 49 runs, 33 RBI and one stolen base), but an ugly .225/.254/.381 slash line (74 wRC+) made his less useful at the plate from a real-life standpoint. Still, the 32-year-old graded out as a capable defender behind the dish and wasn't a complete zero with the bat, so he should at least make for a dependable backup option and short-side platoon mate in Cleveland for No. 1 backstop
Bo Naylor
.
Read More News
Batting Stats
2023 MLB Game Log

Calculate Stats Over Time
Just click on any two dates.
Scoring
FanDuel
DraftKings
Yahoo DFS
Loading Batting Game Log...
2022 MLB Game Log

Calculate Stats Over Time
Just click on any two dates.
Scoring
FanDuel
DraftKings
Yahoo DFS
Loading Batting Game Log...
2017 MLB Game Log

Calculate Stats Over Time
Just click on any two dates.
Scoring
FanDuel
DraftKings
Yahoo DFS
Loading Batting Game Log...
Minor League Game Log

Calculate Stats Over Time
Just click on any two dates.
Loading Minor League Batting Game Log...
Batting Order Slot Breakdown
#1
#2
#3
#4
#5
#6
#7
#8
#9
#1
#2
#3
#4
#5
#6
#7
#8
#9
Left/Right Batting Splits
OPS
PA
HR
RBI
AVG
Since 2021

vs Left

.673
204
7
22
.229
Since 2021

vs Right

.659
461
15
45
.243
2023

vs Left

.650
74
4
9
.188
2023

vs Right

.631
258
7
24
.236
2022

vs Left

.685
130
3
13
.252
2022

vs Right

.695
203
8
21
.251
2021

vs Left

0
0
0
0
0
2021

vs Right

0
0
0
0
0
More Splits

→

View More Split Stats
Home/Away Batting Splits
OPS
PA
HR
RBI
AVG
Since 2021

Home

.657
330
13
35
.221
Since 2021

Away

.670
335
9
32
.255
2023

Home

.636
166
5
16
.223
2023

Away

.633
166
6
17
.228
2022

Home

.677
164
8
19
.219
2022

Away

.706
169
3
15
.282
2021

Home

0
0
0
0
0
2021

Away

0
0
0
0
0
More Splits

→

View More Split Stats
Stat Review
How does Christian Bethancourt compare to other hitters?
This section compares his stats with all batting seasons from the previous three seasons (minimum 400 plate appearances)*. The bar represents the player's percentile rank. For example, if the bar is halfway across, then the player falls into the 50th percentile for that stat and it would be considered average.
* Exit Velocity and Barrels/PA % are benchmarked against 2019 data (min 400 PA) and Hard Hit Rate is benchmarked against last season's data (min 400 PA).
See here for more exit velocity/barrels stats
plus an explanation of current limitations with that data set.
BB/K

Walk to strikeout ratio

BB Rate

The percentage of plate appearances resulting in a walk.

K Rate

The percentage of plate appearances resulting in a strikeout.

BABIP

Batting average on balls in play. Measures how many of a batter's balls in play go for hits.

ISO

Isolated Power. Slugging percentage minus batting average. A computation used to measure a batter's raw power.

AVG

Batting average. Hits divided by at bats.

OBP

On Base Percentage. A measure of how often a batters reaches base. Roughly equal to number of times on base divided by plate appearances.

SLG

Slugging Percentage. A measure of the batting productivity of a hitter. It is calculated as total bases divided by at bats.

OPS

On base plus slugging. THe sum of a batter's on-base percentage and slugging percentage.

wOBA

Weighted on-base average. Measures a player's overall offensive contributions per plate appearance. wOBA combines all the different aspects of hitting into one metric, weighting each of them in proportion to their actual run value.

Exit Velocity

The speed of the baseball as it comes off the bat, immediately after a batter makes contact.

Hard Hit Rate

A measure of contact quality from Sports Info Solutions. This stat explains what percentage of batted balls were hit hard vs. medium or soft.

Barrels/PA

The percentage of plate appearances where a batter had a batted ball classified as a Barrel. A Barrel is a batted ball with similar exit velocity and launch angle to past ones that led to a minimum .500 batting average and 1.500 slugging percentage.

Expected BA

Expected Batting Average.

Expected SLG

Expected Slugging Percentage.

Sprint Speed

The speed of a runner from home to first, in feet per second.

Ground Ball %

The percentage of balls put in play that are on the ground.

Line Drive %

The percentage of balls put in play that are line drives.

Fly Ball %

The percentage of balls put in play that are fly balls.
Advanced Batting Stats
Loading Advanced Batting Stats...
Games By Position
Defensive Stats
Loading Games Played by Position...
Loading MLB Defensive Stats...
Batted Ball Stats
Loading Batted Ball Stats...
Stats Vs Upcoming Pitchers
Our full team depth charts are reserved for RotoWire subscribers.
Subscribe Now
Recent RotoWire Articles Featuring Christian Bethancourt
See More
Past Fantasy Outlooks
2017
2016
2015
2014
2013
2012
Bethancourt spent the entire season in San Diego, making 41 appearances behind the plate in addition to playing 12 games in the outfield, one at second base, and taking the ball twice for manager Andy Green as a relief pitcher. Bethancourt's strong arm has always been praised as part of his profile as a defense-first catcher, but he touched 96 mph with his fastball during his time on the mound while mixing in a mid-80s changeup and a few knuckleballs. It's possible that Bethancourt will focus on pitching in preparation for 2017, if only to add to his versatility off the bench. At the plate, Bethancourt made small strides in 2016, hitting a career-high six homers while finishing with a .228/.263/.368 line in 204 plate appearances. He's never shown a particularly discerning eye at the plate, however, and a full-time move to the mound may be the best use of Bethancourt's tools if the organization doubts the possibility of further development as a hitter.
Bethancourt's athleticism behind the plate and tremendous arm were supposed to carry him, both in the primary role in 2015 and to a lengthy career as the Braves' starting backstop. However, he once again looked far overmatched against major league pitching last season, struggling even more against left-handers (.433 OPS) than against same-handed pitching (.551 OPS) with a dismal BB:K in 48 games. The Braves scaled back his playing time as the campaign dragged on and gave up on Bethancourt after the season. They dealt Bethancourt to San Diego, where he is now blocked by Derek Norris and Austin Hedges. Even with the catcher position in a state of utter mediocrity, Bethancourt makes for an unappealing option heading into 2016 given his lack of offensive skills and slim chances at a regular role.
Defensively, Bethancourt is major-league ready, but he did not take the leap forward, offensively, that the Braves were hoping he would in 2014. That's not to say he was awful with the bat, as he hit .283 at Triple-A Gwinnett as a 22-year-old, but Bethancourt did little to ease concerns about his approach, drawing a mere 13 walks in 365 plate appearances with the affiliate. Moreover, he smacked just 26 extra-base hits with Gwinnett, resulting in a .125 ISO, down from .159 with Double-A Mississippi in 2013. He spent close to a month with the big club toward the middle of the season, filling in for an injured Evan Gattis, and was also among the team's September callups, but he looked overmatched against major-league pitching, posting a dismal .247 wOBA in 31 games (117 plate appearances). Despite his struggles at the top level, the Braves appear ready to insert Bethancourt into the regular role behind the plate, as the Jason Heyward trade has opened up a spot in the outfield for Gattis. Assuming the Braves do indeed move on to Bethancourt as their primary catcher, he would warrant some consideration in deeper two-catcher leagues, if only because the playing time should result in the counting stats piling up at a decent clip. Bethancourt will compete with veteran A.J. Pierzynski for playing time to begin 2015.
Heralded for his rocket arm and athleticism behind the plate, Bethancourt took a significant step forward at the dish last season. In 90 games with Double-A Mississippi, he hit .277/.305/.436 with 12 homers and 11 steals, after slashing just .243/.275/.291 at the same level in 2012. Concerns remain, however, about Bethancourt's lack of plate discipline, as he drew just 16 walks in 388 plate appearances in 2013, but he did show some improvement in the second half, with a .329 on-base percentage over his final 39 games. The 22-year-old will likely need to show continued improvement in the minor leagues before being considered for a promotion, but with Brian McCann now out of Atlanta, it's possible he could get the call sooner than expected, if Evan Gattis struggles defensively, or if there is an injury to Gattis, Gerald Laird, or Ryan Doumit.
Bethancourt has the potential to be one of the top catching prospects in the game. His defense has been vaunted and is already at a major league level. His bat, on the other hand, still has some catching up to do. After being signed at 16, the now 21-year-old Bethancourt has played five minor league seasons with just a .656 career OPS and a poor eye at the plate. He has potential to be a good power hitter and possesses above-average speed for a catcher. Now with a 40-man roster spot, Bethancourt could open the season as a temporary backup to Gerald Laird while Brian McCann works his way back from knee surgery. It's likely that he'll spend most of 2013 back at Double-A Mississippi.
Bethancourt could be Atlanta's top hitting prospect after a breakout season. After hitting .303/.323/.430 at Low-A Rome, Bethancourt held his own at High-A Lynchburg by hitting .271/.277/.325 at age 19. While his numbers were not overly impressive at the plate, he was young for High-A and is seen as a strong, albeit raw, defensive catcher. He then hit .306/.324/.556 in the Arizona Fall League, which impressed many observers considering the tougher competition. However, he'll need to show more patience at the plate (just 13 walks in 459 at-bats between the minors and AFL) to become an elite prospect. He'll likely begin the season at High-A again, but a strong first half could put him on the fast track to the majors.
More Fantasy News