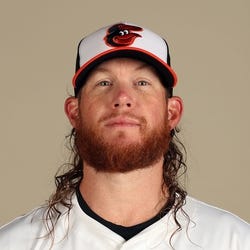 Rest-of-Season Projections
2023 Fantasy Outlook
The Dodgers immediately announced Kimbrel as their closer upon acquiring him despite a shaky second half in 2021 and a poor spring with velocity concerns. Kimbrel had a solid first month with Los Angeles, but was inconsistent from that point forward. He threw his historically dominant curveball roughly 10% less often (31.5% pitch usage) while losing some zip on his fastball, which proved to be ineffective. As a result, his strikeout rate plummeted by 15 percent, from 42.6% to 27.7%. The 34-year-old was able to rack up 22 saves, but officially lost the closer job in late September despite the distribution of saves chances signaling a committee much earlier than that. Kimbrel recorded only eight of the Dodgers' 23 saves after July 1 and was subsequently left off their playoff roster. The active saves leader in baseball, he secured a one-year, $10 million pact with the Phillies and should be the favorite for saves to open the season, but it's likely to be a committee approach with Seranthony Dominguez, Jose Alvarado and Gregory Soto also in the mix.
Read Past Outlooks
$Signed a one-year, $10 million contract with the Phillies in December of 2022.

Kimbrel picked up the save in Tuesday's 1-0 win over Detroit, striking out three in a perfect ninth inning.
ANALYSIS
Kimbrel improved to 9-for-9 in save chances, striking out the side to close out Philadelphia's shutout win. The 35-year-old Kimbrel has been excellent of late, allowing just two runs over his last 11 innings while striking out 19 in that span. After a few rough outings early in the year, his ERA is down to 5.09 with a 1.13 WHIP and 36:11 K:BB over 23 innings.
Read More News
Pitching Stats
Loading Pitching Stats...
2023
2022
2021
2020
2019
2018
2017
2023 MLB Game Log

Calculate Stats Over Time
Just click on any two dates.
Scoring
FanDuel
DraftKings
Yahoo DFS
Loading Pitching Game Log...
2022 MLB Game Log

Calculate Stats Over Time
Just click on any two dates.
Scoring
FanDuel
DraftKings
Yahoo DFS
Loading Pitching Game Log...
2021 MLB Game Log

Calculate Stats Over Time
Just click on any two dates.
Scoring
FanDuel
DraftKings
Yahoo DFS
Loading Pitching Game Log...
2020 MLB Game Log

Calculate Stats Over Time
Just click on any two dates.
Scoring
FanDuel
DraftKings
Yahoo DFS
Loading Pitching Game Log...
2019 MLB Game Log

Calculate Stats Over Time
Just click on any two dates.
Scoring
FanDuel
DraftKings
Yahoo DFS
Loading Pitching Game Log...
2018 MLB Game Log

Calculate Stats Over Time
Just click on any two dates.
Scoring
FanDuel
DraftKings
Yahoo DFS
Loading Pitching Game Log...
2017 MLB Game Log

Calculate Stats Over Time
Just click on any two dates.
Scoring
FanDuel
DraftKings
Yahoo DFS
Loading Pitching Game Log...
Minor League Game Log

Calculate Stats Over Time
Just click on any two dates.
Loading Minor League Pitching Game Log...
Pitching Appearances Breakdown
How many pitches does Craig Kimbrel generally throw?
What part of the game does Craig Kimbrel generally pitch?
% Games Reaching Innings Threshold
% Games By Number of Innings Pitched
Left/Right Pitching Splits
BAA
K
BB
H
HR
Since 2021

vs Left

.195
94
22
46
7
Since 2021

vs Right

.185
114
40
51
8
2023

vs Left

.111
16
4
3
1
2023

vs Right

.222
20
7
12
4
2022

vs Left

.261
29
11
29
3
2022

vs Right

.193
43
17
22
1
2021

vs Left

.143
49
7
14
3
2021

vs Right

.157
51
16
17
3
More Splits

→

View More Split Stats
Home/Away Pitching Splits
ERA
WHIP
IP
K/9
BB/9
Since 2021

Home

2.58
0.93
76.2
13.4
3.4
Since 2021

Away

4.23
1.33
66.0
12.8
4.5
2023

Home

1.42
0.63
12.2
14.9
2.8
2023

Away

9.58
1.74
10.1
13.1
6.1
2022

Home

3.41
1.14
34.1
11.0
3.4
2022

Away

4.21
1.56
25.2
10.5
5.3
2021

Home

2.12
0.81
29.2
15.5
3.6
2021

Away

2.40
1.00
30.0
14.7
3.3
More Splits

→

View More Split Stats
Stat Review
How does Craig Kimbrel compare to other relievers?
This section compares his stats with all relief pitcher seasons from the previous three seasons (minimum 30 innings)*. The bar represents the player's percentile rank. For example, if the bar is halfway across, then the player falls into the 50th percentile for that stat and it would be considered average.
* Exit Velocity, Barrels/BBE %, Balls Hit 95+ MPH %, and Spin Rate are benchmarked against 2019 data (min 30 IP).
See here for more exit velocity/barrels stats
plus an explanation of current limitations with that data set.
K/BB

Strikeout to walk ratio.

K/9

Average strikeouts per nine innings.

BB/9

Average walks per nine innings.

HR/9

Average home runs allowed per nine innings.

Fastball

Average fastball velocity.

ERA

Earned run average. The average earned runs allowed per nine innings.

WHIP

Walks plus hits per inning pitched.

BABIP

Batting average on balls in play. Measures how many balls in play against a pitcher go for hits.

GB/FB

Groundball to flyball ratio. The higher the number, the more likely a pitcher is to induce groundballs.

Left On Base

The percentage of base runners that a pitcher strands on base over the course of a season.

Exit Velocity

The speed of the baseball as it comes off the bat, immediately after a batter makes contact.

Barrels/BBE

The percentage of batted ball events resulting in a Barrel. A Barrel is a batted ball with similar exit velocity and launch angle to past ones that led to a minimum .500 batting average and 1.500 slugging percentage.

Spin Rate

Spin Rate is the rate of spin on a baseball after it is released. It is measured in revolutions per minute (rpm).

Balls Hit 95+ MPH

The percentage of batted balls hit that met or exceeded the 95 MPH threshold.

Swinging Strike

The percentage of pitches that result in a swing and a miss.
Advanced Pitching Stats
Loading Advanced Pitching Stats...
Loading MLB Defensive Stats...
Our full team depth charts are reserved for RotoWire subscribers.
Subscribe Now
Recent RotoWire Articles Featuring Craig Kimbrel
See More
Past Fantasy Outlooks
2022
2021
2020
2019
2018
2017
2016
2015
2014
2013
2012
2011
2010
There are a ton of narratives surrounding Kimbrel's late-season struggles, with the most popular being he didn't like being the White Sox's setup man. While changing roles after a career as a closer may have had something to do with it, degrading skills may also be in play here. From the start of the season until being traded, he had a 15.7 K/9 and 0.49 ERA with a 97.0 mph average fastball. After the trade, he had a 14.1 K/9 and 5.09 ERA with a 95.9 mph average fastball. In 2019, Kimbrel's fastball velocity averaged 96.2 mph and he posted a 6.53 ERA. He really needs his fastball over 97 mph to be effective. It wasn't just the strikeouts -- his walks allowed jumped from 3.2 BB/9 to 3.9 BB/9. The combination saw his K-BB% drop from 37.2% to 26.5%. He gained a massive boost to his fantasy value when he was traded from the White Sox to the Dodgers in early April, and manager Dave Roberts has confirmed that the right-hander will serve as the team's closer. He'll likely need to show increased velocity if he hopes to replicate his results from the first half of the 2021 campaign, but he's a much more appealing fantasy option now that he'll be closing out games for one of the best teams in baseball.
The Cubs gave Kimbrel a three-year, $43 million deal in 2019, and so far, their return on investment has been horrendous. Kimbrel has worked 36 innings over two seasons, allowing 59 baserunners, 11 home runs, blowing four saves and losing five games. Yet, in spite of everything else going wrong, he still gets strikeouts as he has struck out 58 batters in those 36 innings. That is the Kimbrel experience these days; he flashes moments of the former dominant closer when he can still put away hitters with the best of them. Other times, he is falling behind hitters, and his fastball cannot get him out of every jam. The league hit .206 off his fastball & .143 off his curve in 2020; his struggles are of his own doing as he continues to consistently miss his location. You cannot draft him in CL1 any longer, and even CL2 is pushing it. There is an equal chance he bounces back or is cut loose as a sunken cost.
Kimbrel couldn't find a deal he liked until after the draft got underway in June (when the draft-pick compensation attached to him via the qualifying offer was lifted). It was the Cubs who ponied up; they inked the veteran closer to a three-year, $43 million deal. A little over a month after his team debut, Kimbrel hit the injured list with a knee injury, and he made another trip to the IL in September with elbow inflammation. Kimbrel struggled after being activated, giving up three homers in two appearances before being shut down. Kimbrel's stuff was down another tick (96.2 mph average fastball), and he got clobbered when he challenged hitters the zone, to the tune of a 47.1% hard-hit rate per Statcast. His chase rate has fallen six percentage points over the last two years and the mileage is adding up, but his contract and reputation should afford Kimbrel a long leash in the ninth-inning role for Chicago.
While his performance dipped in 2018, Kimbrel still turned in sterling ratios and benefited from pitching for a 108-win Boston squad, allowing him to finish as a top-three fantasy closer. However, some cracks in his armor have started to form. His average fastball velocity fell a full tick from the year prior, which likely factored heavily into his 80.4 zone-contact percentage, a 10-point increase from 2017. It ultimately didn't prove too harmful to Kimbrel's strikeout totals, but the righty saw his walk rate surge back over 10% and posted the worst home-run rate of his career. Fortunately, Kimbrel lessened the effects of his declining command and heat by making more use of his deadly knuckle-curve and inducing more soft contact, helping him limit opposing batters to .145 average. Kimbrel's peak may have come and gone, but his skills remain strong enough for him to warrant a top-100 selection in drafts.
His Red Sox career got off to a somewhat disappointing start in 2016, but Kimbrel returned to elite form last season. The right-hander tapped into a bit of extra velocity and that helped him boost his strikeout rate by more than two per nine to 16.4. Best of all, he dramatically lowered his walk rate, shaving it from a career-high 5.1 BB/9 to a career-low 1.8 BB/9. Kimbrel was hit hard at times -- he allowed a 39.1 percent hard-hit rate and 91.4 mph average exit velocity -- but that's not a big deal when you allow so few batted balls in play (110 batted-ball events). An uptick in velocity can sometimes be a precursor to injury, but Kimbrel has been incredibly durable throughout his career, and with the skills bouncing back, Kimbrel has a clear case to go ahead of every reliever not named Kenley Jansen.
On the surface, Kimbrel filled his role as Boston's closer well. He converted 31 of 33 save opportunities and struck out 14.1 batters per nine innings. But if you dig a bit deeper, Kimbrel had his problems. While unhittable for stretches, an intermittent loss of the strike zone led to career highs in walks per nine innings (5.1) and losses (six). The walks made him somewhat unreliable, most notably in a gut-punching loss to the Yankees on the night the Red Sox "clinched" the AL East. And he was abysmal when called on in non-save situations. Kimbrel allowed 12 runs (11 earned) on 15 hits and 14 walks in 19.1 innings when the game wasn't on the line. Maybe that's not a big deal, but Boston will presumably continue to use him occasionally in non-save situations, so it is something to be aware of. Kimbrel will return as Boston's closer, with Tyler Thornburg and Joe Kelly getting the first shot as setup men.
Kimbrel's lone season with the Padres may end up a footnote in a Hall of Fame career, if his time in Boston is anything like his time in Atlanta. Traded to San Diego a day before the start of the 2015 season, Kimbrel fell short of 40 saves after reaching that threshold in four straight years, but he still finished fourth in the NL with 39 saves, blowing only four opportunities. His average fastball velocity was higher than it's ever been, and his swinging-strike rate was right in line with his career mark, but Kimbrel's H/9 and HR/FB rates both jumped significantly with lefties doing far more damage against him than they ever have in the past. That said, the peripherals remain excellent at age 27 and he is about as safe as they come at baseball's most volatile position, especially after the Red Sox gave up a nice package of young talent to acquire him from the Padres in November to take over as their closer.
At this point, Kimbrel's reputation as the most dominant end-gamer in baseball is well established. While his ERA jumped by 40 points in 2014, his FIP actually dropped by 10 points (from 1.93 to 1.83), and his strikeout, contact and swinging-strike rates all improved. He did take a step back with his control, posting a 10.7% walk rate, up from 7.8% a year before, but the right-hander averaged better than 97 mph on his fastball (a career high) and notched an NL-leading 47 saves, marking the fourth straight season in which he's led the league in that statistic. Right-handers had a bit more success against Kimbrel, but they still managed just a .436 OPS against him, and Kimbrel was equally dominant against lefties, improving his OPS against southpaws by nearly 150 points (from .574 to .425). The workload is starting to add up, and he could see fewer save opportunities in 2015 on a regressing Braves team, but he hasn't shown any real signs of slowing down to this point and is thus still the safest relief option on the board.
For the third consecutive year, Kimbrel led the National League in saves, becoming the 11th pitcher in major league history to reach the 50-save mark in a single season, while also becoming the first pitcher in the history of the game to record 40-plus saves in each of his first three full seasons. He set a Braves franchise record in 2013 by converting 37 consecutive save chances, and ended the season by converting 40 of his final 41 opportunities. After the calender turned to June, Kimbrel allowed just four earned runs over 46.2 regular-season innings (0.77 ERA), and he held opposing batters to a .161 average for the year. His strikeout rate did, however, drop by more than three per nine innings, to a career-low 13.2 K/9, and his swinging-strike rate was well below where it was in 2012 (13.6% from 19.2%). Lefties hit .211/.265/.309 against him, up from .116/.189/.143, and his walk rate was up slightly as well. All that aside, Kimbrel didn't lose any juice on his fastball, and is unquestionably one of most dominant end-gamers in all of baseball. He's still the easy choice for first reliever off the board in 2014.
Kimbrel is just 24 years old and is already the best relief pitcher in Major League Baseball. Kimbrel has been the Braves' closer for two years and led the league in saves both seasons. He won the NL Rookie of the Year award in 2011 and finished in the top-10 of Cy Young voting each of those two seasons, while also finishing in the top-10 of NL MVP voting in 2012 after posting a 1.01 ERA. Kimbrel's K/9 rose to an absurd 16.7 while his BB/9 dropped to just 2.0. With his stuff and control, he is nearly unhittable. Over the last two years, Kimbrel has led all major league relievers in strikeouts and it isn't even close. He will be the first reliever off the board during fantasy drafts and for good reason.
Kimbrel set a major league record for saves by a rookie with 46 and won the NL Rookie of the Year award last season. Kimbrel's success wasn't merely a by-product of getting 54 save chances as his peripheral stats were outstanding as well. He had a 14.8 K/9IP, a 3.97 K/BB ratio, increased his groundball rate (to 44.8 percent of batted balls) and only allowed three home runs. His only blemish was that he wore down at the end of the season by posting a 4.76 ERA in September and blew three of his final eight save chances – including Atlanta's loss on the last day of the season that knocked them out of the playoffs. The Braves may try to reduce his workload a bit this season and have Jonny Venters save a few more games as a result. However, he'll should be among the elite NL closers again in 2012.
Kimbrel is the leading candidate to replace the retiring Billy Wagner as Atlanta's closer in 2011. The 2008 third-round pick averaged 95 mph on fastballs in the majors last season and also features a nasty hard curveball. He was dominating at Triple-A with a 1.62 ERA and 13.5 K/9IP and shuttled between Triple-A and Atlanta several times before getting regular duty in September, when he threw 11 scoreless innings with a 23:5 K:BB -- often in crucial situations. He also thrived in the playoffs by giving up just one run and one walk with seven strikeouts in 4.1 innings. Many times the best pitching prospects are not closers in the minors. However, this is a case where a top prospect was a minor league closer. And so far everything he's shown in the minors and in his brief time in the majors suggests he'll thrive in the closer role with the Braves -- as long as he can win the job this spring.
A future closer, Kimbrel overpowers hitters with a 95 mph heater and a nasty hard curve. His command is somewhat erratic, but minor league hitters had little chance against him last year. He led the minor leagues with 15.5 strikeouts per nine innings last season. He does need to improve his control as he had just a 103:45 K:BB ratio. Still, the Braves aggressively promoted him from Low-A to Triple-A last season, so he could be a part of the Atlanta bullpen in 2010. And it's not hard to see him becoming Atlanta's closer in 2011.
More Fantasy News