One thing that is becoming abundantly clear at the major league level this season is that offense is down. Despite the efforts of players such as Prince Fielder, Matt Kemp, Jay Bruce, and Mark Teixeira, league-wide batting averages, on-base percentages, and slugging percentages are continuing downward trends over recent years.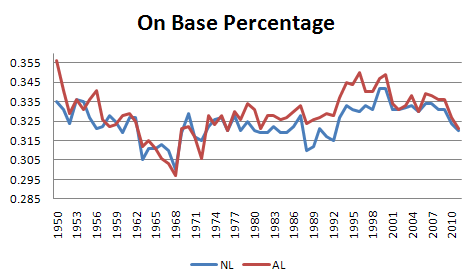 Those types of trends affect fantasy baseball owners because it forces us to adjust our expectations and targets as we plan for drafts in the future. For example, 244 home runs was the high mark in my local NL-only league last season but from 2003 to 2005 in that same league, it took at least 270 home runs to win that category. This season, just two teams in the 10-team league are on pace to eclipse 200 home runs this season. The next logical question is whether or not this trend is happening down in the minor leagues as well. It is not, not this season anyhow. The table below shows the average production in the Triple-A and Double-A leagues over the past three seasons against how the leagues are performing so far this season.


| | | | | | | |
| --- | --- | --- | --- | --- | --- | --- |
| League | AVG | OPS | BB/K | K% | BB% | ISO |
| PCL 08-10 | 0.275 | 0.773 | 0.51 | 20.00% | 9.00% | 0.156 |
| PCL 2011 | 0.284 | 0.801 | 0.54 | 20.00% | 10.00% | 0.162 |
| IL 08-10 | 0.263 | 0.728 | 0.45 | 21.00% | 9.00% | 0.140 |
| IL 2011 | 0.275 | 0.773 | 0.51 | 20.00% | 9.00% | 0.156 |
| EL 08-10 | 0.260 | 0.724 | 0.49 | 21.00% | 9.00% | 0.135 |
| EL 2011 | 0.255 | 0.708 | 0.44 | 22.00% | 9.00% | 0.133 |
| SL 08-10 | 0.261 | 0.723 | 0.50 | 21.00% | 10.00% | 0.130 |
| SL 2011 | 0.264 | 0.732 | 0.46 | 22.00% | 9.00% | 0.137 |
| TX 08-10 | 0.266 | 0.731 | 0.50 | 20.00% | 9.00% | 0.131 |
| TX 2011 | 0.269 | 0.755 | 0.48 | 21.00% | 9.00% | 0.150 |
All of the leagues have seen their strikeout and walk rate remain rather constant but several have had some fluctuations in their walk to strikeout rate. The International League has seen hitters show more discipline in that area this season while both the Eastern League and the Southern League have seen their hitters show less discipline this season than they did over the past three seasons.
The Pacific Coast League is always friendly to hitters in the Western Division, but this season has seen a spike across the board in terms of batting average, OPS, and Isolated Power but the jump has been even more noticeable in the International League where the league OPS is up 45 points over its average from 2008 to 2010. Both leagues are beginning to suffer some attrition as the star power of the prospects being promoted to the majors exceeds that of the guys being promoted to replace them, but two players stand out that could help out the second part of the season.
Dayan Viciedo
(RF/1B, CHA) continues to rake in Charlotte and is hitting .442/.455/.605 over his last 43 games. The plate discipline is still shaky as he has just 16 walks against 52 strikeouts, but he also is slugging .529 on the season while hitting .330. He only plays first base or right field these days so he is not in an ideal situation, given the fact
Paul Konerko
and
Carlos Quentin
currently occupy those positions. Even a promotion to the major leagues would only lead to spotty at bats for Viciedo at this point.
Brandon Guyer
(OF, TB) was called up for a weekend so the folks back home in Northern Virginia could drive to Camden Yards and see him hit a home run in his first major league plate appearance before going back down to the minors. He is hitting .322/.388/.535 on the season and .382/.432/.559 over his last 10 games and with the struggling left field situation in Tampa Bay plus a dinged up
Matt Joyce
in right field, one has to think a promotion for Guyer has to be close. Guyer's OPS this season is 82 points higher than his more notable teammate,
Desmond Jennings
.
The Pacific Coast League has already seen a lot of its top talent called up to the majors as
Eric Hosmer
,
Anthony Rizzo
, and
Charlie Blackmon
now all have everyday positions at the major league level. Yet, there are still several players that are helping put up the larger numbers in the PCL this year that may also get that call.
Collin Cowgill
(OF, AZ) has a healthy .370/.440/.601 line while playing in Reno under the big shadow of
Wily Mo Pena
, but the younger Cowgill is the guy to notice. He is hitting .333/.422/.462 over his last 39 at-bats with five steals and is 24-for-26 in the stolen-base department on the season. Pena's recent promotion to the major leagues is tied to the fact the Diamondbacks needed a designated hitter for the games in the American League so there is a chance the club could demote him once interleague play is over and call up Cowgill who can cover all three outfield spots in Arizona as he has done for Reno.
Trayvon Robinson
(OF, LAD) is hitting .323/.393/.586 this season with 29 extra-base hits in the ever so friendly Albuquerque ballpark, but has had his struggles making contact as he has just 28 walks while striking out 76 times. He has shown good improvement in June as with just four more walks, he will have matched his walk total from the season's first two months and the increased patience has helped lead to hit .437/.518/.732 line for June. Big numbers in Albuquerque are not a guarantee for success, just ask
Jerry Sands
, but the plate discipline improvement from Robinson is encouraging.
The offensive output at the Double-A level has been more in-line with the previous three seasons than their Triple-A counterparts despite
Paul Goldschmidt
's best efforts this season. For the most part, fantasy owners have been very lucky this season in that there have been a lot of talented players in Triple-A that have already been called up and have made fantasy contributions. Most have not yet done too much with their bats outside of Hosmer and the recently promoted Blackmon and
Jemile Weeks
, but
Craig Gentry
has needed owners nine stolen bases in less than 60 at-bats,
Eduardo Nunez
has picked up eight himself in 81 at-bats, and
Ben Revere
has made the most of his opportunity in Minnesota stealing six bases and scoring three runs in 101 at-bats.
The talent influx this season has been helpful, and a lot of these guys have bright futures moving forward, but this has been a rare season for rookie help. If these trends hold up at the Double-A level, do not look for the same kind of talent influx in-season in 2012 so begin to position your dynasty league rosters accordingly. Personally, I would rather use those roster spots looking for potential closers for next season at the big league level or part-time players that could see a bump in playing time next season after free agency pushes other players out of the way rather than trying to line up spots for next year's callups.