"Son, baseball isn't the same game I grew up with." How many of us have had our father sit down and tell us how pitchers once finished the games that they started, players played hurt, and ballparks were these colossal cathedrals that did not turn pop-ups into home runs as today's bandboxes do today?

Dad is right. Today's game is different from the one he grew up with. That said, today's game is also different than the one we grew up with as well. The game has gone through a series of changes in the form of ballparks, skill sets, and drug levels to evolve into a different game than it was even five years ago. For one, just look at the amount of runs that are scored a game these days compared to 20 years ago.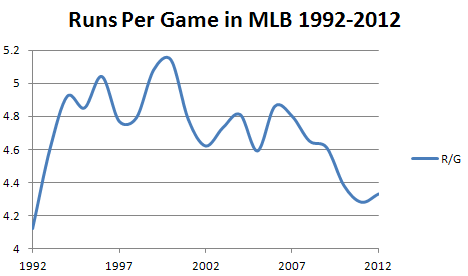 These days, we watch games and find many low-scoring and somewhat boring games, but a 3-1 game these days is much closer to the league average than it was 10+ years ago when it was a rare occurrence.

The game is ever evolving, but it is important that as fantasy players, we let our beliefs and standards for categories also evolve. The benchmarks that we have for players in our heads as we do off-the-cuff evaluations or make draft plans need to be fluid so that they adapt to how the game is changing. 10 years ago, an 80 RBI season was rather pedestrian and yet today, that's a rather cherished skill. In 2000, 96 players had at least 80 runs driven in that season including perpetual RBI machines such as Deivi Cruz, Mike Bordick, and Terrence Long. At this point of this season, just 49 players have at least 50 runs driven in this season. In 2000, 53 different players that qualified for the batting title hit at least .300 while just 30 players this season meet those requirements.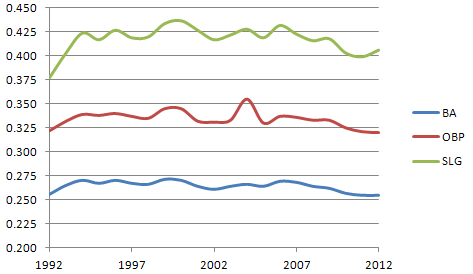 The graph above shows how the triple slash stats have evolved over the past 20 seasons. Batting averages are back down to one of their lowest levels in recent years – not to the 1967 level where Yaztremski led the American League with a .301 average though. On base percentages are also suffering which affects both league-wide run and runs driven in totals. The slugging percentages have not suffered as much as batting average and OBP, but the stat is at one of its lowest points in years. The slugging percentage is up slightly in 2012 from a rather continual slide since baseball implemented its drug-testing program, but it is still lower than it has been since 1994.

The changes are more noticeable on the pitching side of the equation where most of the ratio stats have seen quite an evolvement.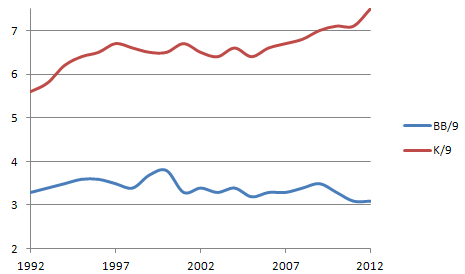 While it may seem like pitchers struggle to throw more strikes these days, the exact opposite is true. The league is throwing more strikes these days than in previous seasons and because of that, they're also getting more strikeouts. In 1992, the league had a strikeout rate of 5.6 while this season, that rate is 7.5. That is a 26 percent improvement in a 20 year period and the league-wide strikeout rate has improved each of the past seven seasons and shows no signs of slowing down in this specialized era of pitching.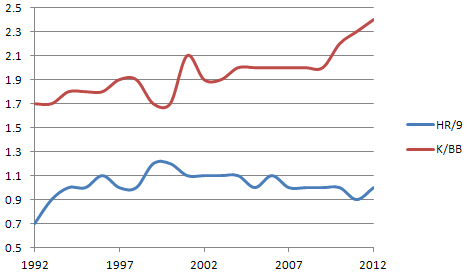 The league-wide K:BB rate should not surprise anyone after seeing how K/9 & BB/9 have trended in recent years but with the league slugging the ball at lower rates than in past seasons, pitchers are simply not as afraid to attack the strike zone. Home run rates tend to be rather static, but there is a clear new deviation since the 2005-2006 seasons where as the league average was at another tier from 1998 to 2006.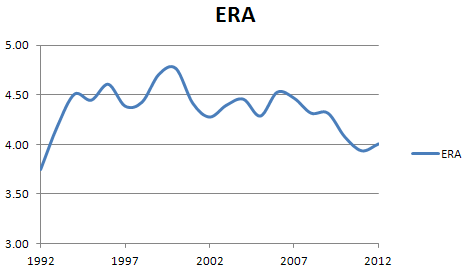 ERA's have dropped sharply in the last five seasons – just over a half run from 2007 to 2012. In the past, a 4.25 ERA was tolerable and even a few years ago, better than league average. These days, 4+ ERA pitchers are a roster risk against the league average.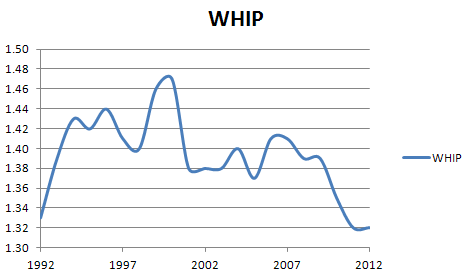 WHIP has also dropped to a new deviation on the graph as the category is back to the days of the early 90's compared to its inflated days 1994-2007.

The changes in the game put a bigger premium on the special hitters simply because there are not as many of them these days than in seasons past. The pitching is getting better as a whole, but the position remains as volatile as ever. Just ask the owners who invested heavily into Roy Halladay and Cliff Lee this season while watching the owners who scooped up R.A. Dickey and A.J. Burnett late in drafts enjoy strong seasons.

The changes in how the league has performed, as a whole should make you change your thoughts on what is poor, good, and great for hitters and pitchers these days because today's baseball barely resembles even its older brother of five years.