This season's free agent Hot Stove market is off to a rather inauspicious start. We've seen a gigantic dump trade, a signing of a tarnished hitter, a few backup catchers signing elsewhere, and a variety of middle relievers receiving contracts of varying quality.

As the RotoWire magazine editors furiously rework those player modules and team write-ups, here's a look at how the fantasy futures of these players are affected:

David Ross signs with Boston: Ross is coming off four very productive years in Atlanta as a backup catcher. His playing time was limited, but when he played, he hit well for what his role was. We've also learned that Ross is one of the better framing catchers in the league so the signing for Boston is rather transparent. Clearly, they weren't happy with a Saltalamacchia/Lavarnway platoon situation as neither are good defensive catchers so Ross brings more experience behind the plate and could perhaps become Jon Lester's caddy and help him get back on the right page. The problem here is Ross is 36 and hasn't seen more than 200 plate appearances in a season since 2007 so it is a bit much to ask him to double his playing time at this age.

Catchers historically have a bit of a dead cat bounce in terms of their offensive production in their 30s; guys like Jorge Posada and Carlton Fisk come to mind with A.J. Pierzynski joining the club this past season. Since 2000, here is how catchers' OPS have performed against the league average: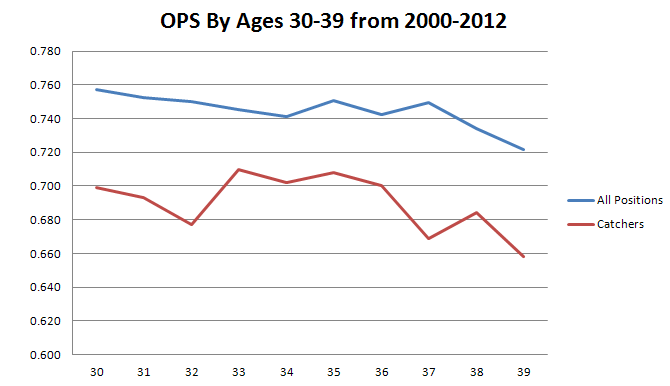 Ross' four years in Atlanta line up perfectly with this graph from ages 32-35 and now he turns 36 before the 2013 season begins, as does Pierzynski. The warning signs are there with Ross in that his walk rate has declined each of the past four seasons while his strikeout rate has risen each of the last three. Don't fool yourself – this was a backup signing, and even if Boston trades Saltalamacchia, Ross will not be assuming the starting role.

Brandon League re-signs with Los Angeles: Yes, as their closer. Apparently, the moderately successful 27 innings he threw for the Dodgers were enough to convince general manager Ned Colletti to give him three more years at $7.5M per season. League doesn't miss enough bats despite a lively arm and last year, lost the strike zone after making excellent progress in that area in 2011. The one redeeming quality League has is that he does not allow home runs with his power sinker and high groundball rate. That's the kind of recipe Jim Johnson had in a setup role, but Johnson also had more control than League.

Jeremy Affeldt re-signs with San Francisco: What is it with middle reliever contracts in the NL West? Affeldt "only" got $6M a year over the next three years, and he's coming off a strong baseball season, but this contract seems odd. For NL-only players, Affeldt is a safe endgame investment as he gets strikeouts and has good ratios, but wins nor saves come his way that often.

Joel Peralta re-signs with Tampa Bay: Peralta will make as much as Affeldt does in 2013 alone over the next two seasons as he truly wanted to stay with the Rays. He's thrown 67 innings each of the past two seasons and has picked up a handful of wins and saves. Last season, his strikeout rate spiked as he struck out more than one-third of the batters he faced. He is susceptible to the occasional big fly, but strikeouts and WHIP are very solid for him.

Maicer Izturis signs with Toronto: Izturis is coming off a career-high 17 stolen bases last season, but he is also 32 years old and leaving a manager in Mike Scioscia that is very aggressive with the running game. Izturis is the ideal cheap AL-only middle-infield type as he does nothing particularly well but doesn't kill you with a low average. How often he runs in 2013 depends on who Toronto hires but at age 33, asking for another 17-plus steals is asking a bit much.

In reviewing stolen base fiends that signed as free agents in the past, there is not much of a drop off overall. Willy Taveras is a rather notable exception who went from 68 steals with the Astros to just 25 with the Rockies as a free agent the next season. Vince Coleman is right behind him as he dipped from 77 with the Cardinals to just 37 with the Mets the next season. Kenny Lofton had an awful year stealing bases with Atlanta being caught 20 of the 47 times he tried to steal a base but stole 54 bags the following season when he returned to Cleveland as a free agent.

Melky Cabrera signs with Toronto: That's one way to negate the concerns about losing his thump for those that had them. Skydome plays well for homers, and he gets to play games in Yankee Stadium as well as Camden Yards. Hitting coach Dwayne Murphy has done wonders with power reclamation projects in Toronto and Cabrera brings a consistent skill set of average walk rate and excellent contact rate north of the border. He's hit over .300 each of the past two seasons and has had double-digit stolen bases in the last two as well as strong run totals. This, so far, is my favorite signing of the offseason despite the fact my preferred team did not land him.

Juan Pierre signs with the Marlins: This changes everything! Pierre stole 37 bases last season for the Phillies in 130 games and hit .307 but scored only 59 times. Pierre is a two-trick pony if everything is working but how often he runs depends on new manager Mike Redmond more than anything. Pierre doesn't walk much nor does he strike out much so how his BABIP goes, so goes his batting average. Every season he has a BABIP of .320 or higher, he hits .300, when it falls below that, he doesn't.

Miami Marlins trade nearly their entire roster to Toronto: Jose Reyes, John Buck, Josh Johnson, Mark Buehrle, and Emilio Bonifacio head to Toronto to make their roster rather formidable. Reyes and Bonifacio would have flourished under John Farrell's lead foot so the managerial hire in Toronto should be watched closely. The other thing to consider here is the AL East shifts more defensively than the NL East so this could come into play with their batting averages a bit. Buck seems to be overkill at catcher with the Jays already having a younger version of him in J.P. Arencibia and prospect Travis d'Arnaud around but we'll see where this goes. Johnson is the power pitcher with groundball tendencies that fits well in the East while Buehrle's move is more troublesome. Both Fenway and Camden Yards play well for right-handed power and his home ballpark is also not very forgiving.

Miami gets infielders Yunel Escobar, Adeiny Hechavarria, as well as pitchers Henderson Alvarez and prospects Justin Nicolino, Jake Marisnick, and Anthony DeScalfani. Escobar's attitude issues in Toronto were well known and it seems odd that Miami would keep him around after the Hanley Ramirez issues in the past. Hechavarria is a terrific defensive talent, but lacks much at the plate. Alvarez was the worst pitcher in baseball in terms of missing bats last season but shows flashes of promise and moving out of the AL East will help him a bit. Marisnick and Nicolino have everyday potential, but neither have an All-Star ceiling while DeScalfani is a reliever. The trade impacts Giancarlo Stanton as one has to wonder exactly who he is going to drive in with his extra-base hits in 2013. Stanton has had at least 68 extra-base hits, including 30 home runs, each of the past two seasons. When hitters have put those types of numbers together, they've driven in at least 100 runs 88 percent of the time. The lowest RBI total for that split is owned by Hanley Ramirez who drove in just 67 runs in 2008 while hitting leadoff in all but 71 of his plate appearances.