If you have been to Orlando on vacation, you know the traffic is horrendous. While you get to suffer through it on vacations, I have to live it on a daily basis when I am not traveling. Starting Monday, I am finally fully committed to telecommuting for work rather than spending 90 minutes a day in the car fighting traffic. One of the things that makes traffic less stressful is listening to podcasts and my favorite daily one is the Fantasy Focus baseball podcast that Nate Ravitz and Matthew Berry do at ESPN. It's not too long, it isn't too short, it is just the right amount of knowledge and nonsense that keeps me from going insane in my car.

On the most recent episode, the guys were discussing just how hard it is to find good batting average in the outfield these days. Indeed, finding batting average in the outfield has become scarce, but it is not just related to that position. Just six seasons ago, 117 hitters with at least 400 plate appearances had a batting average of .280 or higher. This past season, that figure dropped by 35 percent as just 76 hitters accomplished the task. The league as a whole has been trending downward in batting average since the 2006 season: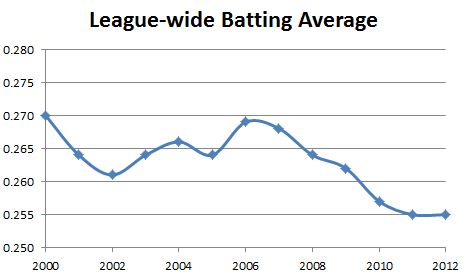 In 2006, the worst batting average in my local 10-team NL-only league was .2675. Last season, in that same league, a .2675 team average was good enough for fifth place. In my local AL-only league of the same size, a .2703 team batting average was the best in the league this past season. Six years ago, that mark would have come in eighth place.

Since batting average is indeed becoming a scarce commodity, it would behoove us to look at what positions have delivered it in the past and where our RotoWire projections show it may come from in 2013. In short, the news is not that good.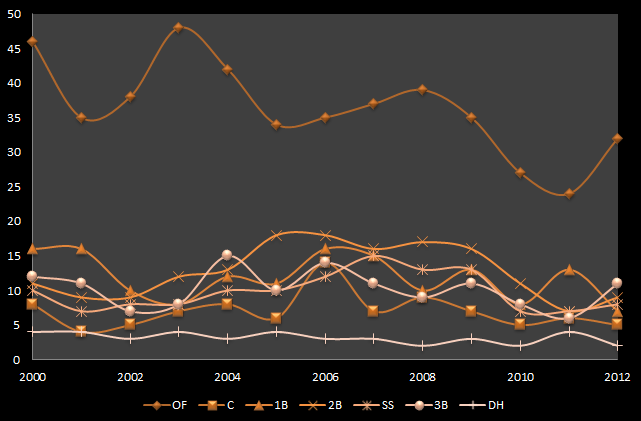 While the battering average can still somewhat be found in the outfield, the other positions have remained rather stagnant over the past 12 seasons, save second base. Second base used to be a high performer for average but it has slipped in recent seasons losing almost half of its high-average hitters.

In a standard 12-team mixed league, at least 60 outfielders will be drafted. Last season, that would mean two to three outfielders per team with a high average while 10 years ago, each team could have four outfielders. RotoWire's 2013 outfield projections show 35 outfielders with at least 350 at-bats that are projected to hit at least .280 which would be a slight uptick from 2012 and nearly give each team three outfielders with strong averages.

The table below shows the amount of players the RotoWire projections have at each position that are projected to hit at least .280 with 350 or more at-bats:


| | |
| --- | --- |
| POSITION | TOTAL |
| Catcher | 7 |
| First Base | 11 |
| Second Base | 10 |
| Shortstop | 6 |
| Third Base | 15 |
| Outfield | 35 |
| DH | 1 |
In all, there are 85 players that meet the criteria and 41 percent of them play in the outfield. Since only 40 percent of the outfield talent pool will help you with average, that means most of the talent pool will help keep you afloat in the category or even hurt you.
If you find yourself accumulating power/speed players in the outfield such as
B.J. Upton
or
Carlos Gomez
and think you can just off-set them with high average hitters from other positions, you may want to think differently because batting average contributors are not as prevalent as they once were.
On a side note, I have a weekly radio appearance on 600 AM in El Paso, TX where we talk fantasy baseball and take questions. If you do not get to hear the RotoWire show on SiriusXM, you can tune in to hear me each week live and catch the archive by
clicking here
.