Wily Peralta made 32 starts for the Milwaukee Brewers last season going 11-15 with a 4.37 ERA and a 1.42 WHIP. Naturally, you should be targeting Peralta in your 2014 drafts. Yes, targeting is legal in baseball and yet another reason it is better than football.

Peralta struggled through his rookie season, as most rookies do. Over his first two months, he went 3-6 in 11 starts and gave up 74 hits and 48 runs in just 52.2 innings. Peralta has a very lively arm as his average fastball velocity tied for the fourth-highest in baseball last season trailing only Matt Harvey, Stephen Strasburg, and Jose Fernandez. Despite that live arm, Peralta only struck out 34 batters over the first two months and went into June with a 3-6 record, a 6.35 ERA and a 1.73 WHIP and found himself on many discard piles in all league formats.

Then, Peralta started to find some success. Over his final 21 starts, he allowed two or fewer runs in 10 starts and over the final four months, allowed fewer hits than innings pitched, won eight games, and posted a 3.48 ERA and a 1.28 WHIP. We expect rookies to struggle, but it is encouraging when we see growth within a season as we saw from Peralta.

There was measurable growth in Peralta's outcomes over the first two months compared to the final four months:


| | | | | | | |
| --- | --- | --- | --- | --- | --- | --- |
| SPLIT | BA | OBP | SLG% | K% | BB% | BABIP |
| 1st 2 months | .311 | .375 | .424 | 12.6% | 8.9% | .342 |
| Final 4 months | .240 | .319 | .364 | 17.8% | 9.2% | .275 |
Peralta was able to miss more bats and limit his baserunners despite the elevated walk rate. The first two months showed him struggle to fool batters and get no help from the batted balls in play. The high walk rate is not surprising given how active Peralta's delivery is (image courtesy of Doug Thorburn):
It is tough for Peralta to repeat his delivery with the rather extreme tilt he has toward first base and how he falls off. While the league average rate for strikes thrown is 64.3 percent, Peralta's rate was the seventh-worst at 61.0 percent.
| | | | | | |
| --- | --- | --- | --- | --- | --- |
| SPLIT | SWING% | MISS% | STRIKE% | IN PLAY% | CHASE% |
| 1st 2 months | 46.8% | 19.6% | 60.1% | 45.6% | 26.6% |
| Final 4 months | 45.0% | 21.7% | 61.5% | 42.6% | 27.7% |
Some may point to the fact defensive-whiz
Martin Maldonado
became
his personal catcher
later in the season and that was a factor in the turnaround. Do not make that same mistake as catcher's ERA, or CERA, is a
garbage
stat
. Peralta got better down the stretch because he did a better job of getting ahead of the hitters.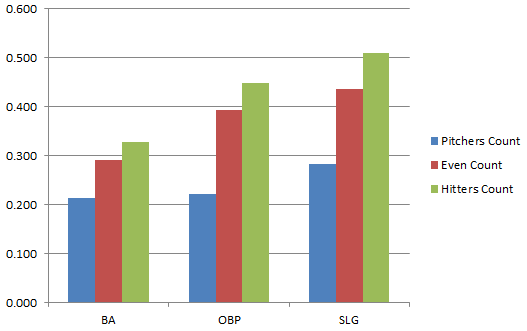 Like any pitcher, it behooves Peralta to work while ahead in the count. It is particularly important for him because his numbers are quite poor when the hitter has the advantage in the count. Overall, Peralta was rarely ahead of hitters.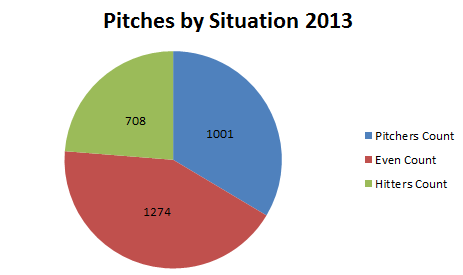 Peralta got better over the course of the season, and when he had the advantage in the count, he started to lean on his breaking ball to get batters to expand their strike zone which led to fewer balls in play and weaker overall contact.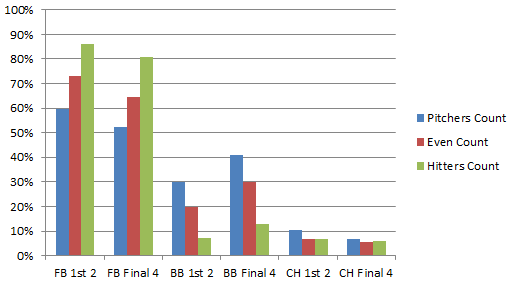 As good as Peralta's velocity might be, his opponents' batting average against the pitch was in the bottom fifth of the league while his opponents' wOBA against the pitch was in the bottom third. When we look at his breaking balls, he ranks in the top 30 percent for both pitches.
Peralta was one of the worst pitchers in baseball in throwing first-pitch strikes in 2013 and ended up fighting against himself for the success he did have last season. If he could learn a thing or two from what
Ubaldo Jimenez
did in Cleveland last year and learn that strike-one pitch, Peralta could take a nice step forward in 2014. As it stands now, his draft day value is going to be rather suppressed due to the unattractive surface stats. There is growth potential here; you should harvest it.