Just over eight months ago, I penned a piece that said the fear people had about Giancarlo Stanton's lineup protection was irrational. While Stanton had a huge 2012 season, most overlooked the fact the batters behind him were a collective disappointment and did little statistically to protect him. The group that hit behind Stanton in 2012 combined to hit .245/.306/.360 while he hit .290/.361/.608.

Stanton finished 2013 with a .249/.365/.480 line, lost 13 home runs, drove in 28 fewer baserunners, and disappointed every fantasy owner who had him despite getting the same amount of playing time he had in 2012. So, what happened?

The hamstring injury that Stanton suffered at the end of April was the icing on the cake of an awful month for him. He tried to play through leg issues that month before getting injured and hit .227/.341/.387 in 88 plate appearances. As Albert Pujols showed us this past season, a hitter is nothing if they do not have their base. Once Stanton returned from his injury, he went on to hit .254/.370/.500. His post-DL slash line, while a drop from 2013, is still very acceptable for a corner outfielder.

From a skills level at the plate, there were some changes in his indicators. Most notably, a surge in his walk rate.


| | | | |
| --- | --- | --- | --- |
| SEASON | K% | BB% | ISO |
| 2012 Season | 28.5% | 9.2% | .318 |
| 2013 Season | 27.8% | 14.7% | .231 |
The spike in walk rate correlated rather well with the drop in strikes he saw at the plate last season. To his credit, Stanton did not expand his strike zone to press the issue when he was not seeing strikes. Stanton did a lot to demonstrate what Tom Tango
concluded in 2006
:
If a pitcher is trying to avoid pitching to a hitter, the hitter is significantly more likely to draw a walk and moderately more likely to strike out.......However, if the ball is hit into play, the pitcher's approach (pitch to him vs pitch around him) has no significant effect on the hitter's statistics.
The table below shows how things went for Stanton within plate appearances:
| | | | | | | |
| --- | --- | --- | --- | --- | --- | --- |
| SEASON | PITCHES | SWING% | MISS% | STRIKE% | ZONE% | CHASE% |
| 2012 | 1908 | 47.5% | 33.5% | 62.9% | 44.8% | 33.6% |
| 2013 | 2087 | 41.2% | 34.0% | 57.5% | 43.3% | 26.6% |
It is worth noting how much less Stanton swung at pitches this past season and how he drastically reduced the amount of pitches he chased. It is important to note that Strike% includes pitches + balls in play divided by total pitches while Zone% is simply percentage of pitches thrown in the strike zone. Stanton did not see a drastic difference of pitches within the zone last season, but he did see a change in the types of pitches he faced.
| | | | | | |
| --- | --- | --- | --- | --- | --- |
| SEASON | FASTBALL%</td> | BREAKING BALL% | OFFSPEED% | GB% | FB% |
| 2012 | 58.0% | 27.0% | 11.0% | 38.0% | 43.0% |
| 2013 | 58.0% | 33.0% | 8.0% | 44.0% | 36.0% |
Stanton did have issues with the breaking ball in 2013 as he struck out 37 percent of the time against curves and sliders compared to 33 percent the previous season. Sliders were particularly tough for him in 2013 as he hit .212/.304/.404 against the pitch after hitting .247/.302/.584 off sliders in 2012. Additionally, he saw nearly 150 more sliders last season than he did in 2012 despite nearly an identical number of plate appearances.
The slider is a pitch pitchers will use when pitchers see batters cheating to hit the fastball as the wrinkle in the pitch can cause someone to roll over on the pitch to get a more desirable ground ball. While Stanton saw the same percentage of fastballs (sinker, four-seam, cutter) that he did in 2012, he did not hit them with as much authority as his slugging percentage against the pitch dropped from .715 to .485.
In the absence of hit f/x or Trackman data, we don't know everything with Stanton's swing data, but a 240-point drop in slugging percentage on fastballs points to a problem. When you look at his spray charts from the previous two seasons, the difference in fastballs pulled is rather noticeable. The data shows that Stanton pulled 43 percent of the fastballs he saw in 2012 but pulled just 32 percent in 2013 while the fastball plot charts were rather similar.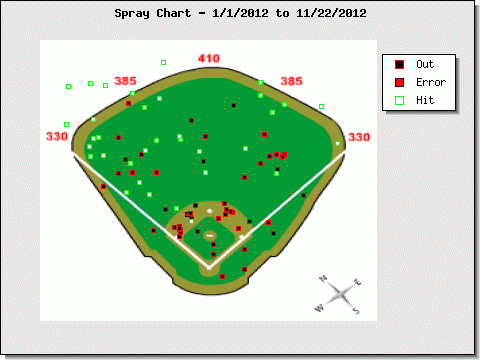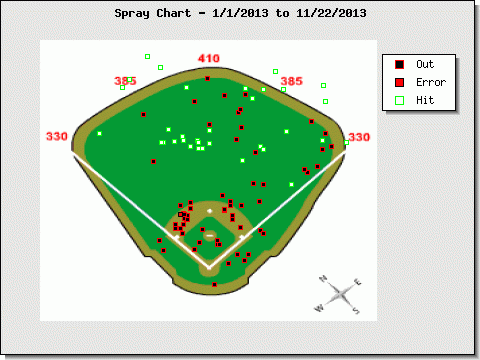 Stanton was
as frustrated
as anyone else last season with his struggles that were no doubt, in part, affected by the atmosphere of the team last season. He hit in the third spot of the lineup most of the season and the group that hit behind him was an improvement over the 2012 group. Stanton did have better plate discipline when hitting out of the three-hole, but showed more power hitting out of the four-hole. While the concerns for the lack of lineup protection may seem founded by focusing on the results, the actual answer is not quite that simple. The good news is that the same guy we all fell in love with in 2011 and 2012 could come right back in 2014.