Finding Value in the Scrapheap
by: Jason Collette (@JasonCollette)

This article will appear in the RotoWire Fantasy Baseball Guide 2014 that recently went to the printer. Jason is the reigning FSWA Baseball Writer of the Year. Look for more from him throughout the year in his weekly column Collette Calls. and in the RotoWire blog.

Fantasy baseball is something that involves a lot of emotion. Unlike fantasy football, there are few casual fantasy baseball players. Those that play it are immersed in it. They're looking at the RotoWire news updates multiple times a day, tracking information as it breaks on Twitter, and listening to radio shows and podcasts trying to catch tips before their competition does.

When you spend so much time monitoring your players on your teams, it is only natural to get frustrated with them when they do not perform. We get angry with players when they do not perform at the level of their preseason projections for a few weeks, or in some cases, an entire season. Yes, B.J. Upton, I'm looking at you. When someone like Upton has that kind of season, fantasy players tend to shift from a pragmatic approach toward that player to a dogmatic one. DTM = Dead to me," is the popular acronym for such an approach within the industry.

While that approach may offer some momentary relief from the frustration of previous relationships with the player, it hurts you as a fantasy player. You end up missing out on players that come back with successful seasons following disastrous ones because you assumed that the player would just continue to underperform. Had you filled your 2013 roster with 2012 disappointments, this is the kind of team you could have put together (prices from 2013 Tout Wars – 15-team mixed league):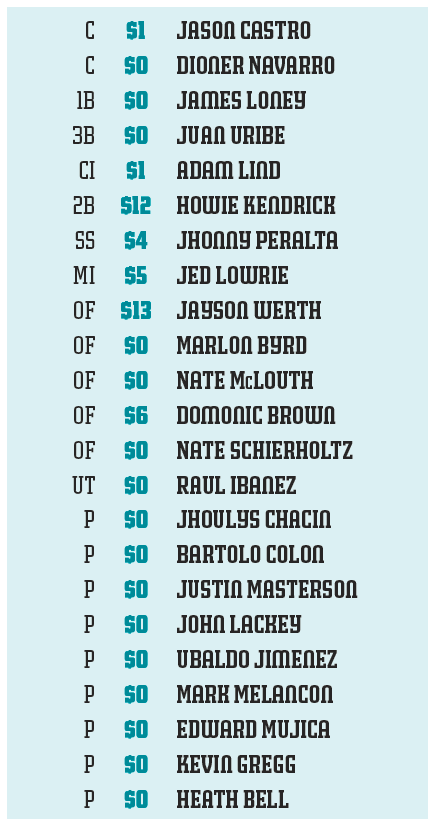 The $42 spent on that mostly-neglected 23-man roster delivered $246 worth of production in the 2013 season. It's a market inefficiency that exists season after season, and one that only gets exploited by savvy veteran players.

There are a variety of reasons that these players are available at little or no cost on draft day. Some are recovering from injuries, others are in their walk year, or have landed in an advantageous situation. In some cases, these are players just trying to hang on and prolong their playing career. Others are reinventing themselves after recognizing that their previous approach was not working. There are examples of each on the list of players above.

Rebound from Injuries

Castro is now fully recovered from the knee injury that cost him the entire 2011 season as well as a meniscus tear that cost him time in 2012. Basic hitting fundamentals remind us that in order for a hitter to hit with power, they have to be able to use their lower half. Now that Castro's base is 100 percent healthy, his production matches the potential that was often discussed with him.

Lind has struggled with back issues in recent years, but the issue did not creep up until the end of the 2013 season. That allowed him to put up his best season since 2009 when fantasy players first fell in love with him before the heartache set in. Lowrie was surprisingly able to stay healthy for the first time in his career, and he hit very well despite the hostile home park factors. Werth lost significant time in 2012 with a fractured radial bone in his wrist, which understandably affected his ability to hit for power. He also missed time early in 2013 with a hamstring strain. Once he was finally healthy, he resumed his ability to hit the ball hard at a steady clip.

Lackey was the most polarizing case as fantasy players and Red Sox fans alike were over him after the issues of 2011 and his missed 2012 due to Tommy John surgery. Lackey returned to camp last season in much better shape and came back looking like the Lackey of old in 2013 when most fantasy players were scared to take him, even in the reserve rounds of drafts.

Walk Years/Hanging On

It is a popular theory that players step up their performance in walk years. It is a cute theory based on junk anecdotal science. For every player that puts it all together just as their current deal runs out, there is another who declines in his walk year. The correlation of career years in walk years is the same as the behavior of children during a full moon.

Byrd, Colon, Ibanez, Jimenez, McLouth, Navarro, Peralta, and Uribe were all walk-year players in 2013. Byrd's power spike came from a clear decision on his part that it was fine to sacrifice contact for additional power. Colon simply defied the odds by pounding the strike zone with a variety of fastballs and using his ballpark to his advantage. Jimenez used a soft schedule in the middle part of his season to put things together. McLouth took off as a basestealer any chance he got early in the season and was platooned effectively by his manager. Navarro saw an increase in playing time and landed in a favorable ballpark situation, while Peralta put it together possibly knowing he was going to be suspended. Uribe caught Dodger fever and got his HR/FB rate back in line with his career norms.

Gregg and Ibanez were two players that looked to be completely done prior to last season. Their acquisitions by Chicago and Seattle were laughed at, but 33 saves and 29 home runs later, the players and the fantasy owners who took a desperate chance had the last laugh.

Reinvention

Necessity is the mother of all invention. Failure is often the mother of reinvention in baseball. Edward Mujica had struggled in the past with too many flyballs as a reliever and has successfully converted himself into a groundball reliever. That transformation led him to a multi-year deal with Boston in free agency over the winter. The Dodgers tried to make James Loney into a pull power hitter and it did not work. The Rays let him do what he wanted at the plate, and some tweaks to his stance and approach allowed him to rediscover his success. Melancon had to recover from his issues in Boston, plus he added a cutter and tightened his delivery to find success with Pittsburgh. Schierholtz was finally converted into the platoon player he always should have been and took advantage of proper usage and his home park to have a career year. Masterson conquered his issues with splits by working the inner half of the zone more frequently with both his fastball and slider after previously working mostly away with both pitches. Brown went insane during May, pulling all of the strikes that pitchers decided to throw him until they decided that it was easier to pitch him away and make him spray the ball to get away from his pull power. Chacin cut his walk rate while focusing on generating even more groundballs – always a strong play when pitching in Coors.

The overarching lesson here is that baseball remains a very unpredictable sport. Great players can have awful seasons and players that appear to be washed up can still surprise you. Changes in scenery, in process, and in usage can all help players re-discover why we once cherished them on our roster rather than loathe their existence on it. Remember this when B.J. Upton's name comes up in your draft. There is still production in him, somewhere.

Along with Upton, here are some other players whose disappointing 2013 season should not discourage you from considering them in 2014:

Starlin Castro - He is much too talented to be this bad. The good news is that he'll cost you less than he did this time last year to roster.

Mike Moustakas - The recent addition of Danny Valencia may cut into his playing time if he doesn't handle lefties better.

Jose Altuve - Personal issues and injuries cut into his effectiveness last season. He will bounce back this time around.

Albert Pujols – His foot was an issue all season and it forced him to hit with his upper half while ignoring his base. He won't be an MVP caliber player in 2014, but he shouldn't be the disaster he was last season.

Mike Morse – Injuries hurt his power last season, and a move to San Francisco may hamper its ability to come back, but he will exceed the 13 home runs he hit a year ago if he is healthy.

Jeff Keppinger – Keppinger got off to a historically awful start and rebounded with a decent season for AL-only owners. He can hit for average and the home park allows for some homers as well.

Melky Cabrera – He was a mess health wise and needed spinal surgery to have things corrected. If that all checks out, he should be able to swing things back in the right direction in that park.

Jeremy Hellickson – Hellickson's issues were mechanical more than pure statistical regression.

Rick Porcello – Porcello quietly had a good second half and now has a better infield defense behind him.

Dan Haren - Haren has battled a first- and second-half personality issue in recent years, but the skills are solid as long as his back holds up.