Two weeks ago, in this space, I asked -- and attempted to answer -- some basic questions about rebounding. Specifically, I looked at the degree to which Total Rebound Rate and/or Rebounds per 40 might help us target players who would post excellent rebounding numbers given some decent amount of playing time. Last week, I identified some specific cases.

In what follows, I've taken a similar approach to two other categories -- namely, steals and blocks. For each category, I've taken four years' worth of data and found to what degree stealing and shot-blocking carry over from one season to the next.

As was the case with that rebounding post from two weeks ago, this one will skew short. As I noted at that time, a lot of the work on these sorts of problems is on the data-collection side of things, so much of the "writing" is in the graphs included here.

Also, as before, I've formatted what follows in the form of a Q&A. Note, also, that all data is taken from player seasons, over the last four years, of 40-plus games and 20-plus minutes per game.

Question: So, okay, what's up with steals?

Answer: The year-to-year correlation is strong, but not as strong as one might think -- and certainly not as strong as with rebounds.

Regard: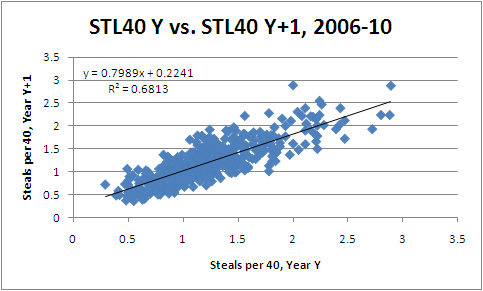 The reader might remember that the r-squared for Rebounds per 40 from one season to the next came out to 0.9176. By comparison, this is quite low.

Question: Why might that be, do you think?

Answer: Of course, it's hard to say exactly why it might be happening; however, it's possible that we learn something by looking at the players with the greatest yearly changes.

Here are the top-10 biggest changes in Steals per 40 over the last three years. (The year listed is the first year listed in the season. For example, 2006 means 2006-07.)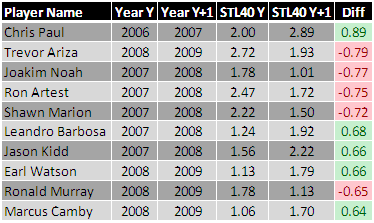 One thing to note is how many of these players changed teams from one season to the next.

Regard:

• Ariza (L.A. Lakers to Houston)

• Artest (Sacramento to Houston)

• Marion (Phoenix to Miami to Toronto, although it seems more like Marion just got old.)

• Kidd (New Jersey to Dallas)

• Watson (Oklahoma City to Indiana)

• Murray (Atlanta to Charlotte to Chicago)

• Camby (L.A. Clippers to Portland, although his steal rate was actually highest with the Clippers in 2009-10.)

Question: What's the relationship between steal rate and steals per minute?

Answer: I don't know. I haven't run those numbers yet.

Question: Why haven't you run them? Is it because you're a lout?

Answer: That's part of it. The other part is how I haven't finished scraping all the data yet. It's time consuming, dogg.

Question: Okay, how about shot-blocking, then?

Answer: Shot-blocking is considerably more consistent year-to-year. Not as consistent as rebounding, but close.

Regard, another graph: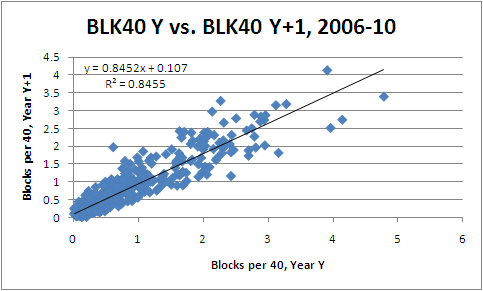 Question: So what does that mean?

Answer: It means, if a guy is blocking X number of shots per-36 or -40 right now, chances are he'll continue blocking shots at a similar rate next year.

Question: How does all this information help?

Answer: Again, by being able to target players who, given more playing time, might excel in one or the other of these categories.

Next week, we'll look at some particular examples.

Most numbers courtesy of Hoop Data.