This article is part of our DFS College Basketball series.
Today's college hoops slate features several high-profile teams, led by the high-octane matchup between Purdue and Iowa. Let's take a look at today's implied totals before diving in to the player recommendations.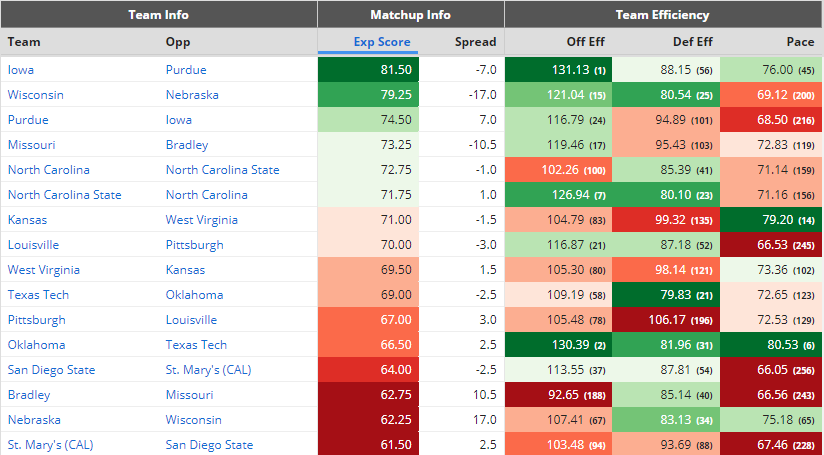 Targets
1. Trevion Williams, F, Purdue ($7,800 DK, $7,800 FD)

Williams is currently using 35 percent of his team's possessions when on the court, the ninth-highest rate in the country (per KenPom). He's going against an Iowa defense that is currently ranked as the second-worst defense in the Big Ten (in terms of adjusted efficiency). If that's not enough, Iowa has struggled this season when it comes to allowing offensive rebounds by the opposing team. Williams is Purdue's best rebounder so he appears ripe for a big day on the glass.
2. Armando Bacot, F, North Carolina ($6,500 DK, $6,600 FD)

This game currently has the second highest over/under total in what should be a competitive matchup, but the most important note for this game is the fact that North Carolina has a massive rebounding advantage over NC State. The Tar Heels currently boast the fifth-highest offensive rebounding rate in the country, while the Wolfpack have struggled to secure defensive rebounds this season. Given this key advantage, Day'Ron Sharpe ($6,000 DK, $6,400 FD) or Garrison Brooks ($7,100 DK, $6,400 FD) could also pay off big. In regards to Bacot specifically, aside from leading the team in rebounding, he also has the highest offensive efficiency rating on the team. A strong combination.
3. Jalen Wilson, F, Kansas ($6,400 DK, $7,400 FD)

Wilson scored a season-low seven points in his last game, but I think he'll bounce back in today's game, mostly because he won't have to face the No. 1 defense in the country like he did in the last one. West Virginia still presents a tough challenge, but I'm trusting Wilson will play better at home against a slightly easier defense. Wilson is also the Jayhawks' best rebounder, and he's going against an Mountaineer team that has had trouble with grabbing defensive rebounds this season.
DraftKings Exclusive
D'Mitrik Trice, G, Wisconsin ($6,400 DK)

Wisconsin is projected to score around 79 points tonight, the second highest total among all teams on the slate. Trice and the Badgers are going against the worst defense in the Big Ten (in terms of adjusted efficiency) so Trice should have plenty of opportunities to both score and assist throughout the game. Micah Potter ($6,400) has the highest usage rate on the team so he's another great DFS candidate.
Fades
1. Austin Reaves, G/F, Oklahoma ($8,200 DK, $7,900 FD)

Reaves is a solid point guard, but today I'm looking elsewhere for DFS points. Texas Tech's defense is ranked No. 1 in the country in terms of defensive efficiency, and there's no reason to believe they're going to let up anytime soon. It's always possible Reaves plays the game of his life and manages to do enough to justify his salary, but I find that unlikely considering what's going up against.
2. Tommy Kuhse, G, St. Mary's ($8,100 DK, $7,100 FD)

This game has the lowest over/under total on the board and it's not close. San Diego State's defense presents a tough hurdle, coming into the game ranked at No. 26 in terms of adjusted efficiency. St. Mary's has had a relatively easy schedule for most of the season, with the Gaels' biggest challenge coming in their opening game against Memphis. Kuhse had a rough game in that contest, causing me to doubt his chance of success in another difficult challenge. Kuhse is the primary player for the Gaels, so it's possible he'll proves me wrong if the Aztecs no-show, but I'm not betting on it.
3. Xavier Johnson, G, Pittsburgh ($7,200 DK, $7,400 FD)

Johnson is coming off his worst game of the season in Pittsburgh's ACC opener against Miami. The competition is about to get even tougher with Louisville coming to town. Johnson's minutes are down over the past couple games and currently has the fourth lowest offensive efficiency rating among Pittsburgh's starters. Not a great combination.
The author(s) of this article may play in daily fantasy contests including – but not limited to – games that they have provided recommendations or advice on in this article. In the course of playing in these games using their personal accounts, it's possible that they will use players in their lineups or other strategies that differ from the recommendations they have provided above. The recommendations in this article do not necessarily reflect the views of RotoWire. Steve Peralta plays in daily fantasy contests using the following accounts: FanDuel: Buddusky, DraftKings: Buddusky24.