This article is part of our DFS College Basketball series.
A six-pack of games headlines Thursday's college basketball action, with a $2k prize up for grabs in DK's $12 Heating Up. As usual, let's look at the totals before diving into plays.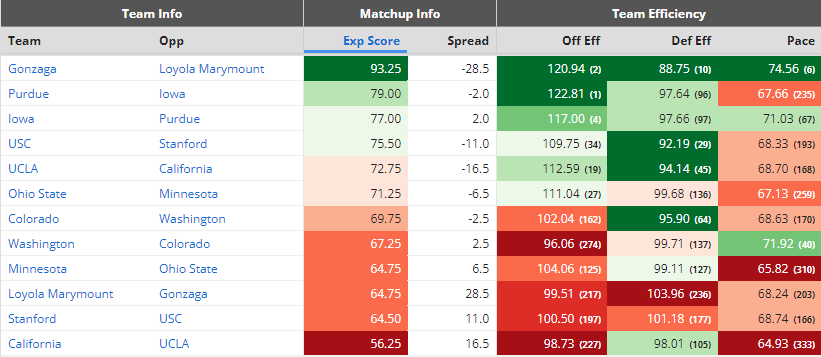 Top Players

Chet Holmgren, F, Gonzaga ($9,100 DK)
Gonzaga has the second-best offense in the country, per KenPom's adjusted efficiency ratings, and is facing off against the worst defense on the slate. Needless to say, it's probably a good idea to select a Bulldog or two. My top choice is freshman phenom Chet Holmgren, primarily because of the matchup. Loyola Marymount's offense has been vulnerable to having its shots blocked, ranking in the bottom 20 percent of the country at allowing blocked shots. This is great news for Holmgren, who's blocking shots at the 13th highest rate in the country, easily Gonzaga's best shot blocker. Additionally, Gonzaga also enters the matchup with a noticeable rebounding advantage, which also plays out in Holmgren's favor, as he leads the team in rebounding as well. Barring any surprises, Holmgren should make a significant impact in this contest.

Trevion Williams, F, Purdue ($7,900 DK)
Purdue currently has the best offense in the country, per KenPom, so it's no surprise the Boilermakers are projected to score around 80 points today. The more important note, however, is the fact that Purdue has a significant rebounding advantage in this contest, as the Boilermakers are number two in the Big Ten in offensive rebounding and number one in defensive rebounding since conference play started. Iowa ranks dead last in the conference with its defensive rebounding rate, so Purdue is prime for a few extra boards in this contest. Trevion Williams leads the team in rebounding, and also has the highest usage rate among all Big Ten players since conference season started. He also boasts the eighth-highest rebounding rate in the country on both sides of the court, so he's sure to rack up fantasy points as long as he's in the game. Zach Edey will likely have a big game as well, for similar reasons, so he's another great option given this matchup.
Middle Tier

Chevez Goodwin, F, USC ($6,600 DK)
Stanford's defense isn't awful, but it's had a major issue stopping opponents inside the arc. Stanford is allowing opponents to make 54 percent of two-point field goal attempts, nearly ranking in the bottom 10 percent of the country. Chevez Goodwin leads the team in two-point field goals, two-point attempts and usage rate, giving us good reason to believe he's a sure bet in today's contest. Plus, Goodwin is only a couple of games removed from a monster game at Colorado, scoring 14 points and grabbing 18 rebounds in a victory.

Jordan Shepherd, G, California ($6,500 DK)
Jordan Shepherd is coming off a strong performance against Arizona, so I'm trusting he won't be deterred by another tough opponent. Shepherd has scored in double figures in 13 straight games, including a game against UCLA in which he also added five rebounds and five assists. Shepherd is taking 28 percent of his team's shots when on the court, easily the highest rate on the team, while also leading the team in minutes – a potent combination that often yields a good amount of fantasy points. UCLA's defense is tough, but Shepherd has proven that he can compete among the best, so I like his prospects once again in today's contest.
Value Plays

K.J. Simpson, G, Colorado ($4,300 DK)
Although he doesn't start, KJ Simpson has been on a tear. In the past five games, Simpson is averaging over 21 fantasy points (DK) per game, which is even more impressive considering he's played against the toughest teams in the Pac-12 during his hot streak: Arizona, USC, UCLA, and Oregon. Simpson is using 23 percent of his team's possessions when on the court, the second-highest rate on the team, so I'm expecting his productivity to continue in today's contest.

Charlie Daniels, F, Minnesota ($3,500 DK)
This pick is contingent upon Eric Curry missing his third straight game, and the latest news indicates that's likely the case, so we're rolling with Charlie Daniels in his place. Since entering the starting lineup in place of Eric Curry, Daniels has seen a substantial increase in playing time. In his past two games starting, Daniels has played 65 minutes total and put up almost 40 fantasy points. He's not much of a scorer, but he's active in all facets of the game, as he demonstrated in a hard-fought victory against Rutgers in Minnesota's most recent game. In the contest, Daniels played 37 minutes, and although he took just three shots, he also tallied six boards and six assists. Assuming he once against starts in place of Curry, Daniels has a good shot at providing value at an incredibly low salary.
The author(s) of this article may play in daily fantasy contests including – but not limited to – games that they have provided recommendations or advice on in this article. In the course of playing in these games using their personal accounts, it's possible that they will use players in their lineups or other strategies that differ from the recommendations they have provided above. The recommendations in this article do not necessarily reflect the views of RotoWire. Steve Peralta plays in daily fantasy contests using the following accounts: FanDuel: Buddusky, DraftKings: Buddusky24.