This article is part of our 2020 Rankings series.
Welcome to Part II of our quarterback rankings as we look ahead to the 2020 season. Part I covered quarterbacks 11-25, and this installment will cover the Top 10. Now, projections haven't been finalized and job battles are still unsettled in some of these cases, so things will likely change between now and August. But for now, this is how I'm ranking the top signal callers in the nation for fantasy in 2020.
Fields hadn't started a single collegiate game going into 2019 and yet he felt like one of the safest bets out there at the quarterback position. For one, Fields had been a well-known commodity for quite some time. He was neck and neck with Trevor Lawrence for the honor of being the composite No.1 player in his recruiting class. He was also impressive in his limited action at Georgia as a freshman in 2018, completing 69.2 percent of his passes for 328 yards and four touchdowns on an 8.4 YPA while adding 42 rushes for 266 yards and four scores. So there was proven legit dual-threat ability that could stick at this level before he got to Ohio State. But his 2019 was truly transcendent.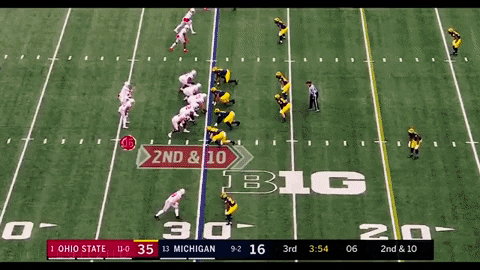 Look at this. This is easily one of my favorite plays from last season. He had just come back into the game after tweaking his knee, and what does he do? Fields rolls out and delivers a dime to put the final nail in Michigan's coffin. This was the exclamation point on a regular season in which Fields had a 37:1 TD:INT ratio along with 10 rushing touchdowns.
Fields heads into 2020 as the easy call for the No.1 quarterback and No.1 player overall. He could find another level of dominance as a rusher with J.K. Dobbins gone and Master Teague dealing with a significant injury. And he could post even gaudier passing numbers with Chris Olave and Garrett Wilson continuing to come into their own, in addition to his own development as a passer. Everything is lined up for a Heisman-worthy campaign from Fields.
A fourth-year starter, Ehlinger enters 2020 as one of the most established and accomplished quarterbacks in the fantasy and general college football landscape. He has finished in the Top 10 among quarterbacks in points per game each of the last two seasons and actually finished fourth in that regard in 2019. He's a dual-threat with the added bonus of being remarkably durable. Ehlinger has played in 27 of a possible 27 games in the last two seasons and has held up to at least 163 rushing attempts in each of those years. My lone concern with Ehlinger has to do with a factor he can't control: a lack of returning weapons.
In losing Devin Duvernay and Collin Johnson, Ehlinger lost 52 percent of Texas' receiving yardage production from 2019. Now, players like Brennan Eagles and Jake Smith are plenty promising but we don't know how they'll handle the major upticks in target volume. It's tough to replace the 1,945 yards and 12 touchdowns left behind by Duvernay and Johnson without any growing pains along the way.
Still, Ehlinger being this experienced and this talented keeps him near the top of the quarterback pecking order even with the loss of proven talent at receiver.
Look at this play as an example. Ehlinger is Texas's best red zone/goal-line option by far. 22 of his 23 rushing touchdowns the last two seasons have come in the red zone. For context, that's just under half of Texas' total red zone rushing scores the last two years. He's a better bet to be the one punching it in than any of the Longhorn running backs. That's always useful for our purposes.
Last year's consensus No.1 pick in fantasy drafts didn't pan out the way anyone expected as King pressed pause on his playing career after four games to recoup a year of eligibility. He was on his way to another stellar year, though, averaging 31.1 fantasy points per game through that first month of the season.
Now he's in Miami, learning his second system in as many years. The Miami offense in 2019 was pretty anemic, ranking, 90th in points per game, 78th in yards per play, and 52nd in passing yards per game. King should be an instant fix, offering polished passing ability along with explosive play-making ability with his legs.
There's little reason to worry about King's jump in competition, either. The ACC is still shaky beyond Clemson and Miami is arguably the conference's next best team with King at the helm. He'll have tight end mismatch Brevin Jordan at his disposal, along with a slew of talented but unproven receivers. Either way, King can always take matters into his own hands and elevate his teammates. It'd be surprising for a full season of King to not post Top-5-level production at his position.
It wasn't always pretty, but there were moments of brilliance from Sanders in his first year as the starter for the 'Pokes. Games like the season opener against Oregon State where he threw for 203 yards and three scores while completing 79.1 percent of his passes while rushing for 109 yards illustrate Sanders' lofty ceiling. Games like his performance against Baylor (18-32, 157 yards, one touchdown, one interception; 14 rushes, 31 yards) show that there's room for improvement. And despite those wrinkles still being ironed out, Sanders has the look of an elite quarterback this season.
The setup couldn't be much better heading into 2020. I wouldn't have believed you in October if you told me that Oklahoma State would be getting both Chuba Hubbard and Tylan Wallace back for this season. Well, they're back and the added year of experience for Sanders should make this one of the nation's most potent offenses. And players like Braydon Johnson and Dillon Stoner are both back after showing signs of breaking out late last season. There's also the matter of Oklahoma State ranking ninth overall in returning production for this season and 34th in returning offensive production. That number likely looks even better if Sanders and Wallace don't miss time down the stretch last season.
And there's also less reason for concern than in most cases when it comes to the offensive coordinator change as Kasey Dunn -- great name for an Oklahoma State staffer, by the way -- was promoted from within.
Sanders' own blend of talent along with positive contextual factors all around him make him one of the truly elite options at quarterback for 2020.
For your viewing pleasure: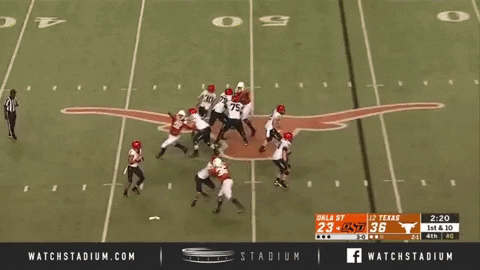 You can insert your own Chris Berman sound when Sanders hits the 33-yard line.
No freshman quarterback was more impressive than Howell in 2019. Frankly, there weren't many quarterbacks more impressive than Howell regardless of their class. Howell was the crown jewel of North Carolina's 2019 recruiting class and wasted no time making an impact, throwing 38 touchdowns against just seven interceptions over his 13 starts. He was able to help Dyami Brown and Dazz Newsome notch 1,000-yard seasons, and both will be back for 2020. So with Howell we're talking about a quarterback entering his second year in the system with all his top weapons at his disposal. It wouldn't shock me if Howell led the nation in touchdown passes this season.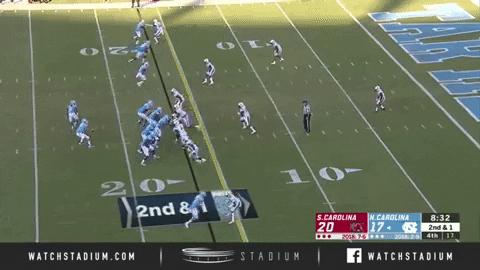 First game of his career. Fourth quarter. Back shoulder fade to take the lead. Pretty good.
As has been the case the last few years in Norman, the next quarterback has big shoes to fill. OU has sent its quarterback to New York as a Heisman Finalist each of the last four years, and two of them have brought home the hardware. So, who's got next?
The Sooners have no shortage of viable options despite the rumors earlier this offseason regarding the program's interest in D'Eriq King as a graduate transfer. Tanner Mordecai was one of the top-rated quarterbacks in the class of 2018 and will have his say in this upcoming quarterback competition, but I'll side with Spencer Rattler at this stage.
Rattler was the No.1 ranked pro-style quarterback in the class of 2019 and has had a year in the system and the strength and conditioning program to get ready for his shot here in 2020. He won't have the rushing production that Hurts or Kyler Murray offered. And it's almost impossible to expect Rattler to match Baker Mayfield's passing efficiency numbers.
Those players were all among the best college quarterbacks we've seen in the last decade.
But it's not crazy to think Rattler will be the next man up in Oklahoma's rich quarterback tradition. He'll have scheme on his side, he'll have weapons like Charleston Rambo, Jadon Haselwood and Theo Wease at his disposal, and he'll have his own immense talent to add to the equation. A debut season with 4,000 passing yards and 35-plus touchdowns is definitely in the range of possible outcomes for Rattler considering all the positives working in his favor. All he needs to do is, well, win the job.
Slovis wasn't even on my radar this time last year. Not only was I marking JT Daniels as USC's starter through 2020, but I wasn't even familiar with Slovis as a recruit. Slovis was outside the top 500 nationally and considered a composite three-star by 247 Sports.
I don't totally buy the whole "Stars Don't Matter" mantra -- Bud Elliott's "Blue Chip Ratio" has shown to be a reliable metric in narrowing the field of teams with a chance to win the national title -- but it'd be naive to say that recruiting rankings are an exact science with a 100 percent accuracy rate. Put another way, cases like Slovis' can happen in every recruiting class.
But enough about that. Let's focus on Slovis and what he did as an out-of-nowhere freshman. He threw for the third-most touchdowns in the PAC-12 with 30, finishing behind Anthony Gordon and Justin Herbert, both of whom played in more games than Slovis. His 291.8 passing yards per game ranked ninth in the nation and fourth among Power Five quarterbacks.
Slovis is in an interesting predicament, though. While he'll likely see all the first-team reps in spring ball with Daniels still on the mend from his torn ACL, USC won't be in any rush to anoint him as the starter. That is not expected to happen until Daniels has a chance to make his case during fall camp in August.
I have no idea how the Mike Leach experiment is going to work out in Starkville. I do know that his quarterback will be throwing it north of 500 times and that Costello is likely to be that quarterback. This isn't rocket surgery.
Costello is a graduate transfer from Stanford who has a 3,000-yard season under his belt back in 2018. He also battled an injury-plagued 2019 season, so there's some risk involved here. Still, once Costello gets the offense down, he stands to be one of the top passers in the nation thanks to having his talent amplified by the Leach system.
Experienced quarterbacks in Air Raid systems are bankable college fantasy commodities. Buechele more than qualifies. This will be his fifth year in college and his second at the helm of the SMU offense. And if his first season there was any indication, Buechele will be among the elite at his position once again in 2020.
For starters, Buechele is at the helm of one of the most up-tempo offenses in the nation. The Mustangs ran the third-most plays per game (80.9) in the nation in 2020 and ranked 11th in pass attempts per game. Buechele thrived in those conditions, completing 62.7 percent of his passes for 3,929 yards and 34 touchdowns over 13 games. And fortunately for Buechele and the Mustangs, they get to run it back in 2020 as 75 percent of their offensive production.
Big play receiver Reggie Roberson Jr. has unfinished business after having his 2019 season cut short and Kylen Granson is a mismatch at tight end who racked up nine touchdowns on 43 catches last season.
And, maybe this is ancillary, but if SMU's defense takes an expected step backward (97th in returning defensive production), Buechele might be asked to turn it loose even more in 2020. So we have a reliable production baseline that could find another level if things break right. Buechele will be one of the top fantasy quarterbacks in the nation this fall.
Iowa State turned Purdy loose as a sophomore, letting him attempt 36.5 passes per game after averaging just 22.0 attempts as a freshman in 2018. The result? A near-4,000-yard season with 27 passing touchdowns to go with excellent rushing production (249 yards, eight touchdowns).
Now Purdy enters his true junior season, which figures to be his last in Ames before he heads to the NFL. So what can you expect for his final act? Well, he's already been an efficient player, completing 65.9 percent of his passes with a 9.0 YPA in his 695 career attempts, along with a 6.1 percent touchdown rate. And even though Purdy's mobility isn't his main selling point, it doesn't get the attention it probably deserves. He's finished in near the top of the Big 12 in either rushing touchdowns or rushing yards in each of his two seasons. When you have a quarterback pushing for 4,000 yards through the air and adding quality rushing production every week, that's icing on the cake.
We also can't discount the possibility of Purdy finding yet another level as a passer this year thanks to experience and supporting cast. He'll have completely mastered this offense and has options like rising star Tarique Milton at his disposal, as well as arguably the best pass-catching tight end in the nation in Charlie Kolar. Toss in the fact that Purdy gets to face Big 12 defenses and we have an elite quarterback in 2020.