This article is part of our FanDuel College Football series.
After a week on the sidelines due to Thanksgiving, I'm back to give you an overview of the Championship Week slate. We have four teams expected to go for 35-plus points on Saturday's slate, led by Clemson (41.5) and Boise State (39.0). Oklahoma (36.5) and Ohio State (36.0) round out the group, while Oklahoma and Boise State also hit as the highest over-unders (64.5) on the slate. There isn't a ton of separation in the over-unders beyond that, though UAB-Florida Atlantic (49.5) checks in nearly five points below everyone else on the slate.
DFS Tools
Matchup Info
Link to matchup chart for sorting/research purposes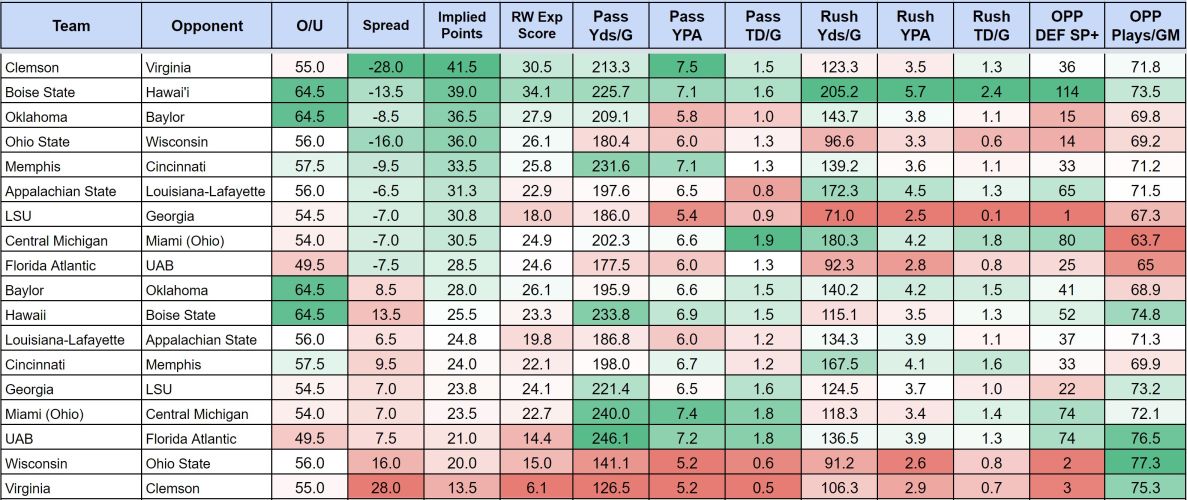 Note: RotoWire expected scores are generated by a mathematical equation excluding special teams and points directly off turnovers (from what I understand).
Championship Week Plays
Quarterback
Jalen Hurts, Oklahoma

($11,800) vs. Baylor
Hurts feels like the easiest plug-and-play option on the slate. Even though the matchup doesn't appear to be the best at the surface, Hurts proved in the previous showdown that it doesn't matter. With no CeeDee Lamb at his disposal, Hurts still torched the Bears for 297 passing yards and four touchdowns to go along with 27 carries for 114 yards. He wound up with 34.28 FanDuel points for the game while being held without a rushing touchdown for the only time this season. That seems unlikely to repeat Saturday and his price tag is affordable enough to warrant spending up for the primary quarterback spot.
Joe Burrow, LSU

($10,200) vs. Georgia
Burrow will face the toughest pass defense he has seen all season Saturday. That being said, he does have a sample size of elite defenses on the schedule previously. While Alabama was torched by LSU, it's worth noting that the Crimson Tide defense allowed just 183.4 passing yards per game this season, which is ballooned by Burrow's 393-yard passing effort. Georgia's pass defense has been equally stout, surrendering just 186.0 passing yards per contest, but the Bulldogs have been tested by just one top-20 offense all season in Florida. Despite putting up just 17 points against the Bulldogs, quarterback Kyle Trask threw for 257 yards and a pair of scores in the contest. While the running game may be stifled by the Georgia front, Burrow has enough weapons at his disposal to still put up some eye-popping numbers on a limited slate.
Brady White, Memphis

($8,300) vs. Cincinnati
As far as quarterbacks go on the slate, White is one of the more affordable options that still has some upside to his game. On two occasions this season, White has gone for 33-plus FanDuel points. While his output last week (17.7) against this same Cincinnati may not pass for superflex status, White's 57.7 completion percentage neared his season low 56.6 put up against SMU earlier in the campaign. I don't expect things to go that poorly the second time around for him, so there's a good chance for improvement on his stat line from last Saturday.
Running Back
Darrynton Evans, Appalachian State

($9,200) vs. Louisiana-Lafayette
Evans checks in as the third-most expensive option on the Championship Week slate and for good reason. He's coming off of three straight games racking up at least 25 FanDuel points and two straight where the back has gone over 30. While Louisiana-Lafayette's defense doesn't near the depths of Texas State (119th in rush defense), Troy's defense from last week has held opposing rush attacks to just 157.8 rushing yards per contest. Lafayette fits closely with Troy, letting up 172.3 rushing yards per game and 4.5 yards per attempt. While Evans was kept to just 69 yards the last time these two teams met, he will likely be out for blood this time around.
George Holani, Boise State

($8,200) vs. Hawaii
Holani's lackluster effort last week versus a Colorado State (18 carries for 42 yards) may be cause for concern, but he's got enough upside under his belt to warrant heavy DFS usage at this price. The week prior to last Saturday's stinker, Holani ran for 178 yards and a pair of scores versus a Utah State defense that is almost identical to Colorado State's statistically. This week he gets a Hawai'i defense that is even worse. The Rainbow Warriors allowed 5.7 rushing yards per attempt in the regular season, ranking 125th out of 130 FBS teams. They also allow 2.4 rushing touchdowns per game and 205.2 rushing yards per game, by far the worst marks in all three categories. The pass-happy Hawai'i offense should allow for a large volume of plays between the two squads, and the game script (Boise State -13.5) likely dictates a larger volume of rush attempts in the second half.
Caution to the Wind Play: Gerrid Doaks, Cincinnati

($5,800) vs. Memphis
Doaks' stat line a week ago against these same Tigers wouldn't warrant fantasy usage (6.2 FanDuel points). Fortunately, he gets another 60 minutes against a Memphis defense surrendering 4.1 yards per carry and 1.6 rushing touchdowns per game to make things right. While Doaks doesn't possess the highest of ceilings with Michael Warren II ahead of him on the depth chart, he hasn't always needed it. Doaks tallied at least 9.9 points in four straight weeks prior to the final two games and the matchup is conducive enough to potentially look his way if you're in desperate need of a cheap running back option.
Wide Receiver
Denzel Mims, Baylor

($8,700) vs. Oklahoma
Prior to his slow Saturday in last week's blowout of Kansas, Mims posted three straight 20-plus point games, including a 24.2 total against the Sooners. The senior wideout gets another crack at the Oklahoma defense Saturday and should get plenty of looks. Mims' two-touchdown effort in the last matchup helped the Bears take a 31-10 lead into halftime. That seems unlikely to repeat itself, so look for the Baylor offense to keep the pedal to the metal all game after coughing up that lead with a scoreless second half. Mims is clearly the top target in Baylor's passing attack, sporting a 27.6 percent target share, which is good for the second-highest total on the slate.
Justyn Ross, Clemson

($7,900) vs. Virginia
Ross is coming off an 11-target week last Saturday versus South Carolina, a volume that resulted in nine grabs for 111 yards and a touchdown. With the Clemson offense seemingly clicking on all cylinders down the stretch, they get a crack at a Virginia defense allowing a slate-high 7.5 passing yards per attempt. While that has resulted in only 213.3 passing yards per game on the season, three of the last four opponents have thrown for 280 or more yards. Ross should see a large number of balls thrown his way again Saturday and should be able to take advantage of the Cavaliers' secondary.
Jason-Matthew Sharsh

($7,700) vs. Boise State
Sharsh has seen his usage stabilize down the stretch, receiving at least seven targets in each of the last five games while recording 21 between the last two. The big difference is that he has finally converted a few of those receptions into touchdown. After notching just one touchdown over the first 11 games, Sharsh has connected with quarterback Cole McDonald twice in the past two games and added another score from Chevan Cordeiro. Boise State's pass defense isn't bad by usual standards, but it's fairly slim pickings on Championship Week and the Broncos are allowing 6.9 yards per pass attempt and 1.5 passing touchdowns per game, not to mention that this is the only game that features two teams whose games both average more than 74 plays per contest.

One Half of Production Play: George Pickens, Georgia

($5,500) vs. LSU
Pickens played less than a quarter in Saturday's game against Georgia Tech due to a first-half suspension and then a second half ejection in the third quarter after he got into a fight with a Georgia Tech cornerback. As a result, Pickens won't be allowed to take the field in the first half of the SEC Championship Game. Even so, Georgia may be facing a deficit coming out of the locker room for the second half that results in a large volume of second-half passing attempts. If that's the case, Pickens would likely draw a considerable number of those, especially with Lawrence Cager (ankle) unavailable. While LSU scores at a high rate, the Tiger defense is also prone to surrender a fair number of points. A touchdown should be all Pickens needs to offer returns on his half-game discount.
The author(s) of this article may play in daily fantasy contests including – but not limited to – games that they have provided recommendations or advice on in this article. In the course of playing in these games using their personal accounts, it's possible that they will use players in their lineups or other strategies that differ from the recommendations they have provided above. The recommendations in this article do not necessarily reflect the views of RotoWire. Chris Benzine plays in daily fantasy contests using the following accounts: FanDuel: Crispy272001, DraftKings: Crispy27.