Yesterday I took part in a draft on Fantrax.com for a $25, 12-team league. All FBS teams were eligible for the player pool, and it starts QB/RB/RB/WR/WR/WR/WR-TE/K/DEF. No trades.

Be sure to check out Fantrax.com for college fantasy football as well as a variety of other fantasy games! They have both free and money leagues.

The scoring system in this league is standard except for the fact that quarterback rushing yardage gets one point for every 20 yards rather than 10, and there's no penalty for interceptions. Those two differences deflate the value of running quarterbacks like Taylor Kelly and Keenan Reynolds while inflating the value of turnover-prone passers like Davis Webb and Connor Halliday. Also, the defensive scoring awards/subtracts points based on yardage allowed.

I was assigned the first pick. I intended to take Georgia RB Todd Gurley, but my internet connection died while I tried to load the draft. Hooray!

I was assigned Marcus Mariota by the auto-draft. The decreased points for rushing yardage made this an unideal pick, but it's not the worst position to be in, I suppose. From there I was able to select the players I actually wanted to, and I like the team I ended up with.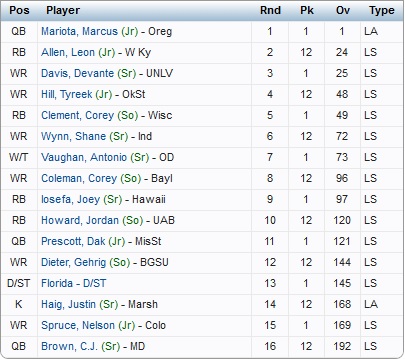 I was glad to find Western Kentucky RB Leon Allen on the board by the time my second pick came up at 24 overall. He was a no-brainer pick for me since he seems locked in as the replacement for Antonio Andrews. With the 25th pick I took my first WR, UNLV's Devante Davis. Davis plays 13 games this year, which makes him an ideal WR1 workhorse.

I landed my RB2 (Corey Clement, Wisconsin) and my WR2 (Tyreek Hill, Oklahoma State) with the next set of picks, and then I rounded out my starting WR lineup with Indiana's Shane Wynn and Old Dominion's Antonio Vaughan. My bench consisted of QB Dak Prescott (Mississippi State), RB Jordan Howard (UAB), RB Joey Iosefa (Hawaii), WR Corey Coleman (Baylor), WR Gehrig Dieter (Bowling Green), WR Nelson Spruce (Colorado).

I went with the Florida defense, both because I expect a Gator rebound in 2014 and also because their opening schedule (Idaho, Eastern Michigan, Kentucky) is laughable. I also selected QB C.J. Brown and kicker Justin Haig, but I swapped them for Houston kicker Kyle Bullard and Purdue WR DeAngelo Yancey after the draft.

In a shallow league like this, it was important to put together a roster with both a high floor and a high ceiling. I think guys like Mariota, Clement, Davis, Wynn, Spruce and Vaughan will give me a good floor, while players like Allen, Howard, Hill, Coleman, Dieter and Yancey provide a lot of upside.

Here is a full list of the first 10 rounds:

1. Marcus Mariota, QB, Oregon
2. Melvin Gordon, RB, Wisconsin
3. Todd Gurley, RB, Georgia
4. Marcus Cox, RB, Appalachian State
5. Bryce Petty, QB, Baylor
6. D.J. Foster, RB, Arizona State
7. Braxton Miller, QB, Ohio State
8. Jameis Winston, QB, Florida State
9. Jeremy Langford, RB, Michigan State
10. Mike Davis, RB, South Carolina
11. Antwan Goodley, WR, Baylor
12. Ameer Abdullah, RB, Nebraska

13. Rakeem Cato, QB, Marshall
14. Tevin Coleman, RB, Indiana
15. Byron Marshall, RB, Oregon
16. Jay Ajayi, RB, Boise State
17. Tyler Lockett, WR, Kansas State
18. Travis Greene, RB, Bowling Green
19. Taysom Hill, QB, BYU
20. Duke Johnson, RB, Miami (FL)
21. Michael Gordon, RB, Arkansas State
22. T.J. Yeldon, RB, Alabama
23. Davis Webb, QB, Texas Tech
24. Leon Allen, RB, Western Kentucky

25. Devante Davis, WR, UNLV
26. Jamison Crowder, WR, Duke
27. Brett Hundley, QB, UCLA
28. Deontay Greenberry, WR, Houston
29. Karlos Williams, RB, Florida State
30. Justin Hardy, WR, East Carolina
31. Tyler Boyd, WR, Pittsburgh
32. Tommy Shuler, WR, Marshall
33. Nelson Agholor, WR, USC
34. Rashad Greene, WR, Florida State
35. Desmond Roland, RB, Oklahoma State
36. Jahwan Edwards, RB, Ball State

37. Devante Parker, WR, Louisville
38. Shane Carden, QB, East Carolina
39. Taylor Kelly, QB, Arizona State
40. Jaelen Strong, WR, Arizona State
41. Kareem Hunt, RB, Toledo
42. Josh Harper, WR, Fresno State
43. Jakeem Grant, WR, Texas Tech
44. Jordan Williams, WR, Ball State
45. Matt Miller, WR, Boise State
46. Florida State DST
47. Taylor Heinicke, QB, Old Dominion
48. Tyreek Hill, WR, Oklahoma State

49. Corey Clement, RB, Wisconsin
50. Leonard Fournette, RB, LSU
51. Devin Funchess, WR, Michigan
52. Titus Davis, WR, Central Michigan
53. Amari Cooper, WR, Alabama
54. Tyler Winston, WR, San Jose State
55. William Stanback, RB, UCF
56. Shock Linwood, RB, Baylor
57. Keenan Reynolds, QB, Navy
58. Dres Anderson, WR, Utah
59. Quinshad Davis, WR, North Carolina
60. Ty Montgomery, WR, Stanford

61. Ezekiel Elliott, RB, Ohio State
62. Austin Hill, WR, Arizona
63. Alabama DST
64. Laquon Treadwell, WR, Mississippi
65. Javorius Allen, RB, USC
66. Stefon Diggs, WR, Maryland
67. Donnell Pumphrey, RB, San Diego State
68. Matt Johnson, QB, Bowling Green
69. Chuckie Keeton, QB, Utah State
70. Sammie Coates, WR, Auburn
71. Robert Aguayo, K, Florida State
72. Shane Wynn, WR, Indiana

73. Antonio Vaughan, WR, Old Dominion
74. Jameon Lewis, WR, Mississippi State
75. Dorial Green-Beckham, WR, Oklahoma
76. Bronson Hill, RB, Eastern Michigan
77. Kenneth Dixon, RB, Louisiana Tech
78. Jamaal Williams, RB, BYU
79. Josh Ferguson, RB, Illinois
80. Ricky Seals-Jones, WR, Texas A&M
81. Elijah McGuire, RB, Lousiana-Lafayette
82. Kevin Parks, RB, Virginia
83. Dominic Rufran, WR, Wyoming
84. Bralon Addison, WR, Oregon

85. Sean Mannion, QB, Oregon State
86. Michigan State DST
87. Levi Norwood, WR, Baylor
88. Derrick Henry, RB, Alabama
89. Brandon Connette, QB, Fresno State
90. Ezell Ruffin, WR, San Diego State
91. Connor Halliday, QB, Washington State
92. Ronnie Moore, WR, Bowling Green
93. Alonzo Russell, WR, Toledo
94. Malcolm Brown, RB, Texas
95. Kelvin Taylor, RB, Florida
96. Corey Coleman, WR, Baylor

97. Joey Iosefa, RB, Hawaii
98. Bradley Marquez, WR, Texas Tech
99. Trevor Knight, QB, Oklahoma
100. Cody Fajardo, QB, Nevada
101. Richard Mullaney, WR, Oregon State
102. Thomas Tyner, RB, Oregon
103. Jhajuan Seales, WR, Oklahoma State
104. Geno Lewis, WR, Penn State
105. Cameron Artis-Payne, RB, Auburn
106. Devin Smith, WR, Ohio State
107. Corey Davis, WR, Western Michigan
108. Stacy Coley, WR, Miami (FL)

109. Geremy Davis, WR, Connecticut
110. David Cobb, RB, Minnesota
111. Nick Marshall, QB, Auburn
112. Shepard Sterling, WR, Oklahoma
113. Louisville DST
114. Devin Gardner, QB, Michigan
115. Darius Joseph, WR, SMU
116. Shane Williams-Rhodes, WR, Boise State
117. Larry Pinkard, WR (Dismissed)
118. Jamal Robinson, WR, Louisiana-Lafayette
119. Braxton Deaver, TE, Duke
120. Jordan Howard, RB, UAB