Olympiacos at Barcelona
Date: 12/27
Time: 9:00 PM CET
Game Preview
Thursday's game in Barcelona would have been a difficult one for Olympiacos even at full strength, but the challenge will be even harder without its top player, Nikola Milutinov, who is out with a knee injury. Barcelona has lost just once at home all season, and they will remain in a three-way tie for first place if they come away with a win in Round 16. Olympiacos will need to slow down Barcelona's best player, Nikola Mirotic, to have a shot at victory, but that will be no easy task with Mirotic putting up big numbers nearly every time he takes the court.
Injuries
FC Barcelona Lassa
Victor Claver - GTD - Foot
12/19 10:21 PM IST - Claver (foot) is expected to return to action in Round 16 against Olympiacos, according to as.com. Head coach Svetislav Pesic provided the latest update on Claver's status Thursday; and while Claver will miss both Rounds this week, it appears his absence is about to come to an end.
Thomas Heurtel - OUT - Knee
12/7 11:35 PM IST - Heurtel (knee) has resumed taking jump shots, according to Barcelona's official Twitter account. Heurtel has been sidelined since undergoing knee surgery in August, but he has advanced to the point in his recovery where he can take part in on-court work. Heurtel still has a few steps to go before he will be ready to play again, but it appears he remains on track to return to action early in 2020.
Kevin Pangos - OUT - Toe
12/3 11:47 PM IST - Pangos is still dealing with soreness in his injured toe and will be evaluated on a "week-by-week" basis moving forward, according to eurohoops.net. It was anticipated that Pangos would return to action in 4-to-6 weeks after injuring his toe in September, but he has already missed two months and will need even more time to fully recover. A target date for his return has not been established, but based on this report, it seems safe to say he will not play in Barcelona's next EuroLeague game Friday against Khimki.
Olympiacos
Nikola Milutinov - OUT - Knee
12/26 12:31 AM IST - Milutinov will not play Friday against Barcelona due to a knee injury, according to Harris Stavrou of 24MEDIA. It's not clear how long Milutinov will be sidelined, but his injury will at the least cost him his first EuroLeague game of the season. Either Willie Reed or Augustine Rubit is likely to take Milutinov's spot in the starting lineup for Round 16.
Olympiacos Probable Starters
G - Vassilis Spanoulis
G - Antonis Koniaris
F - Georgios Printezis
F - Kostas Papanikolaou
C - Willie Reed
FC Barcelona Lassa Probable Starters
G - Cory Higgins
G - Adam Hanga
F - Victor Claver
F - Nikola Mirotic
C - Ante Tomic
Top Picks
(Captain) Nikola Mirotic, BAR - Mirotic scored in double figures for the 14th time this season in Round 15 and fell just one rebound shy of his third double-double. Mirotic sits fourth in the league in both points and rebounds per game and is about as steady as they come as a fantasy option.
Georgios Printezis, OLY - After a tough stretch from Rounds 11-13 Printezis has rediscovered his scoring touch, averaging 20.0 points over the last two Rounds. Without Milutinov Olympiacos could lean on its leading scorer and second-leading rebounder even more in Round 16.
Brandon Davies, BAR - It's been an up-and-dow season for Davies, but he has been more consistent since moving to a regular bench role in Round 13, scoring in double figures in all three games since. Barcelona's big men will have an easier time picking up rebounds without Milutinov – the leagues' leading rebounder – around to gobble them up.
Willie Reed, OLY - Olympiacos will have a new starting center for the first time this season in Milutinov's absence. It remains to be seen if Reed or Augustine Rubit will get the nod, but the smart money is on Reed, who played more minutes than Rubit in each of the last three games. One way or another, both players figure to see a boost in minutes Thursday.
Captaincy Options
Dream11 Team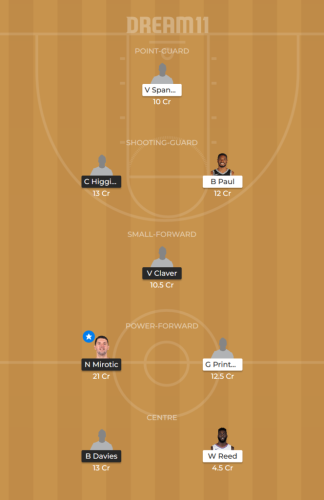 Grand League Combination
Mirotic, Davies, Printezis, Reed
Small League Combination
Mirotic, Higgins, Printezis, Spanoulis
The author(s) of this article may play in daily fantasy contests including – but not limited to – games that they have provided recommendations or advice on in this article. In the course of playing in these games using their personal accounts, it's possible that they will use players in their lineups or other strategies that differ from the recommendations they have provided above. The recommendations in this article do not necessarily reflect the views of RotoWire. Kevin O'Brien plays in daily fantasy contests using the following accounts: FanDuel: kevob100, DraftKings: kevob100.