Bayern at Barcelona
Date: 3/6
Time: 9:00 pm CET
Game Preview
Barcelona, now the hottest team in the League, welcomes Bayern for a Round 28 matchup. The Spanish club has racked up eight consecutive wins, though the past two have come by a combined six points. Star forward Nikola Mirotic, averaging 18.7 points and 6.9 rebounds per game, leads the way on offense for the hosts. He's aided in the backcourt by sharpshooter Cory Higgins and the superb point guard Malcolm Delaney, who's offering 10.5 points, 4.9 assists, 2.2 rebounds and 2.2 threes per contest. Abreast Mirotic down low resides Brandon Davies, who's generating 9.7 points and 3.9 rebounds per game. Combined, they've scored 84.2 points per game, good for fourth-best in the League. Bayern, on the other hand, has struggled immensely on offense this year. While Greg Monroe and Vladimir Lucic have formed a solid frontcourt, the team lacks a meaningful playmaker to run point. Maodo Lo has made an admirable attempt but is more of a shooter and has mustered just 3.4 assists per game. Paul Zipser has been another factor for the German squad and is posting 8.6 points and 3.5 rebounds per game on the year. So far this year, the German team has scored just 73.7 points per game, which is tied for worst in the League. In their first meeting this year, Barcelona triumphed by a score of 77-67 despite an admirable effort from Bayern.
Injuries
FC Barcelona Lassa
Thomas Heurtel - OUT - Ankle
3/6 1:21 AM IST - Heurtel (ankle) will not play Friday against Bayern, according to Barcelona's official website. It's still not clear how long Heurtel will be sidelined, but his latest injury will cost him at least four Rounds of action. He will have a week to rest and recover before Barcelona's Round 29 matchup with Zalgiris.
Kevin Pangos - OUT - Toe
2/27 7:29 PM IST - Pangos (toe) has resumed practicing but is not yet ready for game action, according to Sportando. Pangos has seemingly reached the final stage of his recovery, but a target date for his return to the court has still not been established.
Bayern Munich
Nihad Dedovic - OUT - Ankle
3/4 12:50 AM IST - Dedovic (ankle) will be "missing at least until the end of the month," according to Bayern's official website. A target date for Dedovic's return is unknown, but what is certain is he will not play for quite some time. Bayern has all but eliminated from playoff contention, so it would not be a surprise if he misses the rest of the EuroLeague season. It remains to be seen who will start alongside Maodo Lo in Dedovic's absence, but either or both Paul Zipser and T.J. Bray could get a shot.
Petteri Koponen - GTD - Thigh
3/5 12:26 AM IST - Koponen (thigh) will not play Wednesday against Baskonia, according to Bayern's official Twitter account. Koponen is close to returning and could still resume playing before the week ends, but he will not take the court in Round 27.
Bayern Munich Probable Starters
G - Maodo Lo
G - T.J. Bray
F - Vladimir Lucic
F - Danilo Barthel
C - Greg Monroe
FC Barcelona Lassa Probable Starters
G - Cory Higgins
G - Adam Hanga
F - Victor Claver
F - Nikola Mirotic
C - Ante Tomic
Top Picks
Nikola Mirotic, BAR - Mirotic has had a triumphant return to the EuroLeague and will look to help the Barcelona squad secure homecourt advantage for the upcoming playoffs. He's totaled 18.7 points, 6.9 rebounds, 1.5 assists and 1.2 steals per game.
Greg Monroe, MUN - Monroe isn't the one to blame for Bayern's struggles this season. The 29-year-old, who's in his first season in the EuroLeague, is averaging 12.7 points, 6.7 rebounds, 2.5 assists and 1.3 steals per game so far.
Malcolm Delaney, BAR - Delaney's helped command the offense throughout the year. Overall, he's generating 10.5 points, a team-leading 4.9 assists, 2.2 rebounds and 2.2 threes per game.
Cory Higgins, BAR - Higgins has fulfilled his primary duties as floor-spacer admirably this year. He's scoring 12.3 points and adding 2.7 assists, 2.0 rebounds and 1.3 threes per contest.
Captaincy Options
Dream 11 Team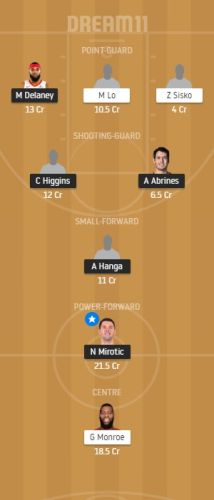 Grand league combination:
Mirotic, Monroe, Delaney, Higgins
Small league combination:
Mirotic, Monroe, Delaney, Higgins
The author(s) of this article may play in daily fantasy contests including – but not limited to – games that they have provided recommendations or advice on in this article. In the course of playing in these games using their personal accounts, it's possible that they will use players in their lineups or other strategies that differ from the recommendations they have provided above. The recommendations in this article do not necessarily reflect the views of RotoWire.