This article is part of our Team Previews series.
Washington Football Team
A new coaching staff and front office have Washington fans dreaming of a quick turnaround, but even a big step forward likely would leave the team shy of playoff contention. As much as losing has become the norm in the nation's capital, 2019 marked a low point even by the standards of the Dan Snyder era.
Offseason Moves
Key Acquisitions
Could instantly be the best player on a loaded D-line.
Produced 735 receiving yards and 369 rushing yards in his senior season.
Piled up 2,433 yards and 20 TDs in 24 college games, mostly against soft competition.
Committed 23 turnovers last year, but he has experience with OC Scott Turner.
Key Losses
Veteran scatback missed five or more games each of the last three years.
Paid $16.6 million for 17 games, 507 yards and four TDs across two seasons.
Neither Davis nor Jordan Reed could stay healthy last year.
Shipped to the Pacific Northwest after requesting a trade or his release.
A Look Under the Hood
Head Coach: Ron Rivera (Year 1)
Offensive Coordinator: Scott Turner (Year 1) - Air Coryell scheme
Defensive Coordinator: Jack Del Rio (Year 1) - 4-3 scheme
2020 Vegas Projected Wins: 5.5 (T-29th)
2019 Record: 3-13
2019 Points Scored: 266 (32nd)
2019 Points Allowed: 435 (27th)
2019 Point Differential: -169 (31st)
2019 Run-Play Rate: 40.2 percent (16th)
2019 Situation-Neutral Pace: 33.03 seconds per play (31st)
2019 Offensive Snaps: 885 (31st)
2019 PFF O-Line Ranking: No. 13
Projected 2020 Depth Chart
QB: Dwayne Haskins / Kyle Allen / Alex Smith
RB: Derrius Guice / Adrian Peterson / Antonio Gibson / J.D. McKissic / Peyton Barber / Bryce Love
WR1: Terry McLaurin / Cody Latimer
WR2: Kelvin Harmon / Antonio Gandy-Golden
WR3: Steven Sims / Trey Quinn
TE: Jeremy Sprinkle / Logan Thomas / Thaddeus Moss
O-Line: LT Geron Christian / LG Wes Schweitzer / C Chase Roullier / RG Brandon Scherff / RT Morgan Moses (RotoWire Rank: No. 20)
Kicker: Dustin Hopkins
Top Storylines
Haskins on the Hot Seat?
Traditionally, a first-round draft pick is given a few seasons to develop before his team begins to look for its next potential franchise quarterback. Maybe Dwayne Haskins is no exception, or maybe there's fire where there's smoke.
He's only 23 years old and was drafted 15th overall last year, but apart from team owner Dan Snyder, the people responsible for bringing Haskins to Washington are gone. New coach Ron Rivera expects the young signal-caller to enter Week 1 as the starter, but Rivera did caution that Haskins will need to compete for the job.
The competition likely will come from Kyle Allen, who was acquired for a mere fifth-round pick but has the advantage of working with a play caller (new offensive coordinator Scott Turner) who served as his quarterbacks coach in Carolina the past two years. There's also the looming possibility, however unlikely, of 36-year-old Alex Smith eventually finishing his rehab from a gruesome leg injury and returning to the gridiron.
A slow start to the season could have Haskins looking over his shoulder, with the team potentially turning to Allen or Smith and then drafting another young QB in 2021. On a more optimistic note, Haskins played well over the final two weeks of 2019, and he appears to have a bonafide No. 1 receiver in Terry McLaurin.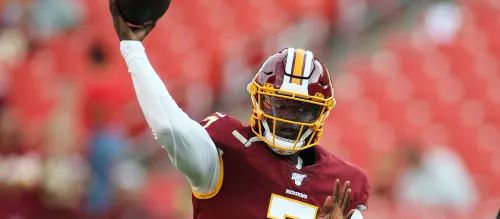 With a new coaching staff in place, perhaps Dwayne Haskins can be put into a position to succeed.
Riverboat Ron Rebounds Fast
Ron Rivera's nine-year tenure as coach in Carolina came to an unfortunate conclusion last December, two days after the Panthers allowed 248 rushing yards in a 29-21 loss to none other than Washington. The linebacker turned defensive coordinator turned head coach has an impressive track record directing defenses that stymy quarterbacks and pile up interceptions, but his final four seasons in Carolina included three finishes in the bottom half of the league for points allowed.
The 58-year-old Rivera now plans to install a 4-3 scheme in Washington, with the help of veteran defensive coordinator Jack Del Rio, twice a head coach himself. The new scheme could help the Washington defense maximize the impact of its strong point – a defensive line that includes five first-round picks, including four on rookie contracts.
A pass rush led by Chase Young, Ryan Kerrigan, Montez Sweat and Jonathan Allen has the potential to be dominant, which is good news for a defense that lacks similar depth at the second and third levels.
Having said that, Rivera does have a few experienced hands behind the defensive front. After one season spent with the Chargers, long-time Panther linebacker Thomas Davis rejoins Rivera in Washington. Meanwhile, the secondary boasts high-priced figures in strong safety Landon Collins and cornerback Kendall Fuller.
Ending the Injury Parade
Trying to predict injuries is mostly a fool's errand, with labels like "durable" and "injury-prone" conveniently summoned or buried whenever the prevailing narrative changes. Of course, we may have an exception in Washington, where at least 18 players were sent to IR in each of Jay Gruden's five seasons as head coach.
The team closed out 2019 with a five-year streak finishing bottom 10 in Football Outsiders' adjusted games lost (AGL) metric, including 31st in 2019 with 131.0 AGL. There were even reports of tension between players and the training staff, including a well-publicized conflict involving star left tackle Trent Williams, who now is with the 49ers.
After years of treating the problem as nothing more than a case of bad luck, the DC football team finally seems to be taking a proactive approach, starting with the December firing of long-time head trainer Larry Hess. The other big change is a youth movement on offense, where Adrian Peterson is the only skill-position player in his 30s.
Jordan Reed, Vernon Davis, Chris Thompson and Paul Richardson all left in the offseason, after combining for 39 missed games last year. They've mostly been replaced by 2019 and 2020 draft picks, a group led by Dwayne Haskins, Terry McLaurin, Antonio Gibson and Antonio Gandy-Golden. Out with the old, in with the new, indeed.
Barometer
⬆️ Rising: WR Terry McLaurin
McLaurin had little trouble separating from cornerbacks last year, combining 4.35 speed with crisp routes. And even when he wasn't open, he still made plays, with 15 of his 58 catches going for 20-plus yards.
⬇️ Falling: RB Adrian Peterson
Peterson may be the main backup to a brittle starter, but Washington probably will lean toward a committee approach if Derrius Guice misses more time. Beyond them, there may be four capable bodies in this backfield: Antonio Gibson, J.D. McKissic, Peyton Barber and Bryce Love.
😴 Sleeper: WR Steven Sims
Undrafted last year, Sims earned a roster spot with his return work and eventually emerged as a regular in the slot, breaking out for 23-259-4 on 40 targets in December. His only competition for slot snaps could be Trey Quinn.
🌟 Pivotal Player: Derrius Guice
Dwayne Haskins may be the key from a franchise standpoint, but it's Guice who fascinates fantasy managers. Widely viewed as a first-round talent, the LSU running back fell to 59th overall in 2018, seemingly hurt by both character and medical concerns. The latter has proven to be accurate so far, as Guice has played only five games through two seasons.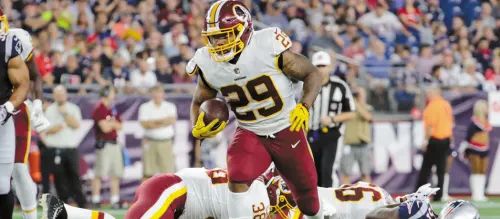 If Derrius Guice finally stays healthy, the returns could be significant.