This article is part of our 2020 Training Camp Preview series.
Expanding upon our team preview collection from earlier this offseason, we're gearing up for an irregular August with a series of team-specific articles to get you up to speed for training camp. You can find the previous writeup on the Chicago Bears here.
State of the Franchise
Despite dealing with significant injuries to the defense, including Akiem Hicks, Roquan Smith and Danny Trevathan, the Bears gave up the fewest points (298) in the NFC last year, leading to an 8-8 campaign. Unfortunately, the offensive line performance was a disaster, rarely opening holes for the rushing attack and commonly putting the team in unfavorable down and distance situations while Mitchell Trubisky showed signs of regression from the 2018 season.
Going into this season, it's unlikely the offense sees a big rise in production, as 33-year-old Jimmy Graham and 35-year-old Ted Ginn were the top weapons added. Neither of the two have been strong producers in years. Aside from Allen Robinson's standing as one of the top receivers in the league, the Bears will need a healthy season from Anthony Miller, who showed signs of being a breakout candidate after posting a pair of 100-yard games down the stretch. Meanwhile, Tarik Cohen, a dynamic weapon previously, was a disappointment in 2019. With so much uncertainty, it's difficult to expect big fantasy numbers out of Chicago.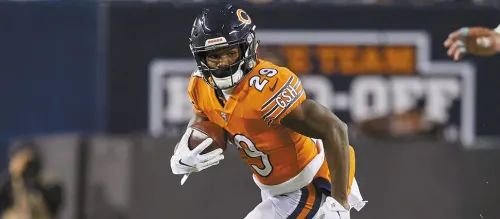 Job Battle
Yes, Nick Foles won a Super Bowl, and we'll never forget that, but even though the Bears brought him in to compete with Mitchell Trubisky for the QB job, it's fair to wonder how good Foles is. Going back to 2014, Foles has played in 38 regular-season games – six of those appearances weren't starts – and his 16-game averages were 3,078 yards, 10.5 touchdowns and 7.5 interceptions. After returning from injury last year with the Jags, it took him less than three games to lose his job to Gardner Minshew.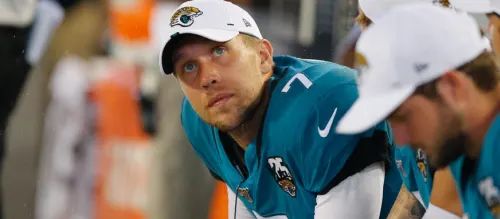 On the other hand, Trubisky has been bashed for poor play, but over the last two seasons, his 16-game marks were 3,509 yards, 22.6 TDs versus 12 INTs and 2.5 rushing scores. Whoever wins the job will be playing behind an offensive line that was not only bad last year, but no significant moves were made to upgrade the unit. In addition, behind Allen Robinson, the receiving weapons are mostly unproven or in decline. With Foles being a pocket QB, he could struggle behind the line while Trubisky has the advantage of mobility. Regardless, neither seems poised to be better than a low-end QB2.
Medical Tent
After playing through a shoulder injury that required offseason surgery in 2018, Miller was healthy for almost the entire 2019 season, but he re-injured the same shoulder Week 17. As a result, he spent this offseason recovering from another procedure, but he's expected to be ready for training camp. Should he be healthy, he's expected to slot in the No. 2 WR job for the Bears, and a full camp of reps would be beneficial as he looks to build upon a season in which he posted at least 54 yards in five of his last 10 games.
TE Adam Shaheen
Not only has Shaheen missed 21 of 48 games since being drafted in the second round of the 2017 draft, but he's recovering from last season's foot injury with the hopes of being good for training camp. Going into the last year of his rookie deal, this is the last time the Bears will be able to see if they can get something out of their draft investment. However, with just 26 catches for 249 yards and four TDs in his career, Shaheen will face an uphill battle with Jimmy Graham, rookie second-round pick Cole Kmet and Demetrius Harris for a consistent role in the offense.
LB Roquan Smith
After suffering a torn pectoral muscle Week 14, Smith underwent surgery, and GM Ryan Pace expects the linebacker to be set for the start of training camp. Before the injury, Smith was on track to surpass the 121 tackles he had as a rookie, and he did see his sack total fall from five to two. Regardless, he's turning into one of the top linebackers in the NFL. In IDP leagues, he should be among the first players taken, as his weekly tackle floor is high while his ceiling is augmented by his ability to rush the passer.