This article is part of our 2020 Training Camp Preview series.
Expanding upon our team preview collection from earlier this offseason, we're gearing up for an irregular August with a series of team-specific articles to get you up to speed for training camp. You can find the previous writeup on the Los Angeles Rams here.
State of the Franchise
Massive offseason roster turnover has the Rams looking notably different heading into 2020, especially on defense. Coach Sean McVay should be able to mitigate the losses of offensive playmakers Todd Gurley and Brandin Cooks. The Rams added RB Cam Akers, WR Van Jefferson and TE Brycen Hopkins in the draft, with the selection of Hopkins, in particular, hinting that McVay's increased use of 12 personnel last year could continue in 2020. The package provided quarterback Jared Goff a safety valve in tight end Tyler Higbee while adding another blocker for the run game.
The other side of the ball remains the real concern, though. Wade Phillips has moved on, and first-year DC Brandon Staley has to account for the losses of Dante Fowler, Cory Littleton and Eric Weddle, among others. The additions of A'Shawn Robinson and Leonard Floyd help, whereas a healthy John Johnson is a boost for the secondary. However, the loss of Littleton, who racked up 259 tackles the past two years, wasn't adequately addressed. On top of that, Fowler and Clay Matthews combined for 19.5 sacks in 2019, which will partially be replaced by Floyd (18.5 over the past four seasons) and potentially rookie third-rounder Terrell Lewis.
Job Battle
From a fantasy perspective, there's no bigger question surrounding the Rams than "who will inherit Todd Gurley's massive workload in 2020?" Over the past three years, the bell-cow back rushed 758 times, caught 154 passes and scored 54 touchdowns. Unfortunately, the answer to Gurley's replacement is murky, and it's likely that Los Angeles utilizes a backfield committee to start the year.
In fact, coach Sean McVay has consistently hinted toward a multi-back deployment throughout the offseason while also acknowledging the various strengths of each of L.A.'s rushers. Additionally, the league-wide trend of teams moving away from a single runner fits McVay's coaching philosophy.
Rookie Cam Akers seems to be the top candidate to fill most of Gurley's role as the season progresses and be the most productive fantasy asset out of the backfield. However, Malcolm Brown is competent around the goal line and in short-yardage situations, and the Rams traded up to select Darrell Henderson in the 2019 draft. Henderson offers more big-play potential in space and in the passing game than Brown, which adds to the potential for the Rams to use a three-back committee.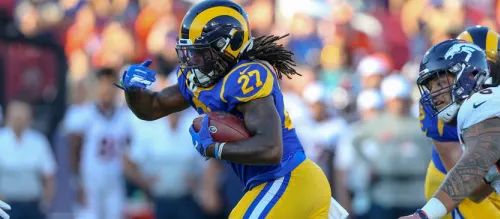 Medical Tent
A high-ankle sprain ended Henderson's disappointing rookie season Week 16, after which he underwent surgery. The 2019 third-round selection only played 95 offensive snaps and received just 39 carries. Expected to be fully healthy for training camp, he projects to compete with Cam Akers and Malcolm Brown for playing time. The crowded backfield likely limits Henderson's fantasy upside, but the explosive threat should carve out a role and could surprise. His talent isn't in question.
The former Gator had surgery in March to repair a Jones fracture in his right foot after the injury was revealed at the NFL Combine. The Rams still selected Jefferson 57th overall, and he's expected to be healthy entering training camp. Jefferson's father Shawn was a 13-year pro and is the receivers coach for the Jets, so it isn't surprising that the 23-year-old is billed as a smooth route runner with soft hands. Still, his 2020 fantasy outlook is uncertain. Jefferson clearly is behind Cooper Kupp and Robert Woods on the depth chart, meaning he'll battle Josh Reynolds for playing time.
Following a standout 2018, Johnson's 2019 season ended after sustaining a shoulder injury Week 6. Barring any setbacks, the 2017 third-round pick will return to an every-down role as Los Angeles' starting strong safety this year. Johnson recorded 119 tackles in 2018 and should again be a reliable IDP contributor this year. Also, for what it's worth, he's in the final season of his rookie contract. Just note, new defensive coordinator Brandon Staley utilized defensive back-heavy packages during his tenure with the Bears, so it's unknown just how Johnson will fit in Staley's schemes.