Which free agents are most worthy of being added?

In a game with so much inherent volatility, fantasy football is often won or lost with "the little things." You need to hit on a good number of your draft picks, of course, but starting the correct player one week or picking up the best free agent another week can be the difference between a fantasy championship and missing the playoffs entirely.

The strategies employed with in-season moves, such as waiver wire acquisitions, are often far different from those during the draft. Whereas much of the draft is an attempt to uncover a "sure thing," there are no such guarantees on the waiver wire. Your goal isn't to find a can't-miss player, but rather to maximize your chances of hitting on what will likely turn out to be a dud. You're truly sifting for a diamond in the rough.

I tracked the top-20 Week 1 waiver wire pickups (in terms of how often they were added) each year since 2008. Of those 80 players, just 25 percent went on to produce starter-quality numbers on the season (in leagues that start one quarterback, two running backs, three receivers, and one tight end). Waiver wire pickups can often hold down the fort for a few weeks while a starter is injured or, more likely, add a few points as capable bye week fill-ins. For the most part, however, even the top free agents in fantasy football - those picked up after the first week of the season - don't produce relevant fantasy stats.

Of course, picking up players early in the season isn't generally about finding replacement players. Often, owners try to stash potential "gold" that could hit it big down the road - a backup running back, for example. In that sense, you want to seek the players at positions with the greatest odds to produce every-week starter numbers.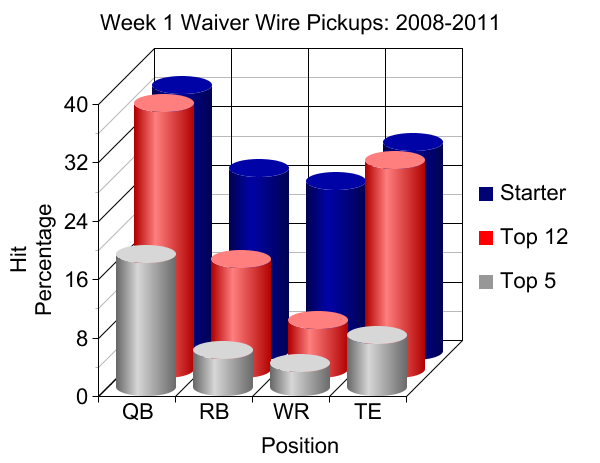 Since 2008, no position has been more productive than quarterback. Of the most-added Week 1 free agent quarterbacks over the past four seasons, more than one-in-three turns into a top 12 player at the position. Right around one-in-six finishes in the top five among all signal-callers. That's serious upside. We see similar production from the tight ends. Just under one-in-three of Week 1 pickups have turned into top 12 players.

One of the reasons free agent quarterbacks and tight ends have been able to produce is there are simply better options left on waivers. In many leagues, there are a handful of owners with just a single quarterback or tight end on their rosters. That leaves players like the 2010 version of Marcedes Lewis on the free agent pile.

Meanwhile, the running back and wide receiver positions get overstocked. Yeah, you start more players at each position, but there's no reason to have seven wide receivers on your roster if you own just a single quarterback. Fewer than one-in-four of the top early-season free agent receivers finish in the top 36 at their position.

As far as running backs go, the abundance of injuries at the position increases the overall upside of free agents. Free agent running backs are about twice as likely as free agent receivers to end up as top 12 players at their respective positions. The downside is that everyone knows when injuries occur. Thus, your odds of striking gold on a free agent running back are primarily influenced by luck, i.e. your waiver position, whereas finding a stud quarterback or tight end on waivers is more about playing the percentages.