The No. 1 Factor in Predicting a Breakout Running Back

Heading into his Week 8 matchup with the Seahawks, no one seemed particularly high on Rams running Zac Stacy. The fifth-round rookie out of Vanderbilt had taken his first 50 NFL carries for 214 yards - a rather pedestrian 4.28 YPC.

There were other reasons to like Stacy, though. I did a pre-draft scouting report on the running back in which I said this:

On film, it's hard not to draw a comparison between Stacy and Ray Rice, although Rice is a faster player. The best comparison might very well be this one:

Zac Stacy: 5-9, 216 pounds, 3,143 yards, 5.4 YPC, 4.55 40-yard dash, 6.70 three-cone drill, 4.17 short shuttle, 27 reps

Player X: 5-9, 215 pounds, 3,431 yards, 5.6 YPC, 4.55 40-yard dash, 6.79 three-cone drill, 4.16 short shuttle, 28 reps

So who is Player X? Another late-round running back? Nope, it's 2012 first-rounder Doug Martin - the same Doug Martin who rushed for 1,454 yards and caught 49 passes as a rookie.

Martin doesn't look so hot right now, but the point is Stacy possesses the requisite physical tools to succeed in the NFL. He's not blazing fast, but he's fast enough, given his weight, to be productive.

But here's the real reason we should have foreseen Stacy's Week 8 breakout for 134 yards and Week 9 outburst for 127 yards and two scores: he started to get more carries.

I've often talked about the importance of a heavy workload for running backs. As much as I seek running backs with speed, the majority of running back fantasy points come courtesy of a heavy workload.

If you think about it, that makes sense. The deviation in running back efficiency is pretty small, with below-average backs checking in under 4.0 YPC and the NFL's leaders usually hovering in the 5.5 YPC range.

Meanwhile, the difference in carries for two starting running backs can be substantial. In 2012, for example, Adrian Peterson led the league in rushes with 351. There were only 23 other backs in the whole league who had even half that many carries. Only six backs had 80 percent as many carries as Peterson.

So we know a heavy workload is important - more important than talent, in fact, outside of talent being a factor in playing time (which isn't really a huge deal because NFL teams are horribly inefficient at understanding which running backs are the most valuable).

But how much? How much do carries matter compared to YPC when it comes to a running backs' fantasy status?

I compiled the carries and YPC for the top 120 backs from the past four seasons to examine the correlation between the two stats and a running back's year-end rank.

Here are the running backs charted in terms of YPC: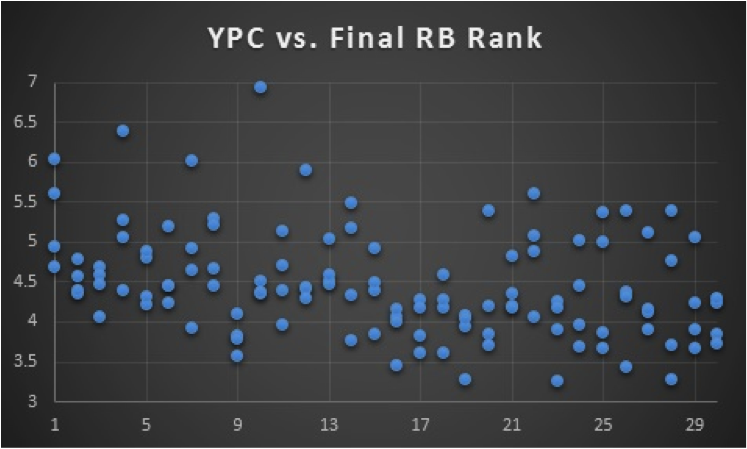 It turns out that the coefficient of determination for YPC and running back fantasy rank is 0.33. That means that there's a moderately strong relationship between YPC and fantasy points; as YPC goes up, final rank improves. But as you can see by the scattered nature of the dots in the plot, the relationship isn't overwhelmingly strong.

Let's take a look at carries versus final rank: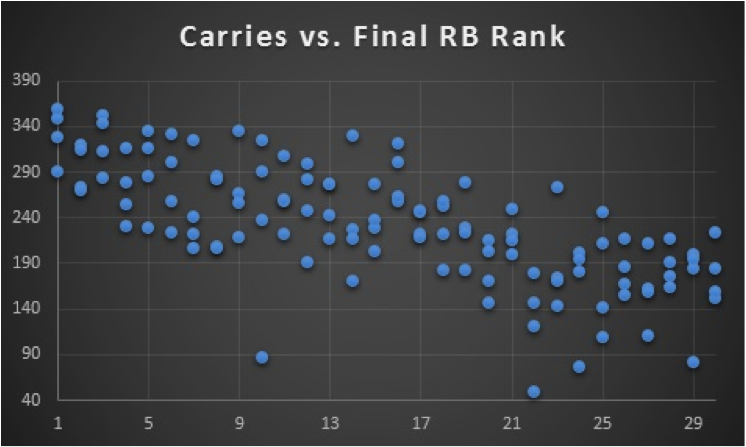 Here, you can see a much stronger relationship. Outside of a handful of outliers (I'm looking at you Darren Sproles), all of the running backs fall within a pretty narrow range. The strength of this correlation is .71. That's more than twice as strong as the relationship between YPC and running back success.

Whether you play season-long leagues, and you're looking for a spot start or daily leagues and you need a cheap running back option, the key is to search for players like Tampa Bay's Mike James who are going to see big workloads.

That might seem intuitive, but it's probably not as obvious that the workload matters so much more than past efficiency that, on a week-to-week basis, you can almost ignore talent solely in favor of opportunity.

Jonathan Bales is the author of the Fantasy Football for Smart People book series. He also runs the "Running the Numbers" blog at DallasCowboys.com and writes for the New York Times.