With two weeks in the books, the NC Dinos continue to be on a roll and the SK Wyverns, who tied for first in the regular season last year, remain in free fall, having lost nine in a row to fall to 1-10. Let's start with the Wyverns for this week's Notes column.
What's wrong with the Wyverns? They're last in the KBO in hitting, scoring a mere 3.09 runs per game while posting a .230/.293/.355 line. Their eight homers so far tie them with Samsung for eighth in the league (both ahead of Hanwha's mere four homers). They are tied for last in the league with 30 walks - also with Hanwha. This was expected with Hanwha, who finished 58-86 last season and had a bottom-three offense. SK, on the other hand, collectively hit .262/.334/.384 with 117 homers, good for third in the KBO.

What's scary is how widespread the team slump has been, as only Dong-Min Han has truly been immune. Han has been incredible, hitting .351/.409/.811 with five of the Wyvern's eight homers. Jeong Choi and Jamie Romak, their top two hitters from last season who combined for 58 homers, have just one homer apiece so far this year. Romak at least appears to be close, hitting .293/.356/.463 with four doubles, but Choi has been lost so far, hitting just .167/.318/.306. Both Choi and Romak have 10 strikeouts already. They had a critical injury just three games into the season, when catcher Jae Won Lee fractured his thumb. Lee hit .268/.329/.390 last season with 12 homers and 75 RBI. His replacements, Hyun Seok Lee and Hong Gu Lee are hitting a combined .161 with one extra base hit, one RBI and one run between them. This is a slightly older team, with an average age of 30.0 (with most of the players starting on the wrong side of 30) - I wonder if that has contributed to their slow start.

As bad as the bats have been, the arms might be worse. SK has allowed 6.45 runs per game, second to last in the league, weirdly ahead of Doosan, the defending champs and a team that's typically played in a pitcher's ballpark. Their collective K/BB ratio is second lowest in the league at 1.74. The primary reason for the pitching's demise isn't hidden - three of their top five starters have departed, and their replacements haven't filled the bill. Kwang-Hyun Kim (17-6, 2.51 ERA) is with the Cardinals (and I like him as an endgame pick in MLB Mixed leagues), Angel Sanchez (17-5, 2.62 ERA) signed with the Yomiuri Giants of the NPB, and Henry Sosa (9-3, 3.82 ERA) is back with Fubon of the CPBL. Those are some big shoes to fill! And they haven't been filled just yet. Nick Kingham is 0-2 with a 7.06 ERA and 1.96 WHIP, and now is on the IL with an elbow injury - those two sets of facts are likely related. Ricardo Pinto was strong in his debut against Hanwha, but his last start against LG was a disaster - he allowed 10 runs (albeit only three earned thanks to one ill-timed error in an eight-run inning), and has walked seven against four strikeouts in 11.1 innings. They've had more success from in-house replacement Tae Hoon Kim, who is 0-1 despite a 1.38 ERA and 0.77 WHIP. Kim worked out of relief last year and displayed an ability to miss bats (76 K in 69.2 innings), though understandably that K percentage has dropped with the move to the rotation.

Last week, we took a quick look at the run-scoring environment in the KBO, and noticed how power was considerably up so far, leading to possible speculation that the ball was livelier again after it was purposefully "de-juiced" in 2019. How has that held up?

2018 - 5.55 R/G, .286 BA, 1.22 HR/G, 7.5 K/9, 3.3 BB/9
2019 - 4.55 R/G, .267 BA, 0.70 HR/G, 6.8 K/9, 3.3 BB/9
2020 - 5.43 R/G, .272 BA, 1.13 HR/G, 6.7 K/9, 3.4 BB/9 (after Week 1)
2020 - 5.22 R/G, .274 BA, 1.00 HR/G, 7.0 K/9, 3.3 BB/9 (after Week 2)

These starts were through the Sunday games and did not include Tuesday morning's offensive explosion. But at least prior to Tuesday, the power stats were trending back closer to 2019's numbers, though that wasn't the case with the batting average. The Yonhap News Agency ran a great article about this on Monday. The league ran its first tests of the baseball on May 7, and concluded that "... it meets all required specifications in terms of is coefficient of restitution, circumference, weight and seam height."

Should we take the KBO at face value with this statement? Honestly, I have no idea. They were seemingly up front about the change in the ball last season, so I don't have a particular reason to doubt them. There's a lot more interesting details to the article regarding exit velocity - it's up compared to last year, but not on homers interestingly enough. As they say, read the full article.

My favorite stat of the season? Check out this gem about the NC Dinos' Min Woo Park:
The crazy thing about the Dinos' quick start is that they haven't really peaked offensively. Aaron Altherr has two homers but otherwise has struggled to get out of the gate, hitting just .206/.289/.412 with one walk against 12 strikeouts. Superstar catcher Eui Ji Yang has been fighting a hamstring injury and entered Tuesday's game hitting .294/.375/.441 - good, but a far cry from his .354/.438/.574 line from last year - he had 20 homers last season but hasn't yet homered this year. And first baseman Chang Min Mo, who has posted an .800+ OPS the last four seasons, is out for at least two weeks with a shoulder injury and only has 11 plate appearances. Their pitching will probably come back to earth a little, but that could be buffered some by a surge with the bats.
Roberto Ramos remains a free square on DraftKings. Entering Tuesday's play, he was hitting .378/.477/.784, yet still cost only $3,100. I get it - first base is loaded, but at least on DK you're getting nearly the same production from Ramos as you are from Jose Fernandez for half the price. Plus, you can still use Fernandez at 2B, plus both Baek Ho Kang and Jae Hwan Kim in the outfield and still roster Ramos. Unless you want to go with a full Doosan stack and include Jae Il Oh, who is 1B-only, Ramos is very easy to use whenever he's facing a RH pitcher.
My "second start" theory regarding Casey Kelly and Tyler Wilson mostly worked out. Kelly was superb against Kiwoom, throwing six shutout innings to get the win. Wilson got seven strikeouts in six strong innings against SK but didn't get a decision. The common thread between Kelly and Wilson was that they both faced NC in their respective first starts. It didn't quite work out for everyone, though. Kia's Drew Gagnon failed to take advantage of another plus matchup, this time against Hanwha, allowing four runs on seven hits and a walk over five innings to get the loss. On the bright side, Gagnon did strike out nine batters. Gagnon draws Lotte (and Dan Straily) on Wednesday for his third start. That's one of three Wednesday matchups I'm looking forward to seeing. NC-Doosan again, as Chang-mo Koo, who is off to the hottest start so far, matches up against Chris Flexen. And the LG-Samsung matchup has two interesting pitchers in Wilson vs. Chae-heung Choi, who has 12 strikeouts in 11 innings so far. Finding those pitchers who can miss bats has been a rare commodity so far in the KBO.
Looking for a quick recap after the nightly (er, morning) action? Check out Sam Pasco's "The KBO Show," where he does a quick four- to five-minute recap of the day's slate.
Also, this happened Tuesday morning - hopefully a few of you got to see it, either early on the East Coast or on the replay Tuesday afternoon!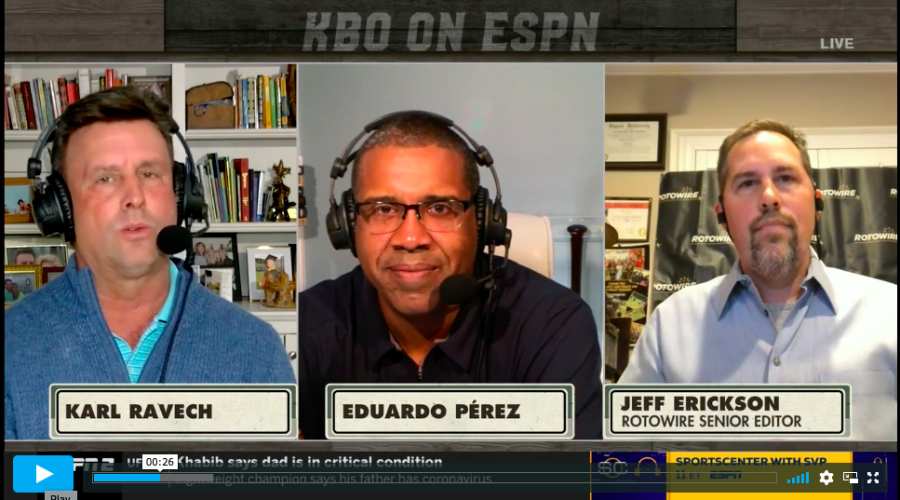 This was a total thrill - I've done very little live television lately, but I'm forever grateful for my earliest opportunities, when Brian Kenny and Michael Kim used to have Chris Liss and me alternately on the Hot List on ESPNews. That experience helped ease my nerves last night! I'm not sure I belong in the same class of some of their other guests on the broadcast, but it was really fun to talk about the fantasy aspect of the KBO.