This article is part of our DraftKings Fantasy Soccer series.
MATCHES (EDT)
For detailed stats and odds, check out the
FORWARDS
Erling Haaland, BVB at WOB ($9,700): We'll start the discussion with Haaland, who scored yet again last week, giving him eight goals in six Bundesliga appearances (four starts) since joining Borussia Dortmund in January (he also scored two goals in two Champions League games). Dortmund are the biggest favorite on the slate and have the highest implied goal total, and no player on the slate has higher anytime goal scorer odds than Haaland, whose 59.18 percent chance of scoring is more than 10 percentage points higher than the next highest player, teammate Jadon Sancho ($10,200). Only Sancho costs more than Haaland, and his role on set pieces usually makes him a more viable cash-game play, in theory. The difficulty with Dortmund, something I've mentioned in a few places, is that they just don't produce enough floor points for their high prices; you're basically just paying for their ceilings. Then again, they reach their ceilings pretty regularly. For example, they beat FC Schalke 4-0 last weekend (no team had more than four goals) but scored the 10th-most floor points among all 18 Bundesliga teams. To belabor the point, here's a breakdown of the last 11 gameweeks and each team's corresponding floor points over their most recent 10 games in that span: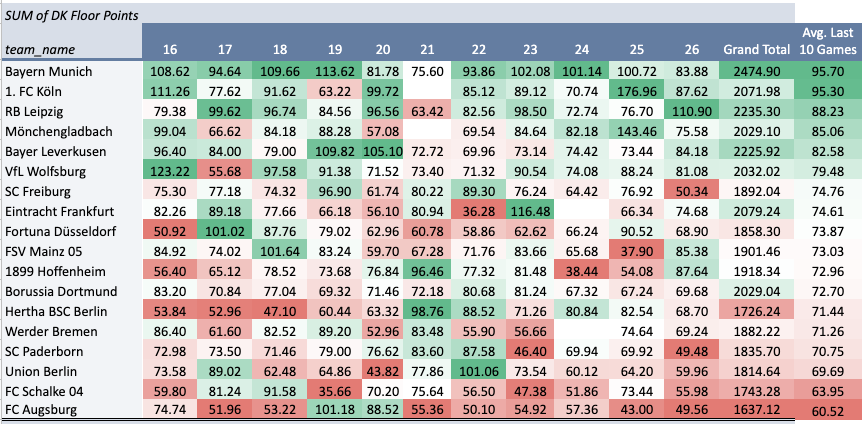 What we see is that Dortmund averaged the seventh-fewest floor points in the league, but fantasy players still benefited (or, you know, they would have if there were Bundesliga contests) by 28 goals and 22 assists over that span. The main takeaway is that Dortmund are a much better GPP team than cash because they simply don't produce enough fantasy points if they don't put up lots of goals. And importantly for Saturday, they are playing a Wolfsburg defense that's allowed the fourth-fewest goals and third-fewest assists this season. If you think BVB keep flying, Haaland and Sancho make the most sense, with Thorgan Hazard ($8,400) a cheaper forward option who is significantly less likely to get on the score-sheet. And with Wolfsburg not really offering much in terms of cash-viable plays because they're facing a Dortmund defense that's allowed the third-fewest shots, fewest shots on goal, second-fewest crosses and third-fewest chances created, you could justifiable remove them from the player pool.

Kai Proger, SCP v. TSG ($8,100): Moving away from Dortmund and Wolfsburg brings the realization that there are a number of very cash-game friendly forwards. He disappointed last week, and he's the most expensive of this group, but Proger should definitely be a target as the main set-piece taker for a home side facing a defense that's allowed the fourth-most crosses in the Bundesliga this season and second-most among teams on the slate. The other side of Proger's game shouldn't be ignored, with Robert Skov ($7,500) responsible for most of Hoffenheim's set pieces and now lining up against the team that's allowed the most corners and sixth-most crosses this season. Skov's numbers are certainly what we look for in a cash-game forward, and Hoffenheim are favored despite losing 3-0 last week and playing away this weekend. And speaking of that 3-0 loss, Skov still managed to score 13.8 fantasy points thanks to three shots, two chances created, seven crosses, three tackles won and a foul drawn. The last guy in this cash-game group is SC Freiburg's Vincenzo Grifo ($7,900), who shares corners and actually picked up an assist off one last week against RB Leipzig, helping him reach 13.6 fantasy points in a tough matchup. Grifo's 6.31 crosses per 90 are the fifth-most among players on the slate who have played at least 300 minutes, while only five players average more chances created per 90 and eight average more shots. You could make an argument for playing all three guys in this group, though there are also a good number of midfielders who are excellent cash plays, so we might not see a ton of ownership concentration in double ups.
Alassane Plea, MGB v. LEV ($9,000): Plea leads the line for the fourth-highest scoring team in the Bundesliga, and he comes in after making the score-sheet in five of his past six league games. He was excellent Monday against Eintracht Frankfurt, scoring one goal on five shots (four on goal), a result that left him with double-digit fantasy points for the ninth time in his last 10 league appearances. He is the most expensive forward on the slate, so you're going to have to pay up for his ceiling, but his shot floor will make him worth the price if he can find the back of the net. Admittedly, his anytime goal scorer odds of +165 aren't that high, but the Monchengladbach v. Leverkusen match has the highest total on the slate, and no one has better odds to score in the game. If you prefer the other side, Lucas Alario ($6,500) actually has the same odds as Plea and averages more shots per 90 minutes (3.75 versus 3.33), though he's only started nine times this season.
MIDFIELDERS
Kerem Demirbay, LEV at MGB ($8,300): Bayer Leverkusen are slight away underdogs against Borussia Monchengladbach, but the game has the highest goal total on the slate. Both teams are high scoring, with Monchengladbach ranking fourth with 52 goals this season and Leverkusen one spot behind with 49. Understandably, their attacking floors are solid, as both are in the top six in shots and shots on goal, while Leverkusen are third in crosses and chances created. Demirbay takes a majority of Leverkusen's set pieces, sharing with Nadiem Amiri ($7,300), and he showed last week just how effective he can be in those situations, picking up an assist on two chances created while also scoring a goal on his lone shot against Werder Bremen. It's a pretty high price for an underdog set-piece taker, but Demirbay in an expected high-scoring game should definitely be in the cash and GPP discussion. And if you want both sides of this one, Jonas Hofmann ($7,700) has been the most consistent free-kick taker for Borussia Monchengladbach, though his salary feels a bit high when compared to the midfield/forward eligible players discussed above.
Leonardo Bittencourt, SVW at SCF ($6,800): Bittencourt has taken over Werder Bremen's set pieces recently, though even his split before equated to plenty of fantasy points, as he's reached at least 9.9 in six of his last nine games, including last weekend against Bayer Leverkusen when he had one assist on two chances created, two shots, six crosses, two tackles won and two fouls drawn. That all-around production should continue against SC Freiburg, who have conceded the most shots, most chances created, second-most corners and fifth-most crosses in the Bundesliga this season. We shouldn't ignore that his match has the lowest total on the slate, but there should be plenty of floor points scored.
Dennis Geiger, TSG at SCP ($3,800): It seems silly to already be thinking about lineup rotation, but after a two-month league suspension and midweek matches coming up next week, we could see Geiger get a start for Hoffenheim. He was a regular starter earlier this season and had a significant role on set pieces, and we even saw him take two corners in 24 minutes off the bench last week against Hertha Berlin. Skov is still expected to get some opportunities, but Geiger would be a huge steal if he's in the starting XI because he creates chances and sends in crosses when he gets the appropriate playing time. You can certainly make the argument that he may not play 90 minutes if he starts because teams are allowed up to five substitutions, but his low salary greatly alleviates that concern and he's worth the risk with set-piece upside. And if you want a solid floor but no worry about set pieces for Hoffenheim, Pavel Kaderabek ($5,900) continues to be slightly under-priced given his consistent production.
DEFENDERS
Christian Gunter, SCF v. SVW ($5,800): Gunter is the second-most expensive defender, but that happens when you have a role on set pieces and lead all players on the slate in crosses per 90 minutes (8.27) while ranking first in chances created per 90 (2.16) among players at his position. He doesn't have the upside of Grifo, who he shares corners with, but Gunter also saves more than $2,000 in salary. And speaking of salary, if you have extra money and are thinking about paying up for Ramy Bensebaini ($6,400), the most expensive defender, just know that the increase in price seems only there because he took a penalty last week and not because his floor is remotely close to Gunter's.
Marco Friedl, SVW at SCF ($4,000): Friedl started last week in place of the injured Ludwig Augustinsson ($5,100), who would make for a fine play if he starts in his return from a thigh injury. Friedl's stats aren't overwhelming, but he's usually good for a few crosses and some defensive stats in matches against non-elite teams (he put up only 1.1 fantasy points in a 4-1 loss to Bayer Leverkusen last week). Augustinsson is definitely more of a crosser, but he's also only played eight games this season due to various injuries, so starting him in a return from one of those ailments seems questionable given the quick turnaround to their next match. Friedl's salary is really the best part of rostering him while not totally punting the spot. Another option in the price range is Bayer Leverkusen's Daley Sinkgraven ($4,100), who plays as an outside back for the highest-crossing team in the league, though he has no chance at set pieces.
Jamilu Collins, SCP v. TSG ($4,400): Collins is a basic fullback who contributes offensively with crosses, chances created and fouls drawn while also adding a solid number of tackles won and interceptions. There is nothing overly flashy about his production, though he scored at least 7.8 fantasy points in his last five starts when he went 90 minutes before last week. The benefit Saturday is that he's facing a Hoffenheim side that's allowed the second-most crosses and third-most chances this season, so he could quietly make value once again and allow you to spend funds at the more attacking positions.
GOALKEEPER
Koen Casteels, WOB v. BVB ($4,100): It's a bit nerve-racking to consider rostering the goalkeeper against the team that came out blazing last week, scoring four goals in a what-was-expected-to-be-tight derby, but using the cheapest goalkeeper while fading the team he's facing will always be a popular strategy. Borussia Dortmund actually have the highest clean sheet odds on the slate, though paying $5,500 for Roman Burki seems like a poor use of funds when there are players worth paying up for at the other positions. If you don't want to tempt fate with Casteels, who is also the cheapest home goalkeeper, Leopold Zingerle ($4,300) of Paderborn also has the benefit of being at home, but he's a considerably smaller underdog while facing a team that was shut out last week.
The author(s) of this article may play in daily fantasy contests including – but not limited to – games that they have provided recommendations or advice on in this article. In the course of playing in these games using their personal accounts, it's possible that they will use players in their lineups or other strategies that differ from the recommendations they have provided above. The recommendations in this article do not necessarily reflect the views of RotoWire. Andrew M. Laird plays in daily fantasy contests using the following accounts: FanDuel: kingmorland, DraftKings: andrewmlaird, Yahoo: Lairdinho.