This article is part of our Collette Calls series.
Tout Wars weekend is in the books and as always, a fantastic time if not abbreviated for me since I had to hightail it out of town to get home for my home NL keeper auction Sunday. Last year, I had a
detailed plan
for attacking the auction The plan was altered early in the auction when
Chris Sale
came to me on a discount, but the offense fell apart when the $63 I spent on Byung-ho Park,
Mark Teixeira
, and Delino DeShields Jr (no, I was not day drinking) went much worse than expected. Ironically, two of those three players are the talk of this spring training, so I guess I was too early on them, but since I won the bid it means others were just one dollar less on that same player.
In the case of Park, I know Jeff Erickson was in on that bid with me which is appropriate considering he and I brought up the rear in the standings last year as we both suffered from a similar lack of at bats. Single league formats necessitate you compiling as many at bats as you possibly can because you cannot win without it. You could punt steals, but lack of at bats means low production in multiple categories. Last year, Jeff and I were the only two teams with fewer than 6000 at bats and his were due to injuries while mine was due to ineffectiveness. When we saw one another on Friday evening, he made mention to me that he felt the two of us had similar plans for the auction the next morning. Honestly, that gave me some pause because I knew I would be competing with Glenn Colton and Rick Wolf on similar players as well as Steve Moyer because both owners tend to go around $200 on hitters, but adding a third competitor to that pool was going to make it that much tougher to execute the plan.
The 2017 plan was multi-faceted and one that I had been tweaking throughout the offseason. The goal on offense was simple at a high level: accumulate at bats. I thought I had done so last year, but in hindsight, taking on the lack of track record in Park, DeShields, and Tyler White without doing anything to offset those plays in the reserves cost me. I wanted to avoid part-time players this time around and go after those with track records or at least a decent recent sample size of improvement while getting speed and leaning toward experienced players over shiny new toys.
On the pitching side of the ledger, the Tout Wars rules ultimately decided what I would do. The initial plan this offseason was to draft a Tier 1 closer and a Tier 2 closer and then grab seven relievers projected to work in swing roles with good ratios who would get me strikeouts and a shot at a cheap starter or perhaps more saves.
This plan essentially builds around the theory that baseball relief habits may be changing, which is something that Ben Lindbergh wrote about at The Ringer. Baseball is a copycat sport, so what works for one team is quickly copied by others. Pitchers that flourished in this role last year were guys such as Chris Devenski, Brad Hand, David Phelps, Hector Neris, Carlos Torres, Joe Blanton and Brad Brach. The problem with this strategy is that many were National Leaguers and when I ran the numbers of the guys I liked in the American League, I couldn't come within 100 innings of the 950 innings minimum that Tout Wars requires. The plan was then altered to include one starter from Tier 2, one closer, two speculative relievers and five back-end starting pitchers with upside.
I budgeted $205 for hitting and $55 for pitching and told myself I would adjust to $200/60 if need be in the auction but would not make the mistake from last year and end up with a big name just because I liked the price early in the auction. This is what that budget looked like by position when the auction began: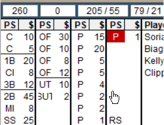 Here is how the plan went by position. I'll show what I had budgeted, who I had targeted, and the italicized player(s) in each table are the players I actually rostered.

Catchers - $15 budgeted

Uh oh! The plan got off to a poor start because I did not get a starting catcher and ended up with two reserves. Ramos went much later in the auction when I was unable to bid $5 so I waited until the end of the draft to throw two darts at the position. The catching prices were consistently above what I projected in terms of dollar values so I ended up moving the money around the budget even though I was very active in all of these bids. I went $11 on Vogt and I believe said the same or up to $12 on Castillo.
My projections for Lucroy and Sanchez were conservative, but even that middle tier of catchers went high as we saw nine catchers go for a double-digit price. I need to re-visit how I value catchers as this is the second consecutive season I've come out of the draft with two backups (J.R. Murphy and
Hank Conger
in 2016).
Corner - $40 budgeted
Ramirez was the 33rd player off the board, and I went over budget for him because I had three players targeted for the spot and Abreu was already off the board and went $5 over what I projected. I wanted to avoid losing out on target number two and then being forced to pay more for the final target. Had I gone $23 on Hosmer, I may or may not have won him, but given I am already invested in Ramirez in LABR, I did not mind taking him here as he should have plenty of RBI opportunities in a stacked Boston lineup this season.
Third base was for Valencia since he has 1B/3B eligibility and he has been announced as the starting first baseman in Seattle. Valencia is known as a guy that rakes lefties and has issues against righties, but that has changed in recent seasons. Over the past two seasons, Valencia has been above league average against both righties AND lefties. The table below shows how he has stacked up against righties over the last two seasons against two mystery players:

| | | | | |
| --- | --- | --- | --- | --- |
| PLAYER | PA | OBP | SLG | wOBA |
| Danny Valencia | 602 | .328 | .468 | .341 |
| Player B | 895 | .328 | .456 | .335 |
| Player C | 1026 | .315 | .470 | .333 |
Player B is
Adrian Beltre
and Player C is
Evan Longoria
. 2016 was the first time in five seasons Valencia eclipsed 400 plate appearances in a season. The Twins allowed him over 600 plate appearances in 2011 but his numbers were terrible because he could not hit righties. The A's allowed him to play mostly everyday and while his slugging dipped a bit, his average and OBP held from 2015.
Profar was the target at the corner because he qualifies at three positions on draft day and could pick up more very quickly into the season and thought I could fall back onto Pearce if Profar did not work out since he too had multi-positional flexibility including second base since Tout Wars uses a 15-game rule on draft day. Ideally, I could roster both – one at CI and one at MI – and have multiple moving parts throughout the season. I was the penultimate bid on Profar and Pearce, but was not going to reach for either guy that was not guaranteed a starting position despite my love for their positional flexibility. Instead, I spent the money on Gurriel who does have a job and is in a very nice lineup albeit in the bottom third of it.

Middle Infield - $78 budgeted

| | | | | | | | | |
| --- | --- | --- | --- | --- | --- | --- | --- | --- |
| PLAYER | BUDGET | AUCTION | AB | R | HR | RBI | SB | OBP |
| Jose Altuve | 45 | 45 | 633 | 97 | 18 | 83 | 30 | .373 |
| Brian Dozier | 30 | 30 | 609 | 100 | 31 | 86 | 16 | .318 |
| Elvis Andrus | 25 | 23 | 532 | 73 | 7 | 61 | 27 | .343 |
| Tim Anderson | 20 | 21 | 585 | 78 | 11 | 47 | 25 | .296 |
I did not list the middle infield targets since they were mentioned in the last paragraph. This was the simplest part of the plan; if I was going to spend over $200 on hitting, I had zero excuse not to roster Altuve or Trout. Altuve went $43 last year and earned $45 for Seth Trachtman's league-winner. He and I were the final bidders on Altuve and I got to $45 before he did perfectly willing to let him go at $46. Had that happened, I would have targeted Dozier and then applied the savings to utility and chased
Kendrys Morales
whom I believe is in for a very strong year in Toronto. In this instance, I got both targets I wanted and even saved a couple of bucks with Andrus. He was playing hurt in the second half with a sports hernia and it prevented him from stealing his normal frequency of bases despite the fact he was on base 38 percent of the time in the second half of the season. I ended up with
Tim Beckham
at middle infield very late in the auction as the 235th player selected. Beckham is going to play a lot with
Matt Duffy
out to begin the season and I liked his upside out of the remaining choices of he,
Eduardo Escobar
,
J.J. Hardy
and
Adam Rosales
.
Outfield - $60 budgeted
The plan was transparent with Cruz because when you are spending $200, you need to get a lot of offense and Cruz is a top three outfielder. The rest of the outfielders all have the same profile: strong-side platoon players who play for teams smart enough to platoon them against lefties. Here is how my trio of guys has performed against righties over the past two seasons:
Smith and Dickerson are going to hit high in the lineup against righties and in Dickerson's case,
he may even lead off
. Dickerson also
closed out the season on a tear
that was hidden by his terrible start to the season. I don't care what team he plays for; I feel he is very undervalued this season. Reddick I like because of the lineup and the ballpark, but had I known Joyce would stay out there as late as he did in the auction and I could have purchased similar skills for half the price I absolutely would have let Reddick go at $12.
Utility/Swing - $12 budgeted

| | | | | | | | | |
| --- | --- | --- | --- | --- | --- | --- | --- | --- |
| PLAYER | BUDGET | AUCTION | AB | R | HR | RBI | SB | OBP |
| Carlos Beltran | 0 | 10 | 495 | 61 | 21 | 74 | 1 | .327 |
| Cameron Maybin | 0 | 7 | 455 | 64 | 7 | 51 | 20 | .332 |
| Mitch Haniger | 10 | 11 | 470 | 58 | 18 | 61 | 7 | .315 |
Given that I have spent the better part of this offseason professing my love for
Mitch Haniger
, $10 of that was absolutely earmarked for him with the remaining money on something that may fall late. Haniger came up as the 110th player in the auction and Nando Difino and I got into a chase for him and I may have ended up with him had I jumped the bid from $9 to $11, but lost the game of chicken and instead ended up with a discounted Beltran (projected at $14) later in the draft. I nearly went with Joyce at the other spot once I moved the money from catcher, but instead jumped in on Maybin's speed as I felt I needed another stolen base source to compliment the speed that until then was concentrated on my middle infield.
Pitching - $55 budgeted
I explained the plans for the pitching staff earlier, but I need to explain how I ended up with the guys I did end up with. My primary "big" starting pitching target was
Cole Hamels
, but I ended up with Stroman simply because I jumped into the bid when it was at $15. My goal was just to push things along because I figured he would get to at least $18 if not $20 as he did last year. I was rather happy to get Stroman at that price as he was the second starting pitcher off the board and went for the same price that
Felix Hernandez
went just three nominations earlier. The issue was Hamels came out 44th and also went $16. Hindsight is 20/20, but like the first base situation, it is important to grab the skills and not the name if the price is right.
| | | | | | | | |
| --- | --- | --- | --- | --- | --- | --- | --- |
| PITCHER | NOM | AUCTION | IP | W | K | ERA | WHIP |
| Cole Hamels | 44th | 16 | 206 | 14 | 202 | 3.58 | 1.26 |
| Rick Porcello | 63rd | 17 | 207 | 16 | 169 | 3.70 | 1.17 |
| Jose Quintana | 82nd | 17 | 209 | 13 | 179 | 3.51 | 1.22 |
| James Paxton | 74th | 16 | 175 | 12 | 171 | 3.53 | 1.24 |
| Marcus Stroman | 8th | 16 | 197 | 13 | 167 | 3.75 | 1.23 |
I would have happily taken any one of those five as my staff ace on my limited pitching budget, but I am a big believer in taking the price as it presents itself. The other starting pitchers were all coming from fourth or fifth starting spots on their respective clubs as well as long relievers with skill upside to perhaps move into the rotation.
The pitcher not on that list that I ended up with was
Blake Snell
, who I rostered for $6. He went for $9 in LABR and he was the 172nd player nominated. I said $6 to push the bidding up while thinking that, at worst, I just bought a lot more strikeouts while adding an extra $4 to my staff when I was already $2 over plan since I blocked Glenn Colton and Rick Wolf from rostering
Joe Kelly
and
Brad Brach
at $1. I like both relievers in the current roles on the club even if neither is going to get more than a small handful of saves. I may regret letting Karns go at $4 when I had the money to go $5, but I sensed Podhorzer was not going to stop there and at that time, I was not planning on spending more than $9 on my remaining three pitching spots. Overall, I leveraged the skills and used the pitchers' 2016 Deserved Runs Allowed (DRA) measures to look for pitchers that should have been better than last year's results.
Lastly, the closer role was filled with Cody Allen at $18, although he was not my primary target. I had four names listed for the spot (shown in table below) and Allen happened to be the first of them that came out after we had seen Kelvin Herrera go $18, Edwin Diaz go $20 and immediately after Aroldis Chapman went for $25. I had budgeted up to $20 for the spot hoping to get Diaz or Giles but had gotten caught in the odd-numbered bids on Diaz and did not feel like paying $21 when there were three other names out there. I did not nominate Allen, but he ended up on my team because I got into the even-numbered bids this time but would have bowed out had it gone to $19 and tried again with the remaining names.

Had I known I would have been able to get the latter two at the same price as I ended up for Allen, I would have dropped out at $16 but my fear was that my love for Giles would be leveraged against me leaving me chasing Kimbrel as the best remaining high-strikeout reliever on the board.
The final tally was $199 on hitting and $61 on pitching. I grabbed Jose DeLeon in the reserves as an insurance policy against Snell and Andriese. I also took JaCoby Jones, who may see more playing time with J.D. Martinez on the disabled list to begin the season. Jones is having a good spring and qualifies at 3B and CI with outfield eligibility coming along later this month. My last two reserve picks went to Jesse Hahn and J.T. Chargois, both of which were farmed out by their respective clubs the day after the auction.
Can I finish higher than 11th place this year? Can I once again at least beat Jeff Erickson? Stay tuned throughout the season as I reference the ups and downs of my squad to help you do improve your own.