Jon Lester has been someone I have looked at a few times in 2013. Heading into this season, he was just one of four starting pitchers whose strikeout percentage had dropped each of the previous four seasons joining Tim Lincecum, Wandy Rodriguez, and Ricky Nolasco.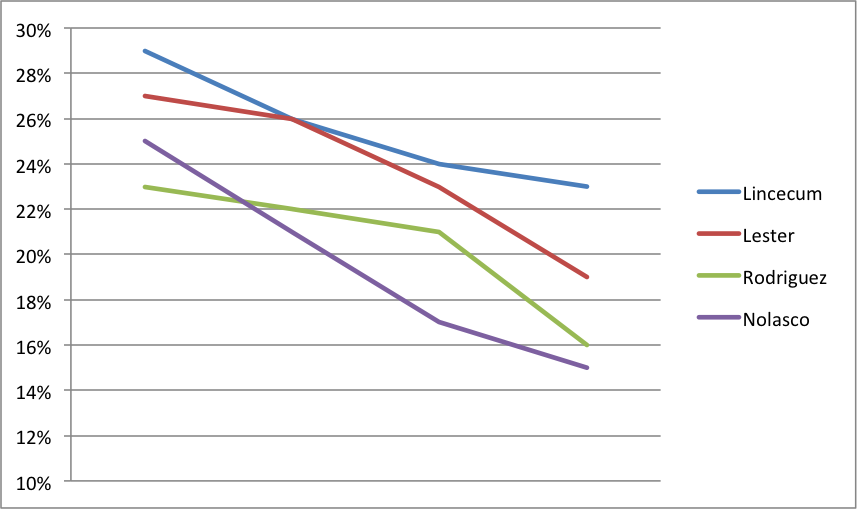 There have been several pitchers that have stopped such slides with Johnny Cueto, Chad Billingsley, and Bronson Arroyo each doing so in 2012. The fact two of those three players have been hurt most of all of 2013 should not worry you as there are 29 other examples of starting pitchers stopping strikeout slides and 75 examples dating back to 1970. This season, Lester has only marginally improved his strikeout rate in what looks like a disappointing season for him as his ERA is once again over 4.00 and his WHIP is 1.33.

Yet, strange things are afoot at the Circle K for the southpaw in the second half of this season.

Heading into this season, Lester supporters were optimistic a reunion with former pitching coach John Farrell would help the pitcher get back on the right track. After Farrell left the Red Sox to manage in Toronto, Lesterís overall numbers took a turn for the worse, some of which was his own doing. Lesterís biggest issue was that he got very cutter-happy and became rather predictable against righties and they inflicted a lot of damage against him. This spring, Lester looked fantastic in the Grapefruit League striking out 20 batters and allowing just eight hits over 24 innings. He continued that success over the first few weeks of April striking out 23 batters while walking just four and allowing 19 hits and five runs in 26 innings. Then, what looked like a bandwagon gaining steam suddenly saw all of its wheels fall off.

From his fifth start of the season into the All-Star break, Lester won just five of 16 starts and posted a 5.33 ERA, a 1.50 WHIP while batters hit .276 with a .809 OPS. His 18 percent strikeout rate was better than 2012, but he had a 3.2 BB/9 and was allowing 1.3 home runs per start doubling down on his self-inflicted damage. Lester limped into the All-Star break with an 8-6 record, a 4.58 ERA and a 1.37 WHIP. Whatever he did over the break needs to be bottled up and sold in stores because Lester has been a stud so far in the second half.

He has won three of his six starts so far and has a 2.52 ERA and a 1.20 WHIP during that span. In his most recent game, he nearly threw a complete game shutout against the Giants which came on the heels of a quality start no-decision against Toronto. His only rough outing of the stretch game against a hot Arizona team on August 2 where he allowed 11 hits in six innings. In his six second-half starts, Lester has held batters to a .250 average but more importantly, just a .680 OPS. He has drastically reduced his walk rate from 9.4 percent to 4.8 percent while also keeping the ball in the park.

Lester allowed 15 home runs in 437 first half plate appearances but has allowed just three in the second half to the 166 batters he has faced. Oddly enough, he is doing this despite the fact he is permitting more flyballs. During the first half of the season, Lester posted a 48 percent groundball rate and a 33 percent flyball rate but those rates have changed to 39 and 38 percent in the second half of the season.

The secret is in the pitch mixture. Lester threw 52 percent fastballs and 21 percent cutters in the first half but has adjusted those rates in the second half throwing fastballs 62 percent of the time and cutters just 13 percent of the time. Last month, Evan Drelich of MassLive.com interviewed both Farrell and Lester about that strategy.

Farrell:

"If you go back and look at the last couple of starts, he's probably changed up his pitch distribution a little bit," Farrell said. "Used his change-up a little bit more, his cutter earlier in the count, rather than later. That was tonight. That was not a defined game plan. But he was good to his arm side both with his fastball and his changeup. He's got that cutter to go to in the event that he needs it to get in on some right-handed hitters, which I'm sure that will be the case going forward. I think most importantly, the way he carried his stuff through the time on the mound was very encouraging."

Lester:

"Obviously I think if you go and talk to anybody that's going to face me, I think that's always in the back of their mind as far as the pitch I'm going to try to get you out with. So I think that if you're able to maybe show it a little earlier and show some pitches that you don't normally throw later in the count, you'll get some mis-hits or some swings and misses or whatever. It's a game of adjustments. You always have to constantly make adjustments. We're doing that right now."

The increased flyball rate but declining home run rate speaks to the mis-hits that Lester was referring to and his adjustments to his usually predictable approach currently has batters a bit confused. As Lester said, baseball is a game of adjustments. His next few starts are against potent lineups from the Dodgers and Orioles, and Tigers which will test whether or not these adjustments are sustainable as the rest of his schedule is very favorable. There is some risk/reward here if you are willing to invest in him over the final weeks of the season.