This week, I am taking a look at home runs. Who is hitting them? Who isn't? Why are they hitting? Why aren't they? I will go beyond the actual number of home runs and see if the numbers are sustainable.

Let's start with just a basic home run leader board and my thoughts on some players who stick out.



• Jose Abreu is producing more than most people could imagine. I had a clue that he may put up decent number in home-run happy U.S. Cellular Field, but not to this level. The guy can mash, that is a no brainer. With all his long ball ability, I do see an issue of concern.

First, he has feasted on fastballs, especially four-seam fastballs which have little sink. Here are his results according to brooksbaseball.net:



His only pitch with a league average Whiff% is the four-seam fastball. Of the rest of the pitches he sees, he has problems making contact with all of them. I expect him to see fewer fastballs as pitchers adjust and try to strike him out with breaking or off-speed pitches. Pitchers have already been making the change and his K% has been increasing steadily since the season's start.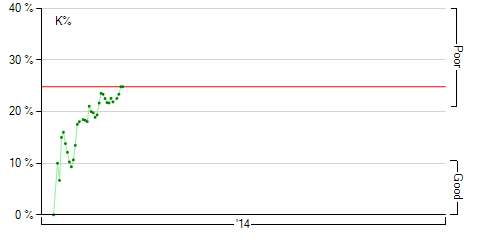 Even with the change, he still knocks the tar out of the ball when he makes contact. I could see him turn into an Adam Dunn type hitter.

• After Abreu, is a list of healthy power hitters. Albert Pujols, Giancarlo Stanton, Troy Tulowitzki and Jose Bautista. Each dealt with major injuries in 2013, but have been healthy so far in 2014. Additionally, Michael Morse and Justin Morneau have revitalized their careers largely with health. Can they keep up their production for the entire season?

• The one name that appears to be out of place is Brian Dozier. His 18 home runs in 2013 seemed unsustainable, but now he's trying to make the value stick. He has increased his outfield flyball percentage (OFFB%) from 27% to 34%. Additionally, his HR/FB rate has almost doubled from 10% to 19%

A couple of items point to him not keep up his current 2014 HR pace. First his home run and flyball distance was 276 ft in 2013 and it has dropped to 267 ft this season. By comparison, most of the other HR leaders are averaging over 300 ft on their flyballs and home runs. The lack of distance can be seen with three of the home runs being labeled "Just Enough" by ESPN's home run tracker. I could see Dozier pull about 25 total home runs during this season with the higher flyball rate, but I don't think the near 20% HR/FB ratio will continue.

Flyballs

Almost all the home runs hit are on flyballs which have enough power and/or wind behind them to clear the fences. One way to determine if a batter will see an increase or decline in home runs is look at the change in outfield flyballs a player has hit from 2013 to 2014. One reason flyball rate can be used is because it is one of the first stats to stabilize during a season. So here are the changes in flyball rates from 2013 to 2014 (min 200 PA in 2013 and min 80 PA in 2014).



• Austin Jackson has transferred from hitting groundballs to flyballs this season with his GB/FB ratio going from 1.4 to 0.5. With the extreme increase in flyballs, it has not translated to more home runs because of a 5% HR/FB rate The rate could jump up closer to his 8% career average, which would push his home runs to the mid-teens or low twenties.

• Jonathan Villar has all the signs pointing to more home runs – an increase in FB%, HR/FB, and in HR and flyball distance (279ft to 312ft). He has improved, but he has yet to hit one home run which would have left every ballpark. He is just clearing the fences. The number of parks where his home run would have gone out are 25, 24, 9, 1, 1.

Here are a couple of poach grabbers at Minute Maid Park.





He has the five home runs, but the number could have easily been just two or even zero.

• Eric Hosmer is hitting more flyballs, but has only one home run to show for it. Here is his batted ball distributions for 2013 and 2014.


Source: FanGraphs


Source: FanGraphs

What a difference. He is hitting his flyballs and home runs about 30 ft less this season compared to the last two seasons.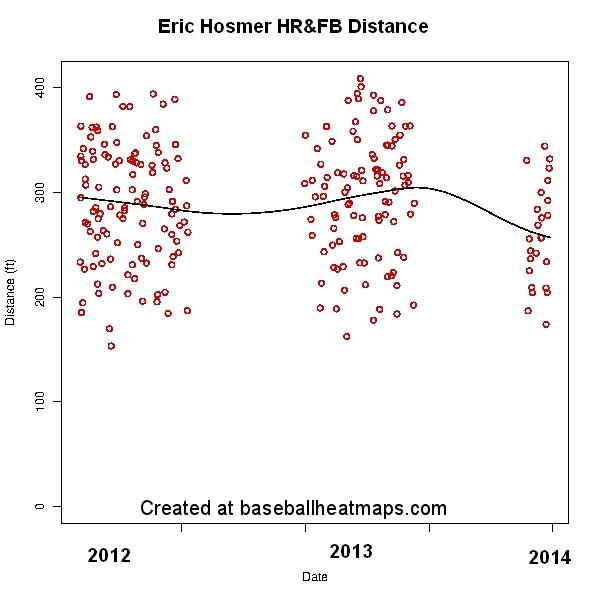 Looking a little deeper, his main issue lies in his inability to square up on fastballs this season. He is hitting .225 with a .025 ISO against four-seam fastballs and .222 AVG with a .074 ISO against two-seam fastballs. For a turnaround with Hosmer, look for him to actually squaring up and driving fastballs again.

• Tyler Flowers has had a crazy May, including a .500 BABIP, 32% K%, and an .055 ISO. Here is the reason for the change in Flowers' own words:

"The big thing is I'm doing a better job of laying off pitches I'm not looking for. When you do that and you get pitches you are looking for, it's going to look like you're short or you're quick or you're on time, all those kinds of things."

The numbers back him up with his outside swing rate (O-Swing%) dropping six percentage points and his contact rate increasing four percentage points. The weird thing is his GB/FB rate has gone from a balanced 1.0 value to 2.3. He is no longer hitting flyballs.

He isn't going to maintain the .500 BABIP, but the change in approach does point to a new talent level with a higher AVG and lower HRs. I do think his floor is now higher and there are a greater number of leagues where he is playable. Look to pick him up as his owners may try to sell high or sell once his BABIP comes back to earth.

• Evan Longoria has some signs of a lower home run total with his FB% and HR/FB% going down. His HR&FB distance has gone from 294 ft in 2012 to 291 ft in 2013 to 269 ft in 2014. Most of his issues are with fastballs, which he's hit at a .250 clip with a .113 ISO. Previously in his career, he has hit .304 on fastballs with a .275 ISO. Pitchers have noticed the struggles and have begun throwing him more fastballs.

Until Longoria is able to square up and drive some fastballs, his production will continue to suffer.

Note: All data was taken before the games on May 6th. Thanks to FanGraphs and Brooksbaseball.net for the data.